Hannah
Alumna
Subject area
Staying another year at Loughborough to study my MSc was an easy decision for me, as I thoroughly enjoyed my four years there studying Sport an Exercise Science BSc.
The status and awards achieved by Loughborough are truly represented in the student experience and sporting provision on offer. The campus and student-centred community create a fun and safe environment to study and live.
The Applied Sport Performance Analysis MSc is run by individuals with extensive experience in practical elite sport settings, which was a real benefit. This facilitated additional guest lecturers from elite sport teams and contributed to the applied nature of the course which I feel was particularly useful in securing a graduate role.
Alongside the programme, I worked at Birmingham City Football Club as the Academy Data Scientist. This enabled me to put the things I learnt on the course into practice in a real-world setting. I was able to develop several skills including communication, data management and data visualisation, which were vital in securing my graduate role.
Following graduation, I have begun a role as First Team Performance Insights Analyst at Manchester City Football Club. This role bridges the gap between AI/data experts and first team performance staff who work practically day to day with players and coaching staff. This includes the integration of sports science and medical data sources to develop the team's interdisciplinary approach and maximise the impact of data through novel insights.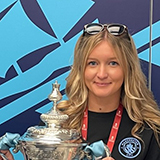 Weekly practical sessions on industry leading data visualisation software enabled me to be successful in both my placement and current role.
The ability to use Tableau is now frequently listed in job descriptions and/or required in interview tasks and therefore I think this practical exposure during my degree programme was invaluable in securing my new job role.
A number of sessions on the Applied Sport Performance Analysis MSc were led by an external guest speaker working in the elite sport industry and I feel this insight into real world scenarios also benefitted my development.
Opportunities to network with course mates working at different clubs and in different sports was also invaluable. This enabled me to reflect on my own environment and workflows and develop an awareness of other workplace cultures which I may be exposed to in the future.
Guest lectures from academic staff also helped to inspire new ideas and get new perspectives. I worked with one of these guest lecturers to complete my dissertation project on the integration of physical and tactical data in elite football. Being able to work with an academic expert directly on this project enabled me to produce a high-quality project which provided new insights for my placement club.
I would highly recommend studying this MSc programme as the practical exposure you get on this course, alongside the academic work, is invaluable in securing a role in the elite sport industry.
This combination also means excellent time management skills and a proactive attitude are essential for success on this programme, due to the need to balance club tasks and university deadlines. It is also important to maximise the networking opportunities that this course provides, by engaging with peers and external speakers to gain an insight to other environments and workflows.
Away from my degree, sport played a huge role in my student life at Loughborough, being part of the AU Gymnastics and Cheerleading teams. I competed for both teams during my five years at Loughborough and these experiences have given me friends and memories for life.
Another highlight for me was returning to campus to graduate alongside my peers, celebrating our hard work and achievements together. Loughborough provided a fantastic graduation ceremony and a well organised day.