Gurdeep
Alumnus
Subject area
Following my degree, I am currently working as an Assistant First Team Performance Analyst at Brentford FC.
My role is to work primarily with all the different data sources that the club has access to. The aim is to improve the analysis provided for the team by making our processes more efficient, as well as integrating more objective data sources, so the insights we provide are evidence-based.
Two examples of tasks I complete are: producing statistical reports based on each opposition we face to aid in pre-match preparation; and building a dashboard to compare B Team players against each other and benchmarked First Team players.
The Applied Sports Analytics and Visualization module has helped me most in securing and working in my current role. The module combines theory of good analytics practice with tutorials and workshops that show, step-by-step, how to use different features of Tableau to create new and interesting visualizations that can then be used as a template on placement.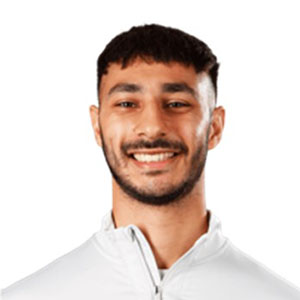 I chose to study the MSc in Applied Sport Performance Analysis course at Loughborough because of the inclusion of a placement as part of the course. I wanted the opportunity to gain more experience in a real-world setting to improve as an analyst, rather than just complete more academic qualifications.
My placement was at Brentford FC where I worked as an analyst in both the First and B Teams. For the First Team, I worked predominantly in the pre-match process, creating bespoke opposition reports and analysing opposition from a more data focussed point of view. In the B Team I aided the full-time analyst with his tasks and provided analysis for the team.
This role gave me the opportunity to work in an environment where there was serious pressure and high demands. As a part of this environment, I had to manage multiple workloads and my relationship with staff of varying seniority, while maintaining high standards in all the work that I completed.
Working in the Premier League exposed me to an abundance of potentially useful data and information, which taught me how to find the most important messages in that data and communicate them effectively.
The highlights of my time at Loughborough were the opportunities I was exposed to and the friendships I made there. Without the University, I wouldn't be in the position I am today, which came from the connections I could make and the numerous opportunities available to develop myself professionally.
I really enjoyed how the lecturers used their own applied experience to enhance their theoretical content. They were also able to help with any questions I had about my placement. There were many guest lecturers and external speakers who were industry experts from a wide variety of different sports.
In the classroom, we had access to Macs that had all the relevant, industry standard software installed on them to aid in workshops. The sporting facilities of the university also allowed us to practice using different analysis software and hardware in live scenarios. During these sessions, the lecturers arranged for the software/hardware providers to teach us how to use their products.
The three bits of advice I would give to someone who would like to study on this programme are:
You will have to work hard – especially on the placement and to manage the academic and practical work
You must be organised – late nights and early mornings are okay, but it is nice to know when you're likely to do them
Try to be active on your days off – it's nice to go back to work having done something on your days off outside of just relaxing (although this is also important).