I chose to study my course at Loughborough because of its prestigious reputation for both sport and academics. I have always been passionate about strength and conditioning and knew a master's degree from the University would help me in my future career.
I have always felt fully supported by my course director and I genuinely felt that they wanted me to achieve the best I could. They took the time to get to know me as a person and understand what my goals were during the course and for my future.
There were a large amount of practical elements to my course and being able to access Powerbase along with the other world-class sports facilities at Loughborough helped me to get the most out of my course.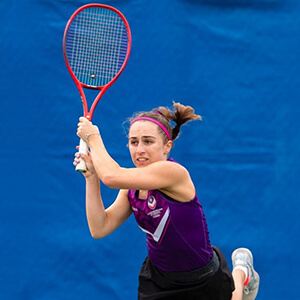 During my course we had a placement module for a year but as I split my master's over two years, I was lucky enough to complete my placement for a year and volunteer for a year with the men's first team cricket.
I was able to experience first-hand what the role of a Strength and Conditioning coach is among a team sport, and had the most amazing experience working in a sport I had never been involved in before, which challenged me but also helped me grow and learn.
For me, one of the main highlights has been being able to have access to lots of different opportunities both as an athlete and as a student. I have enjoyed living in Loughborough and being in an elite environment where everyone pushes you to succeed.
Following graduation, I am starting work at Loughborough University as the University Tennis Coordinator. Having played on the tennis team during my time here, as well as my time at Louisiana State University in the US, I feel I have a great understanding of university sport and I am passionate about helping other students have the best experience possible at Loughborough.