Chloe
Current student
Subject area
I chose to study at Loughborough University for several reasons. Not only was it one of the best universities in the country for sport-related subjects* and performance sport opportunities, but the course also directly met my personal interests and needs.
Additionally, I was instantly attracted to the campus; it had outstanding facilities, a range of halls of residence so near to lectures, training centres and the library. It was very green and safe too.
I fell in love with learning about Sport and Exercise Psychology and specialised in this area in my second and third years of my undergraduate Sport and Exercise Science degree, which led me to apply for the MSc in Sport and Exercise Psychology programme.
I have found the support of staff particularly useful, especially in relation to my personal situation and needs. The University and its staff are incredibly empathetic and helpful if you have difficult personal circumstances and need support. I have always appreciated this support. Additionally, the individual modules are directly related to my interests and are involved in the core of the current research; I am continually inspired by the staff at Loughborough and their passion to understand and develop Sport and Exercise Psychology.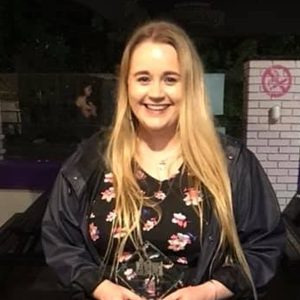 The applied nature of this course will also benefit me when working in the Sport and Exercise Psychology field; we are always encouraged to apply the theory to practical situations and be critical of the literature to form future research ideas.The MSc modules were again directly related to my interests, such as The Psychology of the Coach-Athlete Relationship. Additionally, Loughborough Sport's CVA offered a Performance Psychology Support programme where you could gain supervised experience with performance teams across campus, allowing me to work with the Men's Tennis Team.
I am currently completing the second year of the MSc as I completed the course part-time, alongside working as a Special Educational Needs specialist at a local primary school in Loughborough. I deliver ABA and interventions with SEN children, specifically autism. Next, I aim to start the SEPAR training with BASES to qualify as a Sport and Exercise Psychologist. I also hope to complete a PhD in the future, focusing on coach-athlete relationships and the influences on the quality of these relationships. In the long term, I would like to work with coaches specifically, to teach them how to psychologically support their athletes and help them practice psychological interventions in training.
The advice I would give to someone considering studying this course is to embrace every opportunity available; MSc Sport and Exercise Psychology will allow you to gain vast amounts of knowledge, understanding and academic skills, but there are so many more opportunities that the School, University and Union provide alongside this.
To thrive on this course, it is so important to be involved in all the reading, critically analysing the strengths and weaknesses of papers and reflecting on what future research needs to take place to improve this area of literature. It is also important to be in contact with your peers and classmates, learning from their strengths and areas of expertise and high interest and working together to form ideas. Finally, asking module leaders and lecturers questions and talking to them about your ideas, such as for assessments; they are experts in their field and will help you find your passions in Sport and Exercise Psychology and will guide you towards where you want to be.
*1st in the world for sport-related subjects (QS World University Rankings by Subject 2017, 2018, 2019, 2020 and 2021)