Chengxiang (Viola)
Current student, International student
Subject area
I am looking at the motivations of individuals to volunteer at sporting events in China and the impacts of volunteering on wellbeing, employability and future volunteering intention.
Relatively little research related to event volunteering has been conducted in non-Western contexts. I am hoping to fill this research gap by looking at Chinese sports events volunteering.
I have had a strong interest in sports management for a long time. Loughborough University has always been a place I wanted to study because of its world-renowned excellence in sport. I was also aware of my supervisor's research before coming to the University and feel lucky to have him guide me at the beginning of my academic path.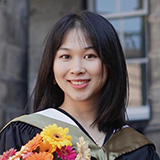 I would like to stay in academia, doing research and teaching.
I feel that the University listens to us as Doctotal Researchers and tries to accommodate our needs. For example, teaching training and opportunities are provided, which is of great help to those who want to apply for lecturer positions after graduation.
The advice that I would give to someone thinking of undertaking a PhD is to contact your potential supervisor first. They are always easy to approach and supportive.