Bosibori
Current student
Subject area
I had been searching for a climate change course outside of the United States and after considering other universities, Loughborough had a great combination of social, academic, and athletic benefits.
My academic background starts with college prep at Park Tudor School in Indianapolis, Indiana. I then received an Associates business administration degree at South Plains College in Levelland, Texas. My undergrad concluded with a dual degree in Analytical Economics and Sustainability with a minor in Renewable Energy at University of New Hampshire in Durham, New Hampshire .
The geography department was wonderful. There were plenty of systems available with programs that I had never engaged with prior. The professors were happy to help and highly qualified to lead us through the new program.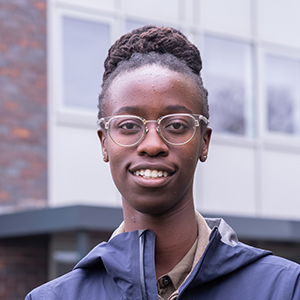 As a performance athlete at Loughborough, I was able to find time for my heptathlete training and complete my modules. I biked to my courses and the HIPAC from my flat downtown and was able to enjoy a good mix of lifestyles. I was able to join the athletics club fine and the social atmosphere is very accommodating for all interests.
I have accepted a renewable energy position in the US and I hope to move up from there. I also hope to continue working with the Climate Compatible Growth organisation to enhance CLEWs and energy modelling. The greatest skill I've learned during my master's is certainly perseverance. Considering my economics/business background, some of the more geography focused modules were difficult for me but I was able to learn new software and programs that aid my CV. My advice to those considering my course would be to be ready to work hard but be rewarded with amazing skills.