Arnav
Current student, International student
Subject area
The Sport Management, Politics and International Development MSc has allowed me to study the development of the industry on a global level, providing a distinctive international focus on sports management which suits my career goals perfectly.
I decided to pursue a master's degree to gain more in-depth insights and experience in the sports industry. I chose to study at Loughborough University specifically because it is one of the most recognised and established universities for Sports Management, offering excellent academic modules covering all aspects of the industry and giving a broader perspective of the topics taught.
The academic support and expertise at Loughborough University is exceptional. It's been a pleasure to be taught by people who are at the highest level in their field and are experts in their area of teaching, giving us an amazing opportunity to acquire the best possible information and knowledge. The faculty are 100% supportive of their students as they want you to succeed and graduate feeling ready to take the next steps for your career.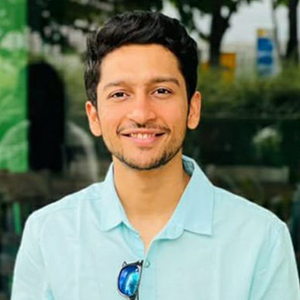 Although I learnt a lot on-the-job about the sport industry working for sports industries like IMG after graduating with a business degree at Mumbai university, I knew I needed more insight to achieve my future ambitions and Loughborough was the perfect university to build upon my knowledge and prepare me for the future.
The international development, sport Integrity, and Politics in Sport modules were very insightful, teaching the different ways and methods adopted in order to develop sports, both locally and on a global scale. The sport integrity module also helped me in understanding the different integrity issues present in the sporting world and also how to tackle those issues. I also enjoyed the Sports Marketing module, which gave insights into the marketing strategies followed by different clubs and leagues, as well as how brand communication plays an important part for the sport organizations.
Loughborough has over 60 sports facilities which I definitely made the most of during my time here. I played around 11 sports a week which I feel is my major highlight outside the course and helped me perform better academically, keeping my mind and body fresh. The sports facilities here in Loughborough are some of the best in the world and as a professional cricketer, I was really impressed by the top-class facilities for the sport here, including the ECB performance centre.
After graduation, I would love to experience and head tournament operations for various leagues like the English Premier League, Wimbledon, Olympics and Formula One. My goal is to improve and advance the functioning of these tournaments and eventually become a tournament director for a major tournament.
I also want to create opportunities for talented and budding athletes and sports professionals globally. Being at Loughborough University has brought me closer to achieving my goals by giving me insights and advice into the reality of the industry and taught me the most valuable details that will help make it big.
If you're interested in a career in sports management, this course will help you to gain knowledge of the sport industry by giving you different perspectives towards events and several other important areas of interest. If you're passionate about sport, have faith in your skills and keep an open mind, the rest will follow.