Anna
Current student
Subject area
My PhD research investigates the relationship between vision impairment and individual performance in goalball – a Paralympic sport specifically designed for athletes with a vision impairment – to help inform the development of a new classification system.
The International Paralympic Committee requires all Paralympic Sports to develop evidence-based, sport-specific classification systems. As part of this, each sport must undertake research to understand the specific relationship between the impairment types that it caters for, and individual performance.
The findings of my PhD will contribute to the development of a new classification system, proposed to be instigated at the 2028 Paralympic Games.
In addition to benefitting from extensive sports research, world-class facilities, and sporting industry relationships, I knew Loughborough was a fantastic choice for my PhD as it offered the chance to work within the Peter Harrison Centre for Disability Sport.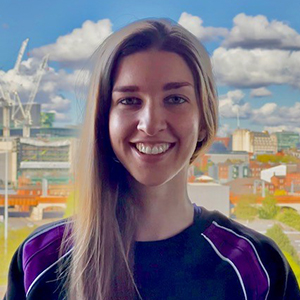 For my classification research, I have gathered expert opinions on the current classification system through an international-scale online survey, while conducting Paralympic performance analysis during the most recent Games.
I've also developed an individual test battery for goalball performance and am currently using this to collect data that will highlight the relationship between level of vision and goalball performance. This process involves travelling around the country and working alongside some great goalball athletes and coaches, who have been fantastic in engaging with the project.
While studying at Loughborough, I have also worked on other research projects outside of my PhD. These opportunities to collaborate with world-leading academic researchers and international organisations are invaluable.
The range of opportunities at Loughborough to get involved with outside of your PhD study is huge. The leadership roles and teaching responsibilities that I have undertaken have facilitated my professional development and will assist me in acquiring a position post-PhD.
I am currently the Lead Doctoral College Representative for the School of Sport, Exercise and Health Sciences and Chair of Loughborough's Para Sport Executive Committee. These positions are focused on representing students to maximise their time at the University. I have also had the opportunity to build teaching experience while delivering undergraduate seminars and working as an Academic Support Mentor.
Following graduation, I definitely want to work within Para and disability sport as this is where my passion lies. I'm keen to stay in academia, with the potential to continue my research within the space of Paralympic classification if possible. I've developed several academic and industry connections, that I hope will support me in securing future positions.
If you're thinking of applying to study a PhD at Loughborough, reach out to your potential supervisors to discuss the research project. This will give you a chance to discuss the potential research direction in more detail, the resources available to support your research and if there are other researchers already working in the same area. Be confident in your application and make the most of what Loughborough has to offer.
*Anna's PhD is funded through a Loughborough University Studentship and is also supported independently by a grant from the International Blind Sports Federation.