Abdul
Alumnus, International student
Subject area
The Low Energy Building Services Engineering MSc at Loughborough University is one of the best programmes that focuses on building energy performance. This is supported by the fact that the University is ranked 1st in the UK for Building according to The Times and Sunday Times Good University Guide 2021.
I have a professional background as a heating, ventilation, and air conditioning (HVAC) design engineer, so I really appreciated the value that I would be getting from this programme through the well-structured modules.
The programme's content and assessments focus on the latest research, which has helped me gain valuable knowledge about future trends in the industry. The library has an extensive range of literature and regular workshops, which have played an important role in my learning experience.
Loughborough is a truly international University, which means that I have been able to meet people from all over the world. While transitioning to a new country is usually quite challenging for an international student, being surrounded by a friendly community of students, you are bound to find people you can relate to and feel comfortable with at Loughborough.
The programme has provided me with the knowledge necessary to implement more sustainability in the built environment sector, a skill that is in demand to reduce carbon emissions in buildings. Also, as this programme is accredited by the Chartered Institution of Building Services Engineers (CIBSE), it provides me with a step closer to becoming a Chartered Engineer.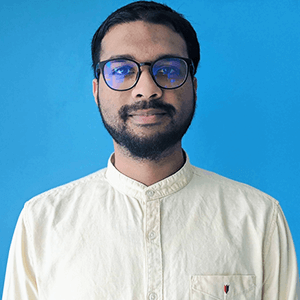 My research project aims to predict and reduce corrosion in closed-loop systems. While doing the project, I was involved in the experimental design of the system. I also had the opportunity to take part in the American Society of Heating, Refrigerating and Air-Conditioning Engineers (ASHRAE) Integrated Sustainable Building Design Competition where my team designed a zero-energy archive facility.
The challenges and opportunities during my time at Loughborough have provided me with a unique experience. Loughborough has inspired me to challenge myself to achieve greater heights, and I would recommend this programme to anyone interested in sustainability in the built environment.