Aarav
Current student, International student
Course

Subject area
Loughborough University was the perfect fit for me to study MSc Sport Management because it provided me with world-class sports facilities and the opportunities to put academic knowledge into practice. It has a beautiful campus and a diverse student community that is friendly and supportive.
My degree programme has really broadened my horizons and opened various avenues for me. The support and guidance provided by the lecturers has been particularly helpful. I really love how lectures are very mindful and approachable.
My time at Loughborough University is the embodiment of Ikigai – it has given me my purpose in life.
The proudest achievement of my time at Loughborough is being selected to work at top sporting organisations, including as a Team Leader at Manchester United and Wimbledon, Coordinator at Commonwealth Games and at events like the Carabao Cup Finals and British Wheelchair Basketball.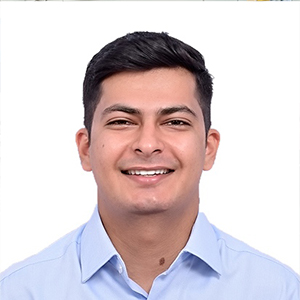 Alongside my studies, I was an active participant in the University's Coaching and Volunteering Academy, completing 75 hours across Loughborough Lightning Rugby, Derby FC under 23s, Schulz football, Loughborough indoor athletics, National Division 2 rugby and the Bucs Conference Final.
These placement and volunteering opportunities have improved my organisational skills, communication and team working abilities. It was a real highlight to interact with sports personalities and imbibing their dedication to their chosen fields.
Outside of my studies, I have also completed my certification in talent identification with the Professional Football Scouts Association (PFSA) and the Football Association (FA). These have aided my growth in the field of football as a sport and added to my credibility as a sports management professional.
The academic support provided in terms of both infrastructure and staff has been commendable. The lecturers are very knowledgeable and were able to facilitate meaningful discussions in the classroom. They were open to questions and very patient with explaining complex concepts.
Career networking facilities were also very instrumental in my growth at Loughborough University as it provided me with plenty of opportunities to hone my talent and skill sets. The sports facilities also helped to maintain balance with academics and physical activity during the degree programme.
I plan to expand my career in the sports marketing and sales domain after graduation. The module on sports marketing has developed my interest in the area and complemented my prior work experience. The project reports for the modules taught during the degree have taught me to apply concepts learnt to real life situations and this has paved the way for a successful career in sports marketing post-graduation.
My advice to anyone considering this course would be to be open to learning and experiencing new things. MSc Sport Management is an intense degree programme but is very relevant to today's sports industry. Use the lectures as an introduction to the topic and spend time researching the subject to understand the industry better.