Discover London
Throughout history, London has attracted people from around the globe, who have come to visit, live, study and work in the UK's bustling capital. Today it is a truly cosmopolitan city, with one of the most diverse and exciting cultures in the world.
With thousands of shops, countless restaurants and hundreds of free museums and galleries, London is the perfect place for postgraduate students to live, work and study.
Canary Wharf
Located just five miles from the campus is
Canary Wharf
, the world's premier location for office and retail space in a vast assortment of futuristic and iconic structures.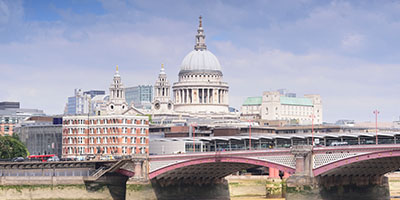 Knightsbridge
Knightsbridge is home to many luxury shops and boutiques, including the department stores Harrods and Harvey Nichols. Knightsbridge also holds the flagship stores of many British and international fashion houses, including designers Jimmy Choo, Manolo Blahnik and Prada.
The River Thames
The River Thames is the setting for London's most famous bridges and landmarks, such as Tower Bridge and the Millennium Bridge. Lining the banks of the Thames are renowned London structures such as the London Eye, St Paul's Cathedral and the Tower of London.
Camden
Camden Town's
open-air markets and retail outlets are open seven days a week, and offer everything from vintage gems to creative masterpieces. Camden is also home to a number of legendary music venues, and Regent's Park, one of London's best kept secrets. In the summer, the canal and local area is filled with boaters, walkers and cyclists, all looking for a tranquil escape from the capital's busy streets.
Buckingham Palace
Buckingham Palace
has served as the official residence of Britain's monarchy since 1837. Open to the public every August and September, visitors can tour the State Rooms, enjoy a special exhibition and relax in the Garden Café, overlooking the Palace lawn and lake.