Loughborough's Creative and Print Services (CPS) take home three awards
27 June 2022
The Association of Creative and Print Managers in Education (ACPME) recognised the work of CPS in three categories at their annual awards event earlier in the month.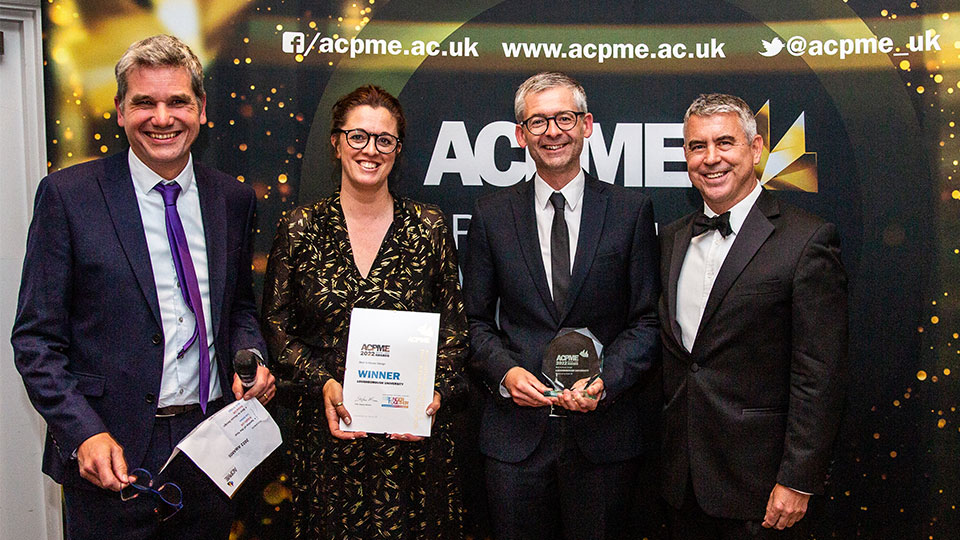 The team were awarded the following:
Best In-House Design – Winner for the UG Prospectus 2023 entry
Best In-House Online Production – Highly Commended for the Start Campaign
Service of the Year (Video/Photography Team) – Highly Commended
Creative and Print Services offer design work, print materials, web design and development, video production, photography and mailroom services. All of the campaigns you see across campus and online are designed and developed by the team.
The judges were very impressed with their entries. On the campus prospectus they said: "A prospectus is a big task for any studio – especially a busy in-house design team. This piece is well thought-out. The team clearly considered all the small details throughout – from custom fonts to icons."
This was also the first year that the Video Team have entered the awards and they received high praise from the judges. They commented: "This team adapted well during covid to carry on making films and to promote face-to-face post-pandemic activities.
"They diversified as a team – looking for business opportunities, for instance creating new student revision guides, filming research activities, taking 360 degree photography to promote exploration of the campus, and making films to secure both research funding and promotion of sports."
Design Team Leader, Paul Atkins, added: "To be at the awards evening and be the first category winners invited up to stage was amazing. All Creative and Print and Marketing colleagues truly go the extra mile to ensure our design and comms stand out. These awards just prove that."
You can see examples of the work Creative and Print Services do on their website.