Creative and Print Services win multiple prizes at ACPME awards ceremony
Creative and Print Services recently attended the Association of Creative and Print Managers in Education (ACPME) awards and picked up four awards – a record-winning streak for the team.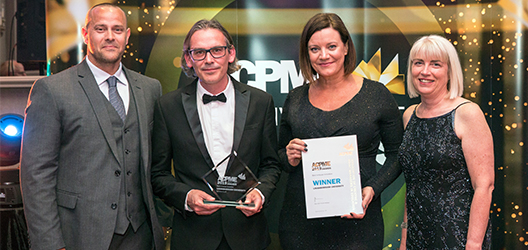 These were:
Winner for Best In-House Design - for the 2019 Undergraduate Prospectus
Winner for Best In-House Innovation - for the A Level Results Day lanyards
Highly Commended for Best In-House Printed Product – for the book 'Cautionary Tales for Children' (a collaborative project with Graphic Design and Illustration students)
Highly Commended for Best In-House Photography - Sports Photography
Judges commented the 2019 prospectus was 'a beautiful design, delivering a real stand-out product', and also said they were impressed with the 'outstanding lanyard concept, its functionality and the impact it achieved'.
This record number of awards collected by the team truly highlighted the amazing work amongst colleagues at Loughborough, as ACPME represents over 75 institutions in the sector.
Head of Creative and Print Services, Alison Freer, commented: "We feel incredibly proud to have received a record number of awards at this year's ACPME annual awards ceremony.
"The calibre of entries was outstanding and its testament to the creativity and technical excellence of the Creative and Print Services Team that we have enjoyed this success."
Alison has recently been elected the Chair of ACPME's Board, after five years undertaking the role of Secretary. This will be for a two-year term and she has now commenced the role.
She said: "I am honoured to take on the role of Chair of the Associated of Creative and Print Managers in Education.
"Over the last few years ACPME has gone from strength to strength, and it's a very exciting time to be moving into this position. I am looking forward to building on the existing foundations and evolving its relevance to current members, future members and suppliers.
The team hope to add to their collection of awards this year after being shortlisted for 'Best Multi-Channel Campaign' at the Print, Design and Marketing Awards which takes place at the end of the month.