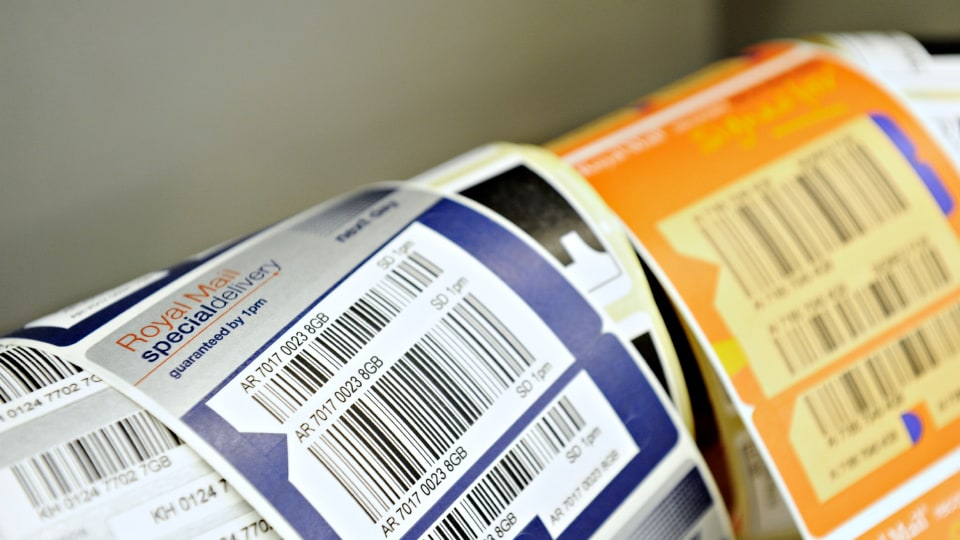 We provide a range of incoming and outgoing post services for all campus users including the Student Parcels Service
The mailroom
The Mailroom provides a collection and delivery service for school and department external and internal mail to the Loughborough campus.
Departmental mail is delivered and collected from around the university daily. All Royal Mail and Parcelforce post for university staff is delivered to the Mailroom and then sorted and delivered by our team of drivers.
All student parcel deliveries to campus are made to our facility in the Herbert Manzoni Building. We log and store your parcels until you can collect at a time convenient to you. Click on the link below to find out more.
Campus partners can contact us to arrange post services within our schedules and available services.
For personal mail we offer limited services from our counter in the Herbert Manzoni Building. Stamps can be purchased over the counter and a mail and parcel delivery service up to 30kg is provided via Royal Mail, DHL, or Parcelforce.
We offer time saving, cost effective mailing solutions that deliver highly professional results. Our services include mail merging, photocopying, collating and stuffing envelopes as well as printing envelopes. Get in touch to discuss your requirements.
Amazon
‌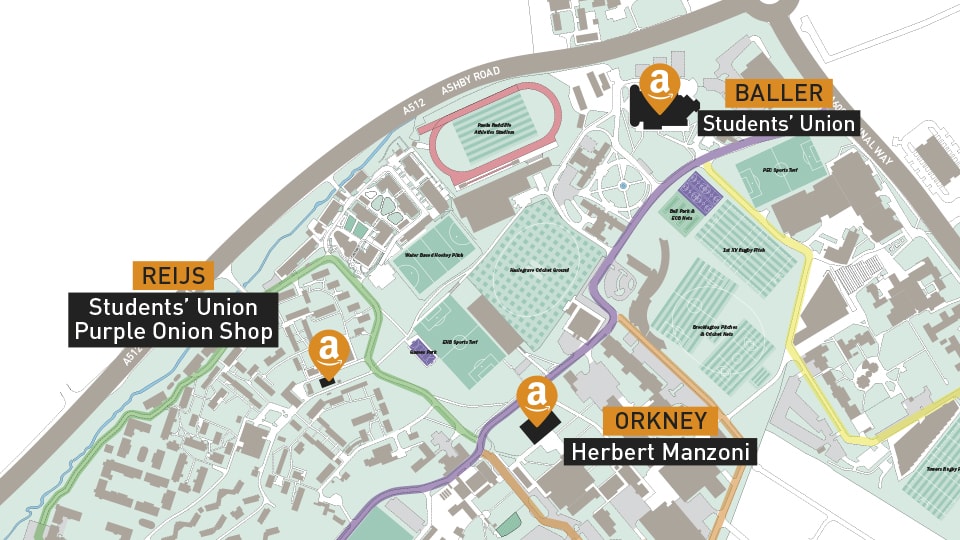 We provide a processing and storage service for all student Amazon parcels.
Staff parcels are delivered out across campus either in the blue mail bags or in specific deliveries according to the package size.
If you need to collect your parcel outside of our standard opening hours you should instead direct your delivery to the Amazon lockers on campus:
BALLER - Students' Union
ORKNEY - Herbert Manzoni (9am to 5pm only)
REIJS - Students' Union - Purple Onion Shop
Student parcels service
All parcel deliveries to campus are made to our facility in the Herbert Manzoni Building.
Upon receipt of your parcel, we process it through our system, and you will be contacted via email when your item is ready for you to collect. Please do not contact us or call in until you have received our email.
To help us process your parcels, please remember to set your delivery details as follows:
Your name
Your student ID number
Your hall of residence
Loughborough University
Loughborough
Leicestershire
Postcode: LE11 3TU
Upon receipt of the email from us advising that your parcel has been processed, please bring your Student ID card to our counter service in the Herbert Manzoni Building to collect your parcel.
Parcels will not be handed out without ID
Unfortunately, our Mailroom are unable to store mail/parcels indefinitely. We operate a strict holding timetable, where we will attempt to return uncollected items after 14 days, after which items will be treated as lost property and/or disposed of or donated to the University Student Hardship Fund.
We take in all parcels for students residing on our Loughborough Campus. Letter post is delivered to Hall Receptions.
For the Unite Halls of Harry French, The Holt and William Morris letters will be delivered by the postman into the relevant post boxes at the Hall.
If you wish to receive parcels at a Unite Hall you will need to complete a parcel disclaimer form giving the hall reception permission to take parcels on your behalf. You will be given a form on arrival, or you can request one at the hall reception.
If you have any queries, please speak to your Hall Reception.
What postcode should I use in my delivery address on campus?
All parcels should have LE11 3TU on them so that they arrive securely at the Herbert Manzoni Building for us to process the item for you from the courier.
All envelope mail goes direct to Halls. Please use the postcodes as below:
| | |
| --- | --- |
| Hall | Postcode |
| Butler Court | LE11 3TS |
| Cayley | LE11 3TX |
| Claudia Parsons | LE11 3TH |
| David Collett | LE11 3UE |
| Elvyn Richards | LE11 3UQ |
| Falkner Eggington | LE11 3UG |
| Faraday | LE11 3TY |
| Hazlerigg-Rutland | LE11 3TZ |
| John Phillips | LE11 3US |
| Robert Bakewell | LE11 3UR |
| Royce | LE11 3TJ |
| Rutherford | LE11 3TH |
| Telford | LE11 3UA |
| The Holt | LE11 3JB |
| Towers | LE11 3TG |
Parcels with the envelope mail postcodes will be returned to sender.
Counter service
Our counter service in the Herbert Manzoni Building operates a range of postal services
We sell postage stamps, recorded delivery, and DHL services. We can take stamped mail in and process it for collection by Royal mail as part of our daily schedule.
Unfortunately, as we are not a Royal Mail Post Office, we cannot provide any proof of postage receipts, nor can we scan your return label QR code or barcode. These must be processed at the Post Office or selected returns shop.
We strongly recommend using signed for or tracked services for valuable items.
Opening times
Monday: 9.00am to 5.00pm
Tuesday: 9.00am to 5.00pm
Wednesday: 9.00am to 5.00pm
Thursday: 9.00am to 5.00pm
Friday: 9.00am to 5.00pm
The last drop off time for Royal Mail collection is 4pm
Collection services
The Mailroom provides collection services for several well-known carriers.
We have an arrangement with the following providers:
Delivery timescales, destinations and prices are available on each carrier website. Please ensure your mail is suitably packaged for collection.
All carriers collect by 4pm each weekday, but times may vary.
We do not accept returns via:
Doddle
Hermes
Collect+
Pass my parcel
Evri
Yodel
Variable data and mail preparation
We can take in your complex data and turn it into a mail merged file, print it and pull together designed mailing contents for you to create a single output piece for posting across the world.
Examples of previous jobs include:
Postcards with mail merged addresses and pre-paid postage identifiers within the artwork
Mail merged printed envelopes containing a mix of literature including filled folders
Newsletters
Personalised marketing campaigns
This service is available to students, staff, campus partners and off campus customers.
Contact us to discuss your requirements.