'Snacktivity' to promote physical activity and reduce risk of disease
Helping people who are physically inactive to develop their confidence to try to become regularly active.
Guidance states that over a week, adults should achieve at least 150-minutes of at least moderate-vigorous intensity physical activity, and this is typically promoted as five sessions of at least 30 mins of physical activity per week. Achieving this guidance, however, means the public need to make large changes to their lives and very few people currently achieve this guidance.
Loughborough University, in partnership with the Universities of Birmingham, Leicester, Edinburgh, and Birmingham Community Healthcare Foundation NHS Trust, have been awarded £2.2 million from the NIHR Programme Grants for the Applied Research Board to develop a new approach to promoting physical activity in the population called 'Snacktivity'. The programme of research involves five work packages over six years.
An alternative 'whole day' approach to current physical activity guidance that could engage and motivate the public to be more physically active is a concept we have called 'Snacktivity'. Rather than focusing on encouraging 150-mins per week of physical activity (~30-mins per day), Snacktivity™ focuses on promoting small, but frequent, doses or snacks of regular activity throughout the day. A physical activity snack typically lasts between 2-5-mins, e.g. walk-talk conversations, walking coffee breaks, using stairs not the lift, taking the dog for an extra walk, squats whilst waiting for the kettle to boil and calf raises whilst brushing your teeth.
Snacktivity may help people who are physically inactive to develop their confidence to try to become regularly active, as small changes are easier to do. But currently it is not known whether the Snacktivity approach is acceptable, effective, or easier to sustain over time. The Snacktivity approach may also be particularly appropriate for specific populations such as the elderly, pregnant women, and people with chronic diseases, who may be reluctant to engage in physical activity. The Snacktivity™ NIHR funded programme grant will explore these questions.
Participants will be randomised to receive current guidance about physical activity or the Snacktivity intervention. The Snacktivity intervention is designed to be delivered by health care professionals and takes five minutes to deliver within usual NHS consultations. It will use a mobile phone App (called the SnackApp) synchronised with a physical activity tracker (FitBit) to help patients to self-monitor their Snacktivity throughout the day. It will also offer prompts and feedback on how much Snacktivity they are doing.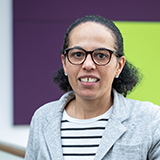 Amanda's research focuses on investigating the effects of lifestyle interventions on health outcomes, particularly those that can be delivered within routine NHS consultations.