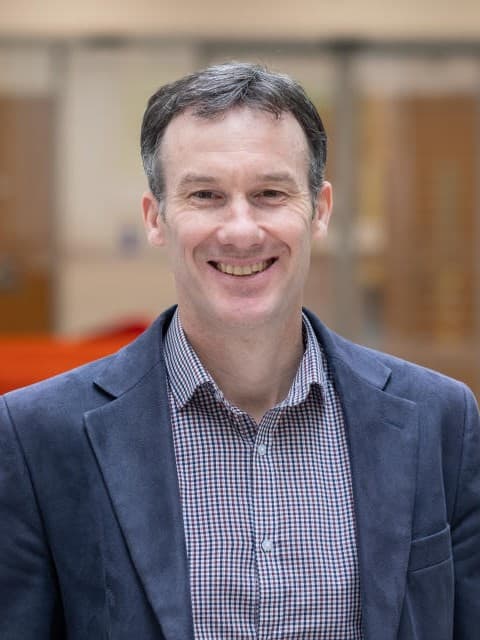 Dr Folland graduated from Loughborough with a BSc in Sport & Exercise Science (1994). He returned to Loughborough as academic staff in 2004, following teaching and research positions in physiology and biomechanics at three Universities (Brighton, Massey (New Zealand) and Salford) as well as completing a PhD at the University of Birmingham (2000).
Jonathan's teaching, research and consultancy work is focused on Neuromuscular Performance and the underlying physiology and biomechanics. This topic has applications to athletic performance, sports injury and human health. Jonathan teaches on 'Structural Kinesiology' and 'Neuromuscular Function' as well as contributing to a variety of other modules.
He is a Fellow of the American College of Sports Medicine and the Royal Society of Biology. Jonathan is interested in a range of sports, but particularly running from a scientific perspective. He still participates in canoeing and kayaking, having competed and coached at international level.
Jonathan has authored >70 peer reviewed research papers in world leading physiology, sports science and sports medicine journals. He has been principle (lead) investigator on external projects worth >£750,000 and co-investigator on projects of >£3.6M.
Jonathan's research considers the determinants of and interventions/adaptations that enhance neuromuscular and athletic performance. The goals of this research are to understand the characteristics that determine neuromuscular performance and the plasticity of these characteristics in response to interventions (training) in order to enhance performance. Jonathan's research utilises neuromuscular measurements alongside whole body physiology and biomechanics to inform improvements in sports performance, injury risk and rehabilitation exercise. The ongoing challenge is to both deepen our understanding in isolated controlled laboratory situations whilst transferring those insights into more complex situations of whole body human performance (e.g. running, cycling).
Current Research
Explosive strength training, supported by Arthritis Research UK Centre for Sport, Exercise and Osteoarthritis.
Hamstrings muscle function and risk factors for injury, supported by Institute of Sport research (Singapore).
Neuromuscular characteristics of athletes and responses to training.
Running economy and biomechanics, supported by MAS Holdings and English Institute of Sport.
PhD completions
Garry Massey: Muscle-tendon unit morphology, architecture and stiffness in relation to strength and responses to strength training. December 2016.
Andrew Shaw: An exploration of running economy in trained distance runners. March 2016.
Adam Fry: A neurophysiological examination of voluntary isometric contractions: Modulations in sensorimotor oscillatory dynamics with contraction force and physical fatigue. December 2015.
Pavlos Evangelidis: Hamstring muscle anatomy and function and implications for strain injury. March 2015.
Jonathan has done consultancy work and provided expertise on fitness, physical training and athletic performance with a wide range of industry (Technogym, MAS Holdings, BBC) and sports organisations (British Athletics, Leicester Tigers) for a total consultancy income of >£180,000.
To request consultancy and enterprise with Dr Folland please contact the Enterprise Office.
Jonathan is an Associate Editor for the world leading sports science journal Medicine and Science in Sports and Exercise.
Featured publications
Folland JP, Allen SJ, Black MI, Handsaker JC, Forrester SE. (2017). Running technique is an important component of running economy and performance. Med Sci Sports Exerc, in press.
Balshaw TG, Massey GJ, Maden-Wilkinson TM, Morales AJ, McKeown A, Appleby CL, Folland JP. (2017). Changes in agonist neural drive, hypertrophy and pre-training strength all contribute to the individual strength gains after resistance training. Eur J Appl Physiol 117(4): 631-640.
Balshaw TG, Massey GJ, Maden-Wilkinson TM, Tillin NA, Folland JP. (2016). Training specific functional, neural and hypertrophic adaptations to explosive- vs. sustained-contraction strength training. J Appl Physiol, 120(11):1364-73.
Fry A, Mullinger KJ, O'Neill GC, Barratt E, Morris PG, Bauer M, Folland JP, Brookes MJ (2016). Modulation of post-movement beta rebound by contraction force and rate of force development. Hum Brain Mapp, 37(7):2493-511.
Evangelidis PE, Massey, GJ, Ferguson RA, Wheeler P, Pain MT, Folland JP. (2016). The functional significance of hamstrings composition: Is it really a 'fast' muscle group? Scand J Med Sci Sports. in press.