About us
Dr Steph Forrester BEng MSc PhD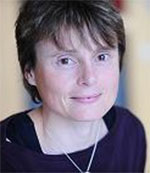 Reader
01509 564824
Office LP1.0.07, Sports Technology Institute, Michael Pearson East
Research interests
My research interests are centred on end user considerations in sports equipment design and performance. More specifically, I am interested in the interaction between neuromuscular aspects of human performance and sports equipment design, and in developing more biofidelic mechanical testing devices for sports equipment.
My research involves both experimental (human and mechanical) and modelling (musculoskeletal and finite element) techniques and at present is mainly being applied to artificial turf and footwear.

Current projects include:
Human and surface loading during in-game scenarios (working with Paul Fleming)
Application of a six degrees of freedom industrial robot to footwear testing (working with Paul Leaney, Andy Harland and Roy Jones)
Neuromuscular function in dental occlusion (working with Matt Pain, SSES and supported by the British Occlusal Association).
Teaching Interests
Module leader for the first year module "Sports Equipment, Dynamics and Human Factors", where I teach on human measurement techniques and procedures
Contribute to the second year module "Measurement and Experimental Design", where I teach on the processes of designing and conducting experiments with human subjects
Supervision of three final year individual projects generally in areas aligned to my current research themes.