About us
Dr Jon Roberts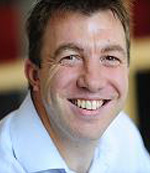 Senior Lecturer
Head of Sports Technology Research Group
01509 564803
Office LP1.1.07, Sports Technology Institute, Michael Pearson East
Research Interests
A range of interests that encompass the interactions between an athlete and their equipment. Currently studying athletes' perceptions of the comfort of personal protective equipment (PPE) worn in sport.
Working in partnership with adidas and Dunlop Slazenger, the aim is to improve the fit and thermal regulation of PPE and, as a result, increase athlete mobility and performance whilst maintaining levels of protection.
Other projects relating users' subjective perceptions to equipment design have investigated the 'feel' of golf and tennis equipment and the perceived performance of soccer balls.
I am also interested in the use of robotics to simulate human motion for equipment evaluation. Current projects include the development of a kicking robot for testing PPE and, in golf, the development of an advanced robot capable of simulating individuals' golf swings using measured kinematic data from the golfer to program the robot. Currently, developing a unique mechanism to simulate the golfers grip.
As a Mechanical Engineer, I also have a general interest in impact mechanics and the resultant sound and vibration of sports equipment.
Teaching Interests
Module leader for a first year module entitled 'Measurement Principles' which aims to introduce students to the subject of instrumentation and measurement for evaluating both equipment and human performance.
Contribute to a second year module entitled 'Measurement and Experimental Design' where I focus on how athletes' subjective perceptions of sports equipment can be analysed and used in the design process to satisfy user requirements.
I also supervise numerous laboratory sessions and several final year projects each year in areas allied to current research projects.
External Roles
Invited lectures: Engineering Integrity Society workshop on Product Sound and Vibration (2006), Better Golf Through Technology conference, MIT, Boston (2007)
Invited papers: Sports Engineering Special Issue of the Proceedings of the Institution of Mechanical Engineers, Part L - Journal of Materials: Design and Applications (2006)
Referee for Journal of Sports Sciences and Sports Engineering
Collaborative Research: The 'Feel' of a Golf Shot (Callaway Golf, 1998-2007), Personalised Protective Equipment (Dunlop-Slazenger, adidas, 2006-2010)
Commercialisation of research: Specialist advisor to adidas on player assessment of the 2006 World Cup football.