The forgotten stakeholder
Understanding and enhancing the role of parents in supporting their children's involvement in competitive tennis
Parents are key players in supporting their children's positive experience of sport, but many describe it as a difficult and stressful role.
They acknowledge experiencing negative emotional responses during competitions – ranging from anxiety to anger – and that this can affect the quality of their involvement and the experiences of their child, coaches and match officials.
Our research underpins initiatives by the Lawn Tennis Association (LTA) and International Tennis Federation (ITF) which are helping parents around the world to enjoy their children's sport participation – and play an active and positive part in encouraging it.
The outcomes of the research have also been extended to tennis coaches, referees, development officers and other officials within the sport to enhance their practice and engagement with parents.
Images courtesy of the Lawn Tennis Association
Our impact
The LTA's Tennis Parent Education Strategy
Our work supported the development of a range of practical initiatives and resources including The Competition Parenting Workshop (CPW), a revised Start Competing Guide for parents, four animated videos and a webpage for parents which provides access to all of the above.
Drawing on our research, the LTA established a 10-member National Parent Advisory Group to feedback parental concerns and discuss new strategies.
The ITF's Global Tennis Parent Education Strategy
The ITF has adopted the LTA's CPW – and Professor Harwood provided workshop tutor training for the ITF's International Development Officers who serve their 192 member nations.
In 2019, the University, ITF and LTA agreed an MOU to collaborate on parent education, enabling a multi-lingual international programme with the development of e-learning modules
Global Parental Engagement
The LTA webpage has attracted 14,360 unique users; the four animations, 11,009 views; and the Start Competing Guide has achieved 1,598 downloads.
The LTA has delivered 124 CPW – attended by 1,753 parents – with seven free online workshops during the COVID-19 pandemic.
The ITF e-learning modules have been completed by 2,359 parents from 137 countries.
Parental, coach, player and referee feedback has been hugely positive.
The research
Our research exploring the experiences of parents in the UK whose children play competitive tennis began in 2006.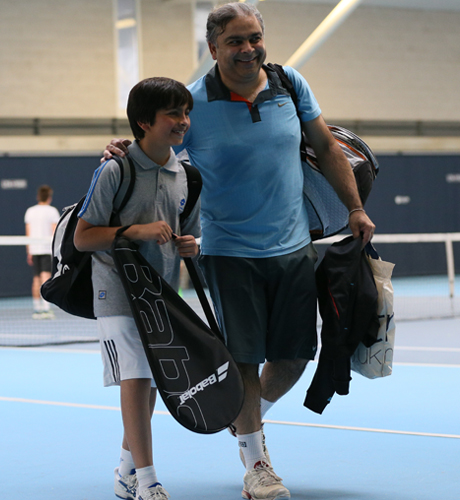 We have discovered that parents often find their children's tennis competitions challenging. Our studies have identified a wide range of competition, organisational and developmental stressors that negatively affect their behaviour and support of their child's involvement in the sport.
Building on this, we identified parents' education and support needs – designing and trialling a three-month intervention with a series of workshops. Participants reported not only improved confidence in supporting their children positively, but also enhanced enjoyment of the competition experience and reduced levels of stress.
The workshop materials were then adapted to form an online package for parents. Again, the quantitative and qualitative results demonstrated a positive impact on the participants.
With organisation-led education now available worldwide, the competition experience is becoming far more positive for children and parents alike.
In 2019, 119,458 young people competed in one or more tennis matches
Research funders
Lawn Tennis Association
Loughborough University
Development partners
Lawn Tennis Association
International Tennis Federation