The threats posed by fake or unscrupulous agents were recently highlighted at an event held during UN General Assembly Week in New York, USA.
Dr Yilmaz, a lecturer in sport law, at the School of Sport, Exercise and Health Sciences, was invited and addressed a crowd at the UN's headquarters about human trafficking and the vulnerability of minor players – those who have not yet reached the age of 18.
The interactive session – hosted by The Permanent Missions of the Gabonese Republic, Monaco and Qatar to the United Nations, UN Office on Drugs and Crime (UNODC), and Mission89, an NGO working on tackling human trafficking in sport – was made up of representatives of member states of the UN, academics and industry professionals and was aimed at finding technological solutions to the issues of economic exploitation of young footballers.
Dr Yilmaz said: "Human trafficking of minors in sport, particularly in football, is a dark form of modern slavery and one of the most serious human rights violations.
"It involves clandestine networks of actors, including unscrupulous agents and fake agents; and minor athletes are deceived with false promises, only for them to be robbed and abandoned.
"Trafficking in sport is a type of labour trafficking where those actors exert ownership and control over minor athletes with an immediate financial gain as their primary concern, and force them into highly unfavourable and exploitative playing contracts."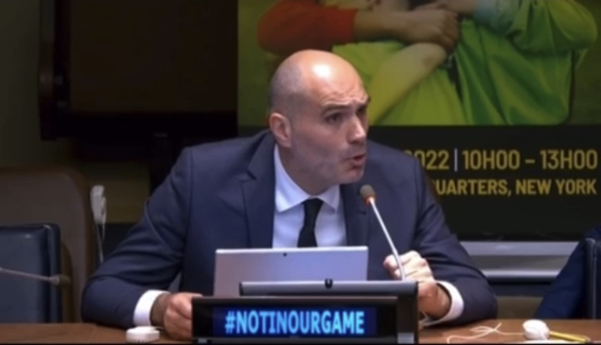 Dr Yilmaz speaking at the UN event in New York, last month
At the event, Dr Yilmaz shared information about two ongoing research projects that he has been involved in.
The first is a project on children's rights and football, funded by UNICEF, and conducted together with Dr James Esson and Dr Carolynne Mason of Loughborough University, that identifies and explores the trafficking of minors in the wider context of recruitment processes in professional football.
The second is the Sinafe project, funded by the European Commission, which investigates the issue of migratory processes in football as a major obstacle to the social inclusion of young migrant footballers in Europe.
Dr Yilmaz said: "What our research shows is that minor players – and their parents – lack understanding around the role and work of agents in recruitment and migration processes in football.
"They have a very limited understanding of the administrative and regulatory aspects of trials and transfers in football, as well as contracts… whether representation contracts or an employment contract. There is also very little knowledge of immigration law.
"Because of their limited knowledge, minor players and their parents are not able to recognise the threats posed by unscrupulous or fake agents.
"It is extremely difficult for them to appreciate the exploitative nature of the contracts that they are signing, or adequately comply with the basic requirements of movement for footballing purposes, for example, obtaining visas and complying with their condition of stay in a foreign country.
"As a result, minors are extremely vulnerable and exposed to exploitation."
Dr Yilmaz also emphasised the necessity to educate both young talent and their parents about the aspects of recruitment and migration in football in order to address this knowledge gap that the research illustrates.
Education is a preventative tool which can raise awareness about trafficking and help minors not to become a victim.
ENDS