The study, led by Professor Jin Xuan and funded by the Engineering and Physical Sciences Research Council, looks to achieve its ambitious goal using a novel electrochemical approach.
Nearly 140,000 industrial materials and chemicals are marketed worldwide, and most of them are made from fossil fuels, which are harmful for the planet given their high levels of embedded carbon dioxide.
It is vital to identify sustainable alternatives for the manufacturing of these chemicals and materials and biomanufacturing is a promising avenue.
This type of manufacturing uses biological substances as 'feedstock' – raw materials that supply/fuel the process – to make important chemicals and materials for sustainable bioproducts, such as medicines, polymers, and detergents.
The process is deemed sustainable as it utilises waste, such as biomass, by using it as feedstock. However, it is far from perfect as it still results in the release of carbon dioxide.
Carbon dioxide is emitted and lost during steps in the biomanufacturing process, and waste from end products are incinerated or go to landfill, further increasing the system's carbon footprint.
Professor Xuan and team are looking to develop a process that integrates electrochemical lignocellulosic conversion with CO2 reduction and power it using renewable energy.
They hope their efforts will reduce up to 50% of energy used for biomanufacturing and make the manufacturing process more efficient and cost-effective.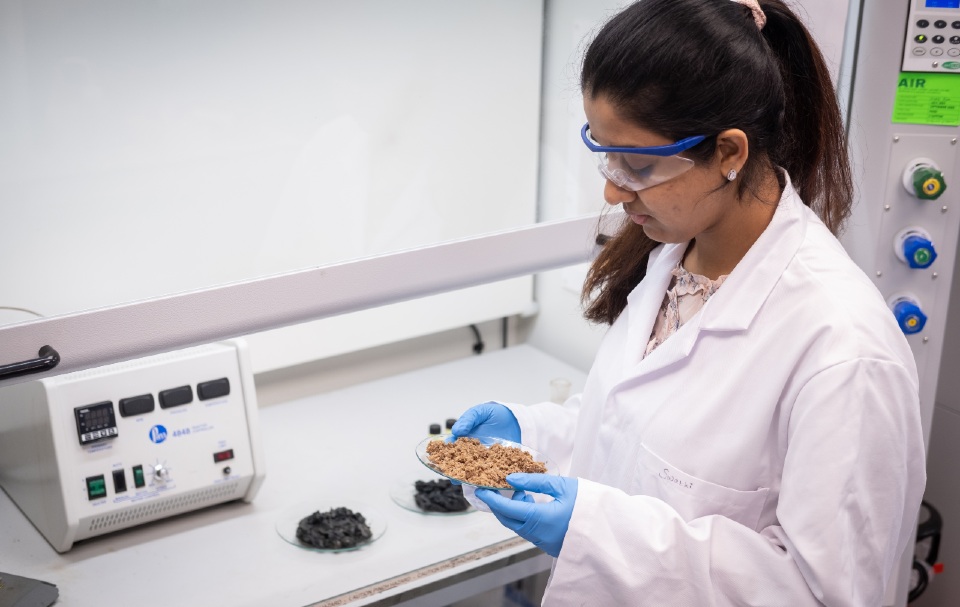 Pictured: Sustainable manufacturing research being undertaken at the UKRI Interdisciplinary Centre for Circular Chemical Economy at Loughborough University.
Of how the system will work, Professor Xuan said: "This project looks to capture carbon dioxide and put it back into the manufacturing process and eliminate waste after the end-of-use of the product and put it back in as a feedstock.
"One important aspect is the systems thinking. We need to put the new manufacturing technology into the big industrial system and supply chain, and look at the environmental, economic and social impacts from their entire life cycle.
"It is a challenging task, but we aim to achieve it by developing a novel digital twin solution to capture the complex dynamics of such manufacturing systems over their life cycle."
He continued: "The chemical manufacturing sector is the UK's second-highest industrial emitter, with an annual turnover of £32bn.
"Therefore, exploiting net-zero carbon loss (emission or waste) systems throughout the life cycle will be key towards future sustainable manufacturing with resource resilience and economic viability.
"Through our closed-loop circular economy design, we want to eliminate all forms of carbon loss."
In addition to collaborating with academic partners from Imperial College and Heriot-Watt University, the project involves partners including the Knowledge Transfer Network (KTN), BASF, the Manufacturing Technology Centre (MTC) and Oxford University spin-out OxCCU.
More information on the project, which is set to complete in 2025, can be found here.
Professor Xuan also explained the importance of a circular economy approach in a recent media explainer video which can be found below: