Whilst remaining in her current role as Head of Performance Support at Loughborough, Murphy's new part-time dual role will see her play a pivotal role in developing and preparing England players through expert coaching and support on training camps and in competitive series.
Murphy – who is also a Loughborough alumna and a member of the University's Hall of Fame – joins the England coaching team having amassed 95 caps across 15 years playing internationally for England, with six years spent as senior captain.
With over 20 years of coaching experience, Murphy has helped ready players on the developmental pathway to their international careers as England Netball Technical Coach for the U17 age group since 2014 and at many a club setting including Loughborough Lightning where she is currently the Vitality Netball Superleague side's Assistant Coach.
"It's a privilege and an honour to be involved with the Roses in this role. With the netball season firmly underway it has been a great showcase for the athletes but also for me to start to look at ways to help them develop," commented Murphy.
"Ultimately, I'm so excited to work with the talented staff and players and cannot wait to get started."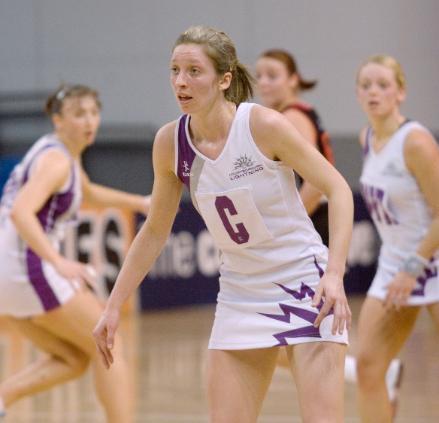 Murphy playing for Loughborough Lightning in the 2007/2008 season. Image: Nigel Farrow.
Murphy will join Sonia Mkoloma (Assistant Coach) and Liana Leota (Technical Coach) in Head Coach's Jess Thirlby's new-look backroom team.
All three coaching additions are experienced medal-winners at multiple Commonwealth Games and Netball World Cups and will work with the Vitality Roses until post the 2023 Netball World Cup.
As the countdown to the 2022 Commonwealth Games in Birmingham next summer begins, the appointments bring huge experience and netball DNA to the heart of the off-court team supporting the Vitality Roses as they look to repeat history on home soil.
Jess Thirlby, Vitality Roses Head Coach, said:
"If you know netball, you know Liv, Sonia and Liana. Their passion and collective experience from playing and coaching at the highest level over many years in multiple high-performance environments across the world will be a huge asset for the Roses as we prepare for Birmingham 2022.
"I'm so excited about what they will bring to our team. Liv was my captain when I first got into the England team, we played at the Manchester Commonwealth Games together in 2002, and we also worked together with the England A and England U21 teams in 2013, as well as at Team Bath for a season and most recently with the Roses."
Thirlby added:
"We're very much looking forward to having them join us in our first England camp this summer. They are world-class in their own right and the dynamic they will add to our environment, to me and the team will be invaluable.
"I also want to acknowledge and thank England Netball for their continued support and investing in this pioneering Roses coaching team, demonstrating the importance and impact that great coaching can have on a team with the ambition that we do as Roses."