News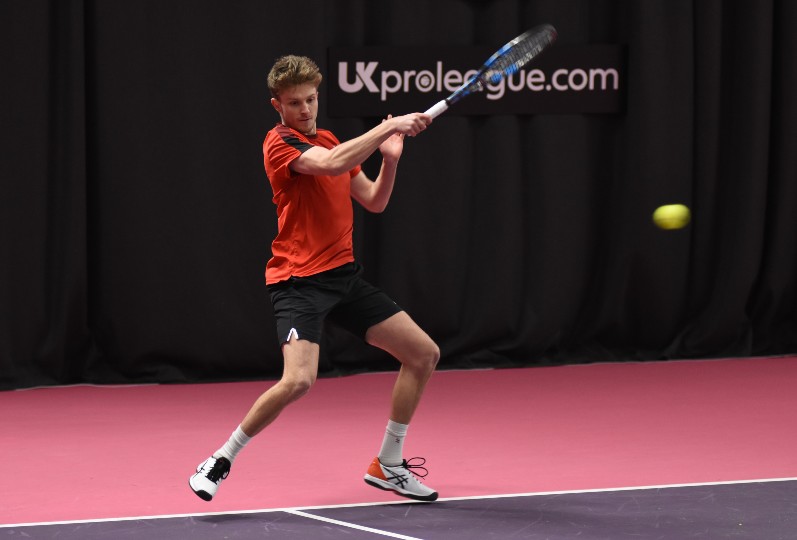 Loughborough serves up an ace with key tennis events
Loughborough University has welcomed some of the country's top young tennis talent as the UK Pro League tennis tournament gets underway on campus.
The event, held in a Covid secure environment at the University's Tennis Centre, will see a mix of young men and women players aiming to secure victory in a tournament that starts in a round robin format before proceeding to the knockout stage.
Loughborough, as hosts of the event, were designated two wildcard entrants for alumni duo George Houghton and Olivia Nicholls, who will be joined in the draw by current students Nadia Rawson and Ella Taylor, and Loughborough University National Tennis Academy player Kylie Bilchev.
Week one of the event will initially run from 1-7 March, with three further Loughborough dates scheduled for 15 – 21 March, 5–11 April, and 18–25 April.
Each match will be broadcast through BT Sport – via the app and its main channels – and the UK Pro League's YouTube channel.
Tom Kisiel, Head of Performance Tennis, said:
"We're delighted to host the UK Pro league for the first time and it's great that Loughborough University campus provides a Covid secure environment for elite-level players to have the opportunity to compete.
"With current restrictions making travel difficult, the competition represents a fantastic opportunity for British players to get some match practice and as well as earn prize money on home soil.
"The opportunity for our Loughborough-based players to compete in this environment against high calibre opponents – alongside the experience of playing in front of the TV cameras – will be invaluable for them in their further careers."
Loughborough will also welcome some of the world's best wheelchair players to campus later in the month, after confirming the Loughborough Indoor Wheelchair Tennis Tournament will take place from 23 to 27 March.
The tournament, hosted in collaboration with the LTA, will be a behind closed doors international event and is part of the governing body's continued drive to provide opportunities for players to compete within limitations caused by the Covid-19 pandemic.
To find out more about hosting elite training camps and events on Loughborough's Covid secure campus click HERE.
Notes for editors
Press release reference number: 21/37
Loughborough is one of the country's leading universities, with an international reputation for research that matters, excellence in teaching, strong links with industry, and unrivalled achievement in sport and its underpinning academic disciplines.
It has been awarded five stars in the independent QS Stars university rating scheme, named the best university in the world for sports-related subjects in the 2020 QS World University Rankings and University of the Year by The Times and Sunday Times University Guide 2019.
Loughborough is in the top 10 of every national league table, being ranked 7th in the Guardian University League Table 2021, 5th in the Times and Sunday Times Good University Guide 2020 and 6th in The UK Complete University Guide 2021.
Loughborough is consistently ranked in the top twenty of UK universities in the Times Higher Education's 'table of tables' and is in the top 10 in England for research intensity. In recognition of its contribution to the sector, Loughborough has been awarded seven Queen's Anniversary Prizes.
The Loughborough University London campus is based on the Queen Elizabeth Olympic Park and offers postgraduate and executive-level education, as well as research and enterprise opportunities. It is home to influential thought leaders, pioneering researchers and creative innovators who provide students with the highest quality of teaching and the very latest in modern thinking.