But despite this, she has been through some difficult years which have seen her look to the Student Wellbeing and Inclusivity team for additional support as she overcame multiple challenges in her life.
Prior to joining in 2017, Leah was the first member of her family to go to university, and the milestone for her was both exciting and daunting.
But at the time, she was fighting anxiety, an eating disorder, and self-harm.
Sadly, during her first year of studies her wellbeing became progressively worse, to a point where she attempted to take her own life. Leah and the University agreed it was right for her to take a leave of absence to help her recover without the pressures of studying a degree.
After a year away from university life, she was able to return to Loughborough in 2019. But it still wasn't easy; she experienced depression, post-traumatic stress disorder, more life attempts, and alcoholism. But supporting her throughout was a number of University services and networks that all became part of her Loughborough Family.
Leah was given a dedicated mental health support worker, Kate Wigham. Kate would meet with Leah on a weekly basis to discuss her academic and personal life, and how she was managing with life in general. The pair would decide on some small goals Leah could focus on over short periods of time, as opposed to trying to do everything at once (something which Leah identified as a challenge for her to maintain a healthy state of mind). Furthermore, working with Kate meant Leah could have reasonable adjustments put in place for exams and coursework so she was never at a disadvantage.
Reflecting on Leah's journey, Kate commented: "I've been very fortunate to support Leah throughout her time here at Loughborough. Despite the many challenges she has faced over the years, Leah has showed incredible strength, determination and compassion to both herself and others.
"She's made many positive changes during her University journey and her story is truly inspiring to others."
Leah also found comfort joining the Students' Union's volunteering group Action as well as LSU Media, both of which she signed up to in her first week at university.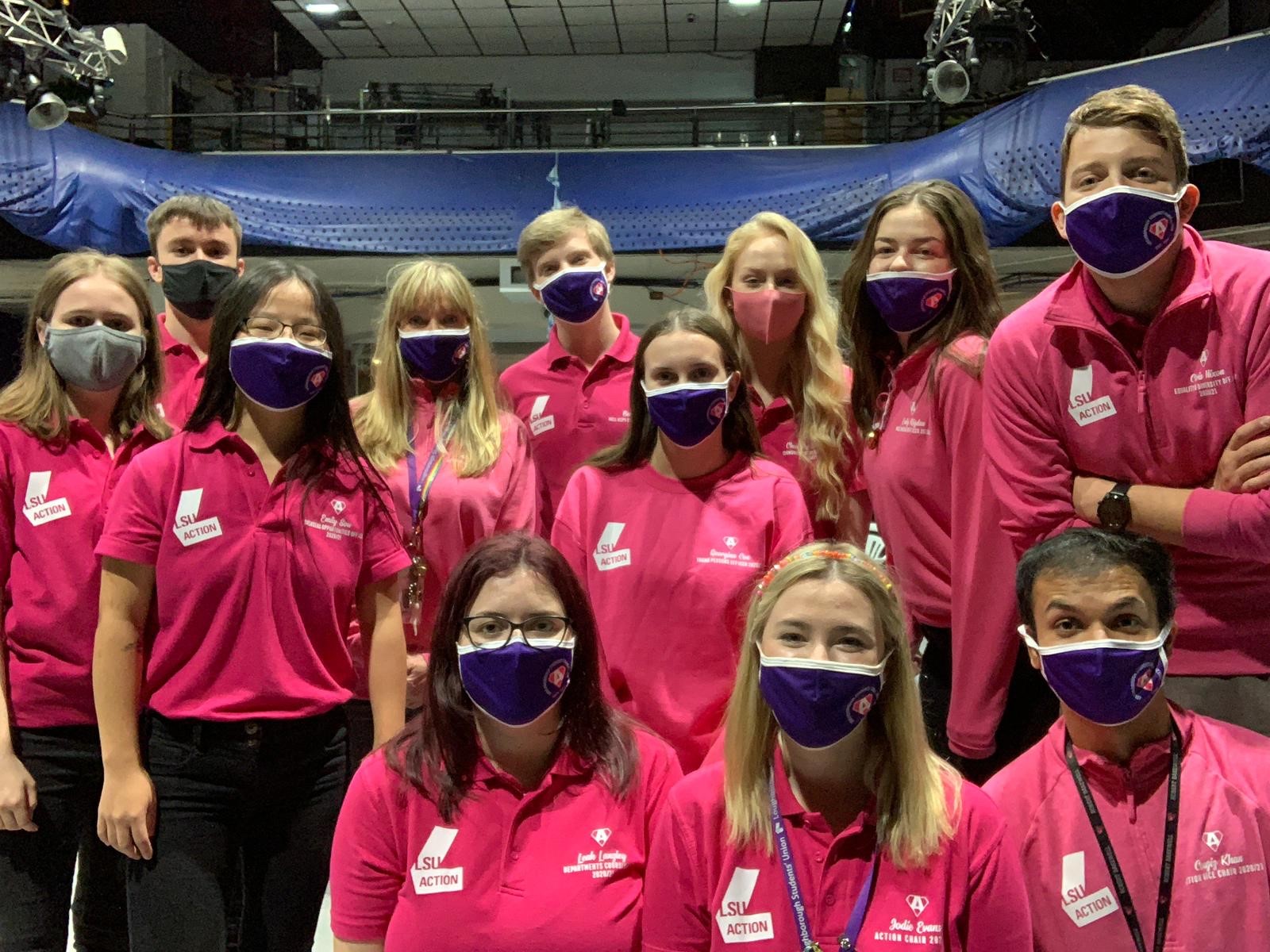 The latter allowed Leah to reconnect with her love of words. Originally fearful of judgement, being part of LSU Media allowed her to publish her writing and over time she felt she could be more intimate and emotional with the topics she wrote about. It also inspired her goals to start a career in journalism. For her contribution to the section, she was named the winner of 'Overall Contribution to Label' at this year's Media Awards.
Being part of Action helped Leah make friends, and she was able to positively impact the lives of others through her volunteer work over the years.
"I was supported by the Action committee to push myself out of my comfort zone, and I went from a shy and timid fresher to someone leading their own events and teams in a range of roles," she said.
"The skills I gained through Action also played well into my academia as I had more confidence and was able to advocate for myself better - it helped me to realise I was capable of great things."
And during what has been a testing time for all of us since the pandemic started, Leah was determined to continue inspiring others by taking up a role as a Student Ambassador.
Not only did it give her the normality she craved and a feeling of purpose, but she passionately shared her love of Loughborough University with prospective students at Open Days. Through this role, she also worked as a student buddy for Christmas Festivities, supporting students on campus who didn't or weren't able to go home for the holidays last year.
Student Ambassador Coordinator Jess Excell commented: "I feel very blessed to have had Leah in my team and it has been a great joy to have worked with her and watch her flourish into a skilled, confident young woman. Whether leading a campus tour, chatting to the parents of worried applicants, or supporting young people via MS Teams on one of virtual outreach events, she is an incredible advertisement for Loughborough and her passion and belief in the university is inspiring.
"Leah is the living embodiment of the ethos of Loughborough, and I wish her every success with her next challenge. I have no doubt she will go far."
In February during LGBT+ History Month, Leah shared Seen Beyond Measure – an uplifting and heartfelt poem detailing her experiences of being gay at University and how it was there she finally felt truly accepted for who she was.
Earlier in the summer, Leah was named the recipient of a Loughborough Academic Award for Department Committee Member of the Year, and was shortlisted for a Loughborough Experience Award – which recognises the impact individuals make to life at Loughborough for the student body.
And to top it all off, last month she was delighted to discover that she would be graduating with a 2:1.
After the summer Leah plans to start an MA in Sports Journalism at Staffordshire University, and she hopes this will be an opportunity for her to highlight mental health and the LGBT+ community in sport.
And when asked what advice she'd give to others thinking of coming to university – especially those who struggle with their mental health – Leah said: "Take the leap and be honest about what you need. I was scared that I would be judged and misunderstood, and I was also ashamed to admit that I needed help, but once I did everything changed and my life could properly begin.
"I was given all the support I could ever possibly need, and I realised that I wasn't alone. I'd also encourage people to not be put off by stereotypes about university. I was worried about not playing sport, and then when I became sober I thought I would miss out on a significant part of the Loughborough experience, but I didn't. I was able to find my own group of people and my own place within the University where I truly felt loved and appreciated."
ENDS