The project was launched last year to students from the School of Architecture, Building and Civil Engineering and Hiroshima Institute of Technology who all attended a summer school at Loughborough.
They were tasked with designing an apple store that could hold the abundance of apples gathered as part of Fruit Routes, a project that has developed the campus to be an edible landscape.
As part of the design, the students, who were split into teams, were asked to create a structure that used low-impact materials, could be dismantled easily, and be flexible in its use – as well as providing an engaging space where people could gather, share knowledge and relax.
They were given five days to interpret the brief, design and build a model and present their idea.
The initiative also supported the Loughborough Architecture degree programme by giving students the opportunity to collaborate with peers from an international university, share design ideas with one another and broaden their learning experience by undertaking a real-world project with a real-life client.
A second summer school recently took place, where students designed and created small-scale models of their ideas at Loughborough.
The teams were judged by Sustainability Manager Jo Shields, artist and founder of Fruit Routes Anne-Marie Culhane, Pro Vice-Chancellor for Teaching Professor Rachel Thomson, Dr Matyas Gutai, Professor So Sugita and architect Ana Ilic. The winner of this year's scheme was the 'Core'.
Students and staff members discussing one of the models built by a team at the Summer School.
The top design will be crafted into a full-size model next month in Japan by the students from the Hiroshima Institute of Technology.‌
The apple store scheme was created to support the Fruit Routes Harvest, a two-day weekend event which takes place annually on campus to enhance engagement between the University and the community by providing free activities and workshops focusing on sustainability and the arts.
Students described the project as enjoyable and a 'great opportunity', which educated them on the sustainable initiatives undertaken at the University and also how to better communicate through drawings and sketches due to the language barrier.
Talking about the initiative, Sustainability Manager Jo Shields said: "It has been very inspiring to spend time working with the students on this project. To see the concept brought to life is very exciting and realising the potential this project has to develop and continue to engage our community is so rewarding.
"As such a large employer in the town, we take our civic responsibility seriously and projects like this foster community engagement as well as providing students with an opportunity to gain hands-on experience of working with clients on the campus.
"To be shortlisted as a finalist in this year's Green Gown Awards for the benefitting society category is very fitting for such an inclusive project. It means a lot to the team and all those that have been involved in the project."
Dr Matyas Gutai, a Lecturer in Architecture and Construction Technology, added: "The LU-ARC Summer School is a unique design challenge and collaboration: it offers architecture and art students the possibility to engage with real clients and the opportunity to bring together students from two different architectural cultures.
"In addition to designing an apple store and building it in Hiroshima, the Summer School guides students in the role of 'community builders', an increasingly important aspect of our profession that is often neglected in conventional teaching."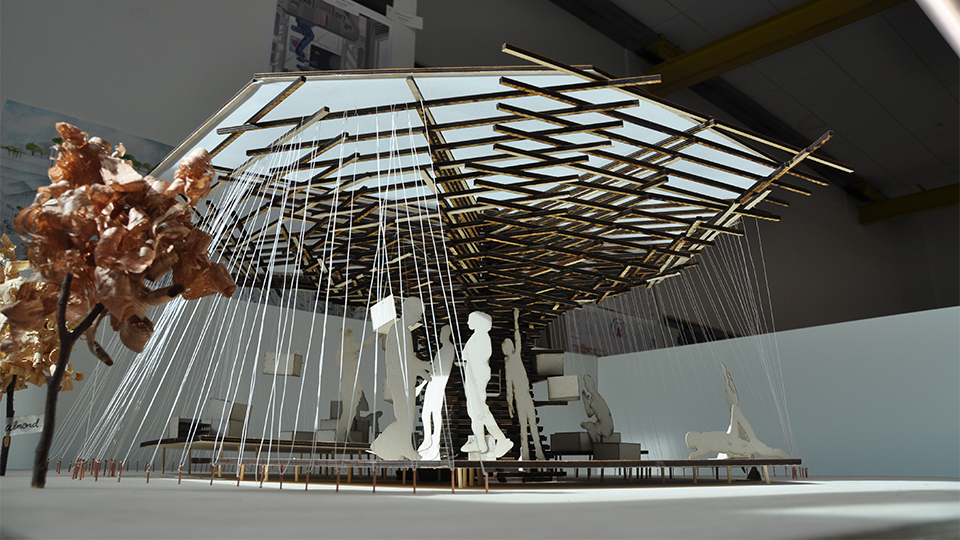 Final model of winning design, 'Core'.
Loughborough will be hoping for another win at the Green Gown awards, where it has been shortlisted in the Student Engagement category with #SpitHappens.
Spit Happens was a record-breaking event at the University that hoped to increase the number of stem cell donors to the Anthony Nolan register. It was successful in adding 2,056 eligible donors, breaking the record for the number of stem cell donors recruited in a day at a university.
Loughborough University has previously been shortlisted at the awards for a range of projects such as the Loughborough Cup and It's Better Off campaign.
The winners will be announced on 26 November at an awards evening held at the Glasgow Science Centre.
Find out more about the apple store student project by watching the highlights of this year's summer school here.