The two-day event will host a programme of educational workshops and fun activities as well as plenty of opportunities to try the fruit and vegetables grown on the University campus.
Fruit Routes is an award-winning, artist-led initiative created by Anne-Marie Culhane alongside the University's Sustainability team.
For the last seven years, the project has developed the campus to be an edible landscape, by planting fruit trees, increasing foraging opportunities and sharing knowledge with the wider community through engaging events.
‌
Some of the exciting initiatives taking place at this year's Harvest include:
Learning how to make jams and jellies such as rosehip syrup using foraged ingredients
An architectural workshop exploring small structures and den building with Studio Polpo
'Bake Off' competition with entries using locally harvested fruit, with a huge cake feast afterwards (with plenty of tea!)
Pumpkin carving and craft activities suitable for all ages
'Beating the bounds' by taking a walk around the orchards of Fruit Routes with stories and sounds along the way featuring Dr Gillian Whiteley, Dr Geoff Bright and local poet Paul Conneally.
The University's Landscaping & Gardening Society (LAGS), the Grounds and Gardens team, academics from the School of Social Sciences and Humanities and volunteer students and staff have also contributed to the build-up of this month's event by helping with the harvesting and running of activities across the weekend.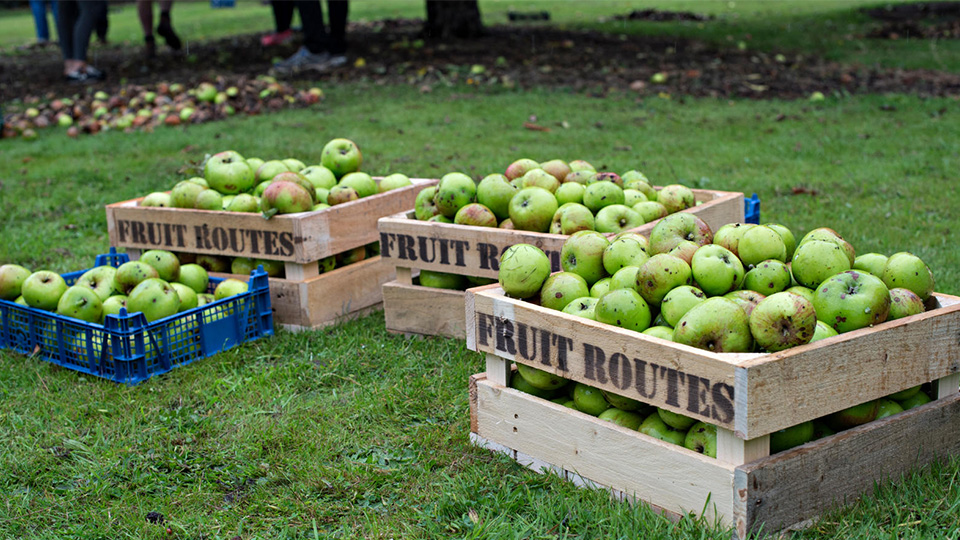 Speaking about the event, Sustainability Manager Jo Shields said: "As we move from summer into autumn, we begin to harvest the abundant fruit on campus ready to celebrate at our community event.
"We encourage staff, students and members of the public to come along and help press some apples to make cider or take away as fresh juice. We're also looking for entries into the annual harvest bake-off, with some great prizes available for the winners.
"As always, there will be music and poetry and a chance to celebrate the harvest, the seasons and our community."
Anne-Marie Culhane added: "We have loads in store this autumn on Fruit Routes. We invite you to come along to the LAGS community garden on Friday with friends and colleagues to press apples and make jams and jellies.
"On Saturday we have Studio Polpo, an architectural practice, to facilitate a workshop playfully exploring small structures using hazel sticks gathered on campus. We also have other craft activities along with the Bake Off competition and feast, which are all suitable for both adults and children to enjoy. We look forward to seeing you there!"
All of the activities are free to attend and will take place in a variety of locations across campus, including the LAGS Community Garden, Edward Herbert Building and the Gallery in the Fine Art Building.
For more information about the event, including a full schedule with times and locations, visit the Fruit Routes blog.