News
Could standing consultations help improve GPs' health?
A new study being led by Loughborough University is hoping to find out if standing consultations could help improve the health of the nations' GPs.
There are more than 50,000 GPs in the UK. Many GPs sit for long periods during the working day and report low levels of physical activity, which can contribute to poor health outcomes.
To tackle this problem academics from Loughborough, in partnership with the Royal College of General Practitioners (RCGP), are investigating if standing consultations could help improve the activity levels of GPs and if their use would be accepted by patients and doctors.
The study will be carried out in three phases. For the first phase around 500 GPs throughout the UK will be asked to complete a survey about their views on using standing desks during patient consultations.
For the second phase the research team will recruit GPs from across the East and West Midlands, with each asked to wear an ActivPAL device. The device will be used to measure the time the GPs spend sitting and standing while using their usual work desk for consultations and then again using a standing desk.
As well as capturing the GPs' activity patterns during work hours, the ActivPAL device will also allow the research team to see if there are any changes to activity levels during none work time.
During this phase of the study patients will also be asked by their GP if they are willing to talk to a researcher about their views of using a standing desk during their consultation with the GP.
For the final part of the study, the GPs will be invited to take part in interviews about their experiences of standing consultations.
Professor Amanda Daley from Loughborough University's School of Sport, Health and Exercise Sciences is leading the project. She said: "Historically, GPs and patients sit during consultations to facilitate good doctor-patient-rapport – we have all heard the familiar greeting from our GPs to 'take a seat'. But we also know that GPs spend a long time sitting down during the working day – which can contribute to poor health outcomes – and evidence suggests that doctors often neglect their own health.
"Therefore, we need to find ways of getting GPs on their feet and moving more often. Standing consultations could help GPs to be more active, as well as highlighting to patients the importance of reducing and breaking up their sitting time."
Notes for editors
Press release reference number: PR 19/170
Loughborough University is equipped with a live in-house broadcast unit via the Globelynx network. To arrange an interview with one of our experts please contact the press office on 01509 223491. Bookings can be made online via www.globelynx.com
Loughborough is one of the country's leading universities, with an international reputation for research that matters, excellence in teaching, strong links with industry, and unrivalled achievement in sport and its underpinning academic disciplines.
It has been awarded five stars in the independent QS Stars university rating scheme, named the best university in the world for sports-related subjects in the 2019 QS World University Rankings, University of the Year by The Times and Sunday Times University Guide 2019 and top in the country for its student experience in the 2018 THE Student Experience Survey.
Loughborough is in the top 10 of every national league table, being ranked 4th in the Guardian University League Table 2020, 5th in the Times and Sunday Times Good University Guide 2020 and 8th in The UK Complete University Guide 2020.
Loughborough is consistently ranked in the top twenty of UK universities in the Times Higher Education's 'table of tables' and is in the top 10 in England for research intensity. In recognition of its contribution to the sector, Loughborough has been awarded seven Queen's Anniversary Prizes.
The Loughborough University London campus is based on the Queen Elizabeth Olympic Park and offers postgraduate and executive-level education, as well as research and enterprise opportunities. It is home to influential thought leaders, pioneering researchers and creative innovators who provide students with the highest quality of teaching and the very latest in modern thinking.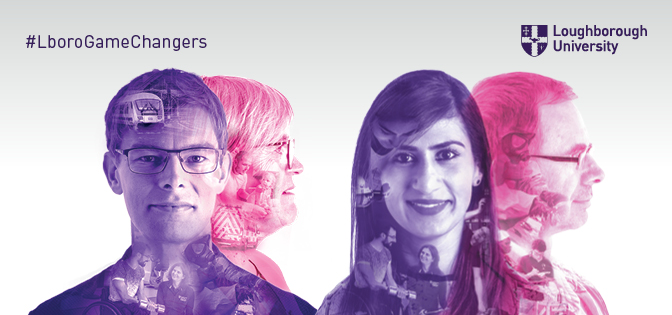 Loughborough staff, students and alumni make a real difference. They challenge convention, think creatively and find solutions to some of the biggest challenges facing society today and in the future.
Meet the #LboroGameChangers at lboro.ac.uk/lborogamechangers