News
SUSTAINABLE HOME: Experts share top tips for being more environmentally friendly this Christmas in new video series
FIVE Loughborough experts are sharing their tips and tricks for making your home more sustainable this Christmas as part of a new video series.
The 'Sustainable Home' videos feature academics from different research backgrounds and members of the University's Sustainability team.
The series focuses on five key areas: food waste, energy use, fashion waste, recycling, and unsustainable packaging and products.
The videos share tips that can be used all year round but is hoped launching the series in December will lead to viewers having a more environmentally friendly Christmas and a greener 2020.
As despite it being labelled 'the most wonderful time of the year', it's no secret that the festive period can be not-so-wonderful when it comes to excessive purchasing, energy use and waste.
Dr Elliot Woolley, a Senior Lecturer in Sustainable Manufacturing, is kicking off the Sustainable Home series by sharing his tips for reducing food waste.
According to Unilever, 4.2 million Christmas dinners were wasted in the UK in 2014. This figure equates to approximately 263,000 turkeys, 7.5 million mince pies, 740,000 slices of Christmas pudding, 17.2 million brussels sprouts, 11.9 million carrots and 11.3 million roast potatoes – so expert advice is really needed!
Dr Woolley's tips for cutting food waste in the home are:
Planning – know what you want to eat
Purchasing – only buy what you need and avoid 'BOGOF' offers
Storage – know what to store in the fridge and know the difference between 'best-before' and 'use-by' dates
Preparation – only cook what you are going to eat
Leftovers – store remaining food and remember to use it later
Learn to love your leftovers! Store them and use them to make another meal.
Dr Woolley commented: "The average family throws away about £700 worth of food each year. This is not just a drain on our finances, but also has significant environmental impacts – both in terms of production and waste management – and Christmas is no different.
"I have shared some practical approaches that you can take to reduce your food waste this Christmas (and the rest of the year), which will also save you money and reduce your carbon footprint."
The 'Loughborough Food Planner' showcased in Dr Wolley's video was launched earlier this year by Dr Rhoda Trimingham and the PR team and can download for free here.
To keep up-to-date with the Sustainable Home videos, visit the Media Centre video and audio subsection.
Notes for editors
Press release reference number: 19/212
Loughborough University is equipped with a live in-house broadcast unit via the Globelynx network. To arrange an interview with one of our experts please contact the press office on 01509 223491. Bookings can be made online via www.globelynx.com
Loughborough is one of the country's leading universities, with an international reputation for research that matters, excellence in teaching, strong links with industry, and unrivalled achievement in sport and its underpinning academic disciplines.
It has been awarded five stars in the independent QS Stars university rating scheme, named the best university in the world for sports-related subjects in the 2019 QS World University Rankings, University of the Year by The Times and Sunday Times University Guide 2019 and top in the country for its student experience in the 2018 THE Student Experience Survey.
Loughborough is in the top 10 of every national league table, being ranked 4th in the Guardian University League Table 2020, 5th in the Times and Sunday Times Good University Guide 2019 and 8th in The UK Complete University Guide 2020.
Loughborough is consistently ranked in the top twenty of UK universities in the Times Higher Education's 'table of tables' and is in the top 10 in England for research intensity. In recognition of its contribution to the sector, Loughborough has been awarded seven Queen's Anniversary Prizes.
The Loughborough University London campus is based on the Queen Elizabeth Olympic Park and offers postgraduate and executive-level education, as well as research and enterprise opportunities. It is home to influential thought leaders, pioneering researchers and creative innovators who provide students with the highest quality of teaching and the very latest in modern thinking.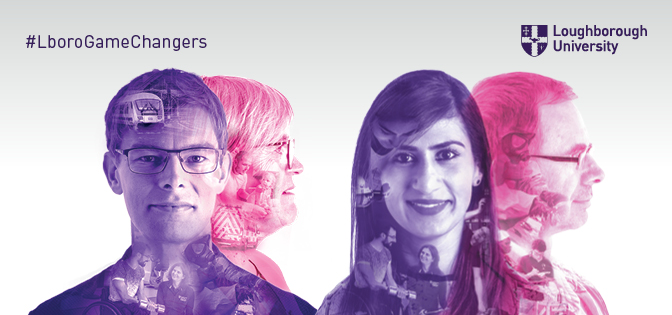 Loughborough staff, students and alumni make a real difference. They challenge convention, think creatively and find solutions to some of the biggest challenges facing society today and in the future.
Meet the #LboroGameChangers at lboro.ac.uk/lborogamechangers