News
You're more likely to be deemed friendly and competent in a job interview if those asking the questions are happy with the light in the room, study finds
The more satisfied office workers are with the light in a room, the more likely they are to deem people they have just met as being warm and competent, a new Loughborough University study has found.
Workplace illumination is known to impact mood, performance and decision-making. However, until now little research has examined whether light satisfaction can impact first impressions in a work context.
The topic is important as it means situations such as hiring, leader selection, voting decisions, performance appraisals and social interactions that are influenced by first impressions may all be impacted by the light conditions in a room.
Dr Olga Kombeiz and Dr Erik Dietl, experts in human resource management and organisational behaviour in the School of Business and Economics, hope their latest research findings will contribute to the design of better and fairer work settings in which first impressions are made.
The pair's latest research paper explores how positive feelings associated with lighting conditions in offices relates to judgements of others' warmth – how friendly and trustworthy someone is deemed to be – and competence, which is characterized by intelligence, confidence, and assertiveness.
They addressed the idea by conducting two studies: a laboratory experiment and a field study in real working offices.
Both studies required participants to look at photos of male and female faces with neutral expressions and rate their level of warmth and competence.
Results from a pilot study showed the images to possess 'medium levels' of attractiveness, warmth and competence.
One-hundred-and-sixty-one German university students took part in the first study, which was hosted in a laboratory designed to represent an office, and the second field study involved 175 full-time employees in the United States.
All participants were asked to rate the faces in the photos in terms of their perceived warmth and competence and rate how satisfied they were with the light in the office.
Lights of different brightness and colour temperatures were used during the experiments as the light settings considered to be the best or most satisfying to an individual is down to personal taste.
By using a variety of light conditions, the researchers hoped to elicit a broad range of satisfaction with light responses.
Different lighting conditions used in the laboratory study.
Dr Kombeiz and Dr Dietl found in both studies that the more satisfied participants were with the light in the office, the more likely they were to deem the faces in the photos as warm and competent.
They found the same pattern of results in the German laboratory experiment and the US field study, which they say demonstrates, at least in Western Culture, that the satisfaction with light appears to be related to positive judgements of other people.
Dr Kombeiz commented: "Person perception and the evaluation of others in work contexts are very important. The first impressions that we have about other people can impact judgements and decisions.
"First impressions occur automatically and at least partly subconsciously and may be influenced by factors such as light in the office.
"Our research contributes to the understanding of how affective processes - satisfaction with light - relate to judgements of others.
"From a practical point of view, this has implications for the design of settings involving the evaluation of other individuals.
"For example, in order to avoid unfair or biased judgements of job applicants, the lighting conditions during a job interview should be the same across all applicants and/or decision-makers should be able to adjust the lighting conditions so that they are satisfied with them."
She added: "This research underlines the importance of subjective appraisals of our environment. In addition to light, we intend to take a more holistic approach by examining other features of the workplace."
The full paper, titled 'Light as a positive situational cue at work: Satisfaction with light relates to judgements of other's warmth and competence', can be found here.
Notes for editors
Press release reference number: 19/117
Loughborough University is equipped with a live in-house broadcast unit via the Globelynx network. To arrange an interview with one of our experts please contact the press office on 01509 223491. Bookings can be made online via www.globelynx.com
Loughborough is one of the country's leading universities, with an international reputation for research that matters, excellence in teaching, strong links with industry, and unrivalled achievement in sport and its underpinning academic disciplines.
It has been awarded five stars in the independent QS Stars university rating scheme, named the best university in the world for sports-related subjects in the 2019 QS World University Rankings, University of the Year by The Times and Sunday Times University Guide 2019 and top in the country for its student experience in the 2018 THE Student Experience Survey.
Loughborough is in the top 10 of every national league table, being ranked 4th in the Guardian University League Table 2020, 5th in the Times and Sunday Times Good University Guide 2019 and 8th in The UK Complete University Guide 2020.
Loughborough is consistently ranked in the top twenty of UK universities in the Times Higher Education's 'table of tables' and is in the top 10 in England for research intensity. In recognition of its contribution to the sector, Loughborough has been awarded seven Queen's Anniversary Prizes.
The Loughborough University London campus is based on the Queen Elizabeth Olympic Park and offers postgraduate and executive-level education, as well as research and enterprise opportunities. It is home to influential thought leaders, pioneering researchers and creative innovators who provide students with the highest quality of teaching and the very latest in modern thinking.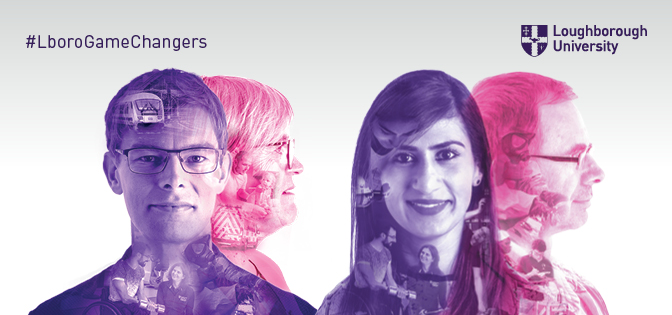 Loughborough staff, students and alumni make a real difference. They challenge convention, think creatively and find solutions to some of the biggest challenges facing society today and in the future.
Meet the #LboroGameChangers at lboro.ac.uk/lborogamechangers