This thought leadership event brought together some of the greatest minds in academia, sport and business to unpick what the Metaverse is, and how sport can harness the opportunities it presents.
Speakers described the Metaverse as a 3D virtual reality where individuals can interact with one another and digital objects to explore alternative worlds.
Dr Ben Shields, Senior Lecturer, MIT Sloan, spoke of a "seismic shift in the internet" due to the Metaverse. Ben also touched upon how the Metaverse will continue to evolve, citing human demand (needs and wants), technological readiness/feasibility, and societal impact. He also spoke of how these factors would allow businesses and sport institutions to benefit through new revenue streams.
Paul McDonagh-Smith, Senior Lecturer, MIT Sloan, led a morning session detailing 'where we've been, where we're headed' in relation to the Metaverse. Paul covered converging trends in virtual worlds including how these spaces can offer new journeys, pose new questions, and new possibilities, as audiences explore, experiment, and evolve virtually.
This session was followed by a panel discussion with Loughborough alumna Dr Christina Yan Zhang (CEO of The Metaverse Institute). Dr Zhang spoke of inclusion, responsibility, sustainability, and energy challenges.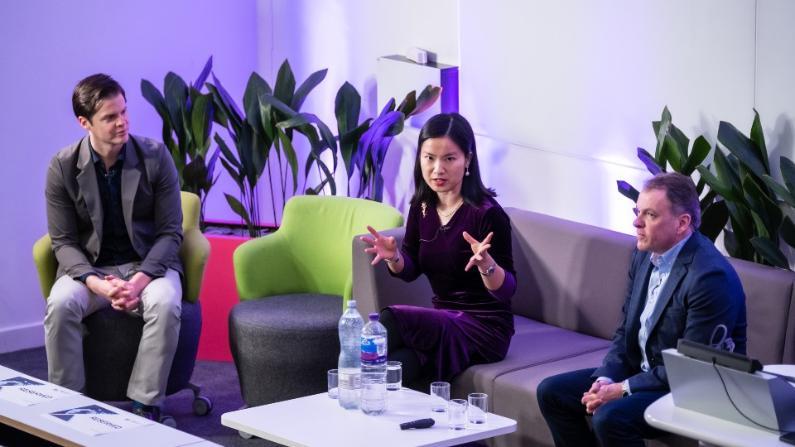 ‌Dr Christina Yan Zhang (centre) in conversation during a panel session.
Another panel discussion followed as Senior Lecturers Bob Pozen and Dr Phil Budden of MIT Sloan were joined by industry leaders Paul Taylor (Director, Morgan Stanley International) and Professor Tim Watson (Programme Director, Alan Turing Institute). The panel, titled 'promise and peril of the Metaverse', detailed how the Metaverse can be monetised but also warned of security risks. The speakers spoke about the possibility of criminal infiltration and how users may become complacent to danger.
The speakers also recognised the tremendous opportunity for experimentation and collaboration.
The afternoon session led with a discussion on 'what can the Metaverse REALLY do for sport'. Christina Chase (Managing Director, MIT Sports Lab) was joined by Peter Keen (Director of Sport Advancement, Loughborough University), Professor Nick Jennings (Vice-Chancellor and President of Loughborough University), Ed Smith (Former England cricketer and now Co-Founder & Director, Institute of Sports Humanities), and Ally McDonald-Alonso (Head Of Staff, Loughborough University).
Opportunities were discussed on how the Metaverse could engage sports fans in new ways, including the idea of facing an over from the late, great, Australia spin bowler, Shane Warne.
As new technologies arise, commercial opportunities were also front of mind and how, if it all, sport could benefit from additional revenue opportunities. The event ended with further audience interaction, as Dr Shields and Professor Jennings closed proceedings with key takeaway findings.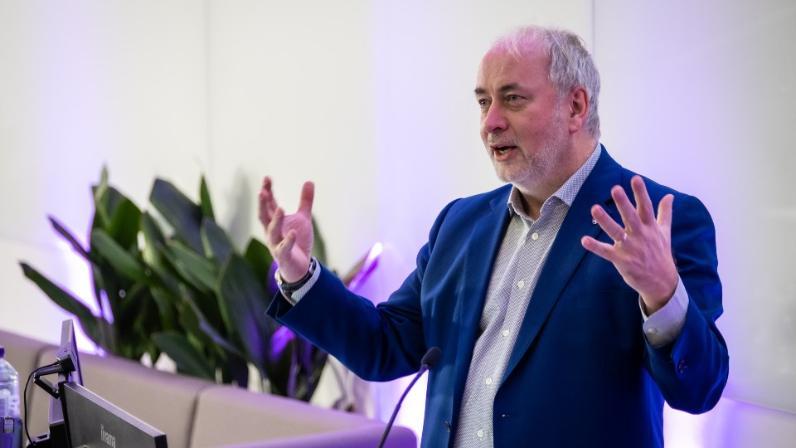 Professor Nick Jennings addresses delegates.
Following the event, Professor Nick Jennings, Vice-Chancellor and President of Loughborough University, said: "Today proved to be an exciting event as we discussed sport and the Metaverse extensively. Personally, this brings together two of things I really care about in life – sport and digital technologies.
"It is also an important step in our long-term strategy as we engage with our international colleagues from MIT to form a solid foundation to co-create, tackle, and define areas of future opportunity.
"The thought leadership aspect that drove discussions today is also important to recognise. We have collaborated from various standpoints, as some people in the room have technology backgrounds, others a user experience point of view, and others from a sport participation perspective.
"Those perspectives from both sides of the Atlantic are really interesting as we come together with the real leaders in this area to see what themes are emerging and what the art of the possible is."
Dr Ben Shields, Senior Lecturer, MIT Sloan, added: "We are, in many respects, at an inflection point on the internet and as a society on what the future will be. For our two institutions – MIT and Loughborough University – to come together and deliberate that question, the opportunities, and the challenges, is what today is about.
"What's unique about our approach today is that we are exploring the future with the very specific case study of sport.
"As we know, sport has been an innovation driver for many technologies in the past – whether that be radio, television, mobile phones or social media – and it is quite likely that sport will be a leading innovation driver for the Metaverse moving forward."