On exhibition until Summer 2021, 'U' is the latest piece by artist Dr Michael Shaw, who specialises in giant site-specific inflatables and recently joined Loughborough University as a Lecturer in Fine Art.
U was commissioned by Rushbond PLC – the commercial developers of The Majestic – as a gift to the city and people of Leeds to commemorate and publicise the building's refurbishment.
The huge inflatable is titled U because of the u-shaped architecture of the building's ground floor, but also because a large proportion of the audience will observe the piece from outside, looking in through windows so their own reflections become part of the viewing experience.
It is, quite frankly, jaw-dropping, and the word 'wow' will likely be uttered again and again by members of the public encountering this whimsical sculpture.
Undoubtedly dramatic during the day, at dusk and early evening it stands out even more. As the night shifts to after hours, it is illuminated by UV spotlights to create a 'glow in the dark' presence.
But that's enough about U, let's talk about him.
In this VOLUME feature, Michael Shaw discusses his creative process, some of his most celebrated pieces, what he hopes to achieve at Loughborough, and some exciting future projects – including a novel YouTube series.

'U'.‌
A creative process like no other
"Paraphrasing Matisse, who said he preferred the blood, sweat, and tears of effort to be invisible in his paintings. The how and how long must defer to the what!"
From giant site-specific inflatables that seek to 'synthesise sculpture and architecture by considering the building a mould that forms and informs the sculptures' geometry', to smaller sculptures, that often respond to the form, materials, techniques, and aesthetics of museum artifacts, Michael Shaw's sculptures are all wildly different from one another.
Though Michael cannot put an exact time on how long it takes for him to complete one of his inflatable wonders, he does reveal it is a mutli-step process that involves sewing hundreds of panels together in his seamstress' living room, temporarily turning the home into a nylon jungle.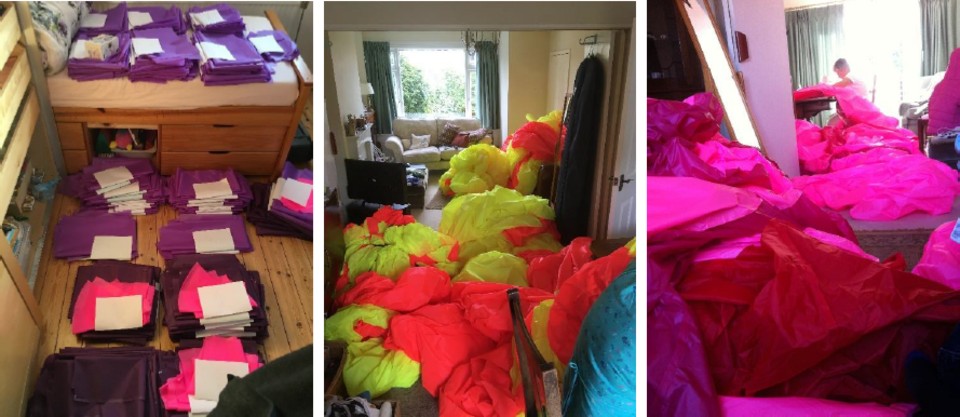 "I usually start by physically mapping each exhibition space, then I recreate the space virtually in CAD [computer-aided design] software", Michael explained.
"On plan views of the given space, I doodle and sketch in felt tip until something connected to the space emerges. I then model this virtually, before refining it.
"Once finalised, the digital geometry is sliced up and the 3D shapes are flattened. A seam allowance is given by offsetting the curves, whereupon all the required shapes are laser cut by a sailmaker with a 16m long laser-cutter.
"Then the sewing begins to create the final sculpture."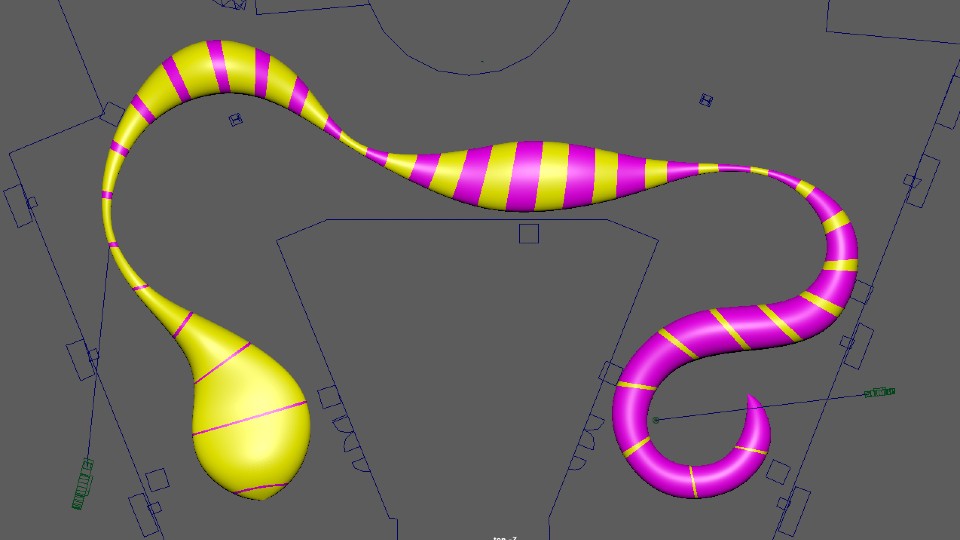 U modelled virtually.
As well as ensuring the sculptures are visually appealing, Michael also designs them so they almost appear to be alive.
He explained: "My sculptures are not sealed, so require a continuous fan for inflation, much like a bouncy castle, and this is beneficial to their animation.
"I control my fans using digital timers with a function that pulses the electrical power on and off. This means the sculptures rise and fall as though breathing during the phases of inflation and deflation."
Eye-catching inflatables
Michael started his career as an artist by completing a BA in Fine Art at Leeds Metropolitan University and then studying for a PhD at the University of Gloucestershire exploring Donald Judd's sculptural concept Specific Objects under Professor Andrew Stonyer.
Since graduating in 1996 he has made, taught, and curated sculpture in the UK and beyond, and to date, Michael, who is also the curator of exhibitions at Burghley Sculpture Garden, Burghley House, has created more than 30 inflatable pieces.
Some of his most notable pieces include INF12, INF21 and Slung.
INF12
INF12 was a commission for the Victoria and Albert Museum in London in 2009.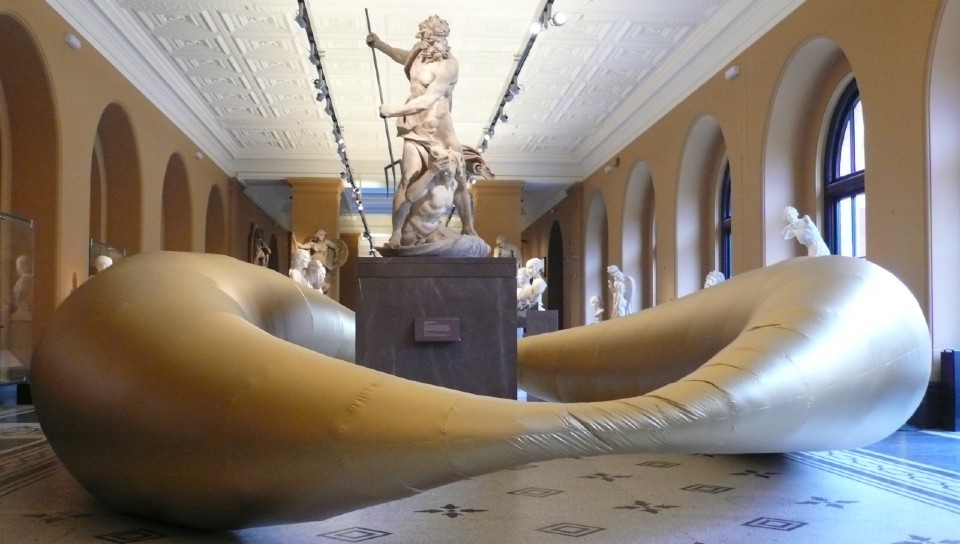 Designed to encircle Bernini's Neptune and Triton, 1622-23, INF12 expanded around the masterpiece and appeared to breathe due to the pulsing on/off fan.
Its lyrical billowing helped establish liquid connections to Bernini's sculpture, which was originally designed for a water garden.
INF21
Created for the galleries at Rugby Art Gallery and Museum, INF21 expanded into the space's circular annex and moved around one of its supporting columns.
This inflatable premiered the use of Michael's now-staple multiple fluorescent colours in a single sculpture, giving hints of Dr Suess and the Cheshire Cat from Alice in Wonderland.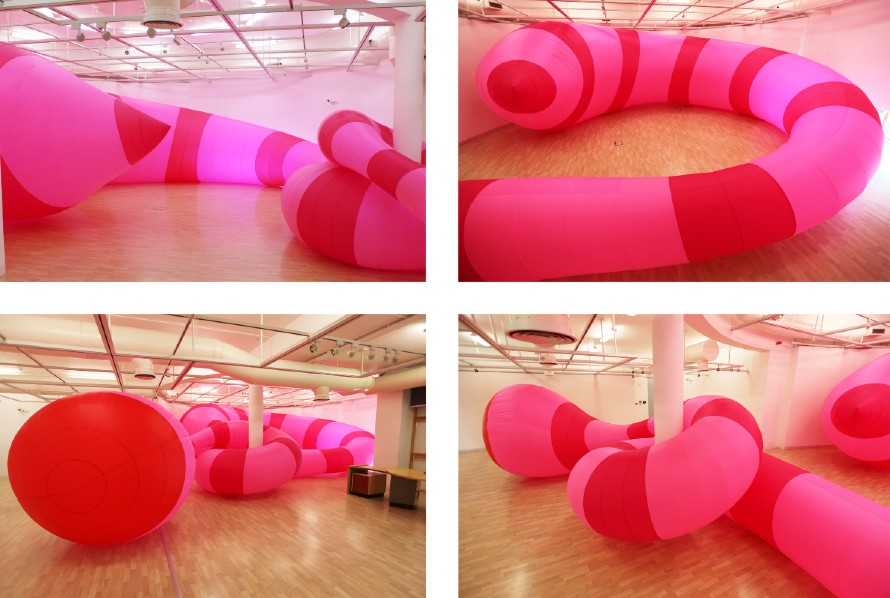 SLUNG
Slung, a project for Lakes Culture to promote the Lake District, had a slightly different feel to it due to its use of suspension. The piece hung in the multipurpose service station that is Rheged in Penrith – a site that includes the normal travellers' facilities, but also a cinema and art gallery.
Slung was loosely based on lung forms to reference the region's clean air and again the piece 'breathed' whilst hung in the 10m-tall atrium.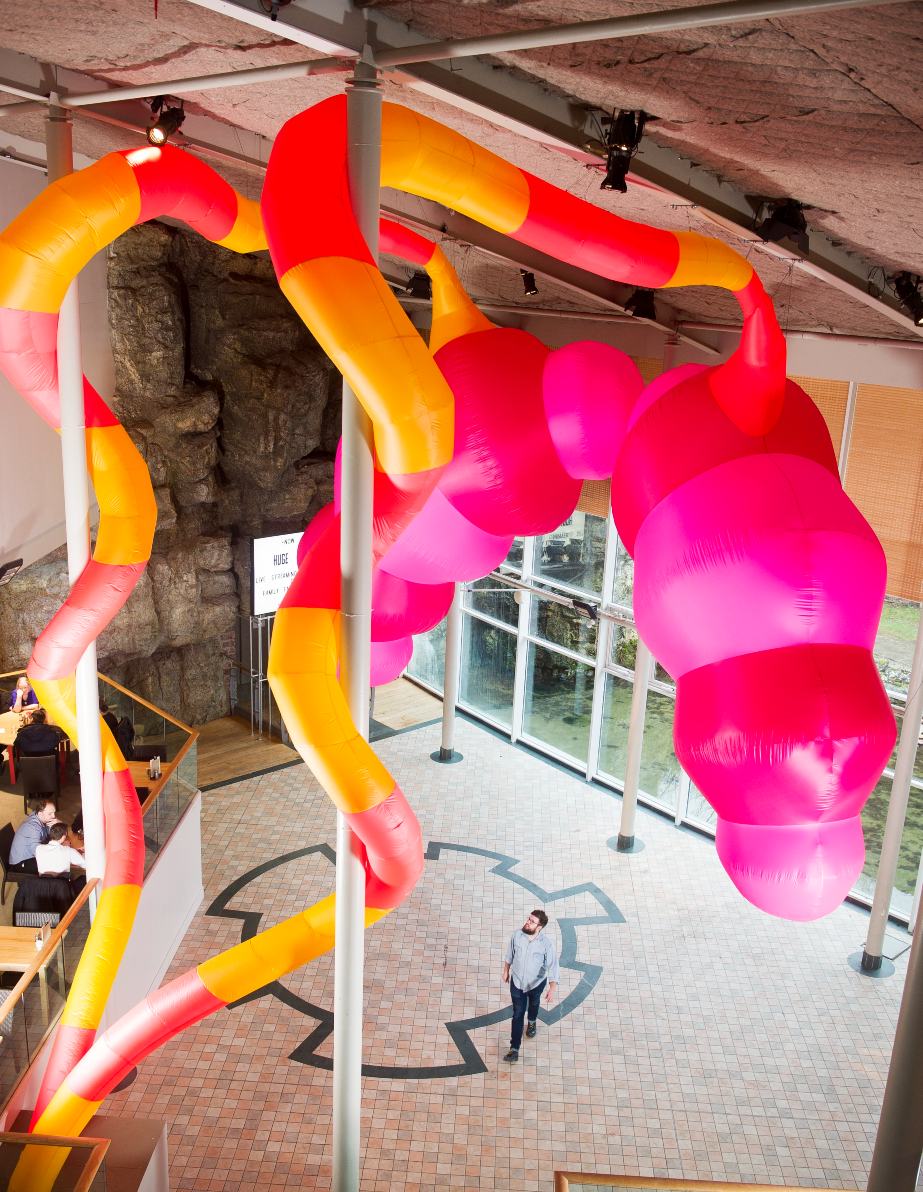 Image courtesy of Jenny Woolgar Photography.
INF23
Michael admits his favourite piece from his last 15 years of work has to be INF23, which responded to the deconsecrated church of Left Bank, Leeds, in September 2019.
He describes INF23 as "dynamic, ambitious and it brings together all of the successful aspects of its various predecessors in one sculpture".
The piece was 26m long, 12m wide and 8m high, meaning people had to move around it to view it fully, unfurling a series of experiences.
Its swollen bulbous bee abdomen towered meters over viewers, and the piece created walk-unders and sculptural coves for viewers to explore.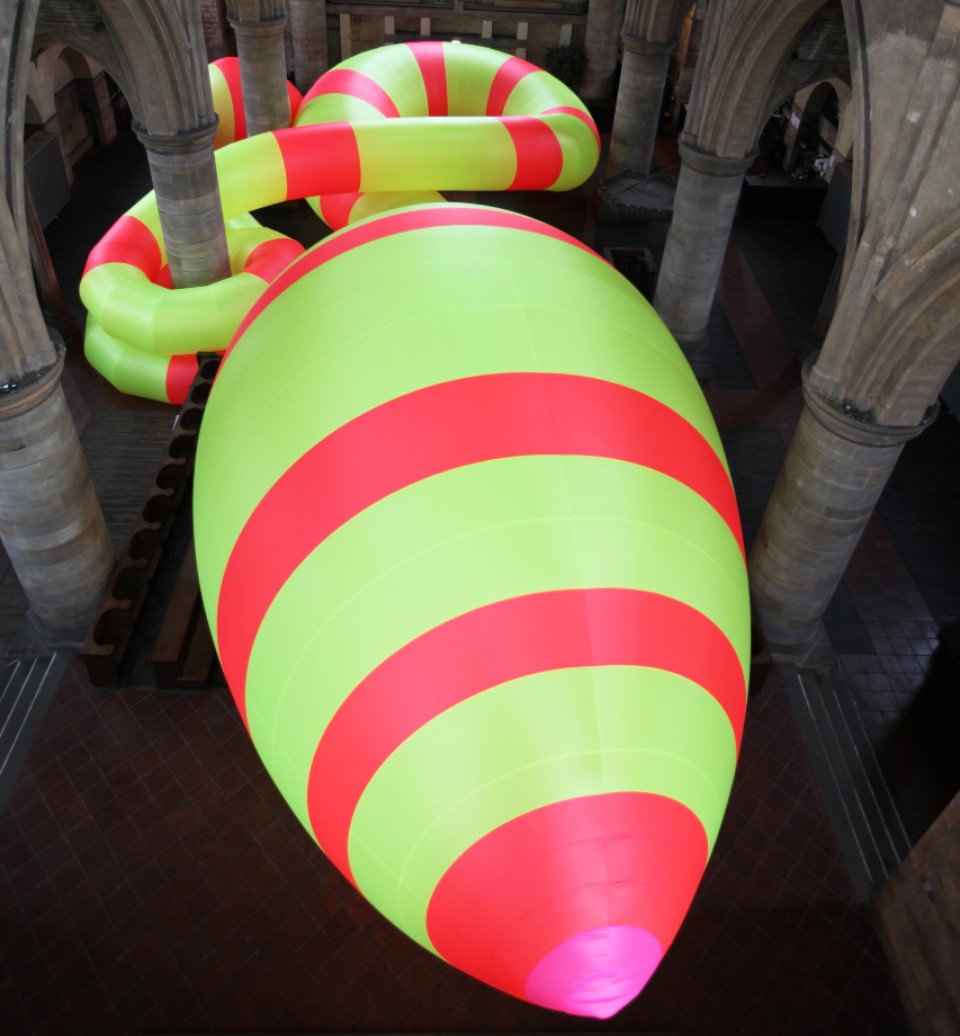 Everything is inspiration
When asked where he takes inspiration from, Michael said: "That could really be anything from a film to an idea or phrase, a found object or something from science and nature.
"Mostly, it will relate to the visual qualities of a material or thing; or having seen a new technique for making.
"Presently I am looking at diatoms [photosynthetic, single celled organisms that are a major group of algae] plus the work of sculptors Mark Di Suvero, Larry Bell, Alison Wilding and Martin Puryear. But new work also emerges from prior work, in an evolutionary process."
In addition to his inflatable sculptures, Michael is working on a few other projects that art-fans will enjoy.
He is developing a series of participatory sculptures for a solo show – titled ACTIVATE/PARTICIPATE – at the National Centre for Craft and Design (NCCD), Sleaford.
The show will include kinetic sculptures and optically changing artworks – including chameleonic fabric sculptures, that will change appearance according to how they are moved in space and when people shine smartphone torches onto them.
Michael has also started a YouTube channel called Art's Not History, which sees him visit different artists' studios to discuss sculpture in general and their work in a bid to open up the artist's mind and studio to the public.
To date, he has interviewed Julian Wild, Andy Hazell and Irish sculptor Denis O'Connor and more are in the works.
The title is a play on the discipline of Art History and how it might be perceived to be largely about deceased artists.
Looking ahead at Loughborough
Michael joined the School of Design and Creative Arts team in December last year and already has plenty of projects underway and ideas up his sleeve.
Of becoming a member of the #LboroFamily and what he hopes to achieve on campus, Michael said: "It is hard not to be excited when you start getting a fuller sense of all the amazing research facilities on campus and the collective expertise residing in the minds and hands of colleagues.
"At the University, I would like to develop some innovative strands of artistic research thanks to collaborations with staff in other areas.
"I have some initial ideas to explore that would unite the geometries of wave forms, maths, sound, lasers and possibly robotics!
"I am presently working on an AHRC [Arts and Humanities Research Council] grant to unify dance and sculpture through a two-way process of influence and interaction.
"It will create kinetically responsive sculptures that can be animated by dancers' actions, but also influence the dancers' movements in terms of their timing, range, rhythm and aesthetics.
"Should it be successful, it will allow me to work with contemporary dance choreographer Alexander Whitely and dancers from his company."
He continued: "I would like to become an exemplar of practice for our Fine Art students at Loughborough.
"My advice to them is draw lots and lots and lots. And then draw some more!
"I don't mean drawing things you see but drawing to create ideas and forms into being. I advise getting a cheap pack of A4 printer paper and making 100 drawings in two hours – honestly, try it!
"If you're an artist and you can't self-motivate, you're in trouble. Richard Serra talks about work evolving from work, and this mantra seems to hold water. The trick, like being a shark, is to not stop moving."
For more information on Michael and his work, visit www.michaelshaw.art or @michaelshaw.art on Instagram.
The Art's Not History YouTube channel can also be found here.
For more VOLUME features, visit the webpage here.


‌