Press releases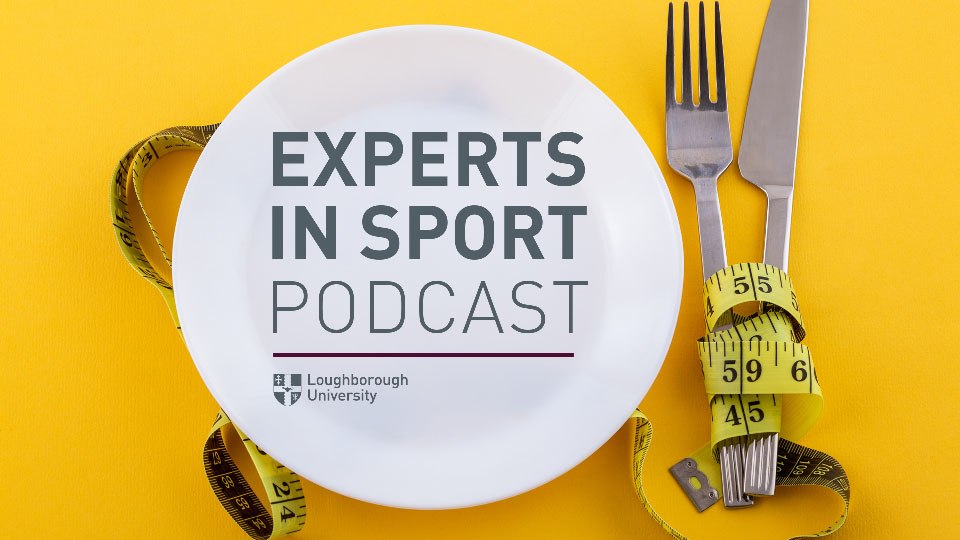 Experts in Sport: Disordered eating - just how common is it in elite level sport?
Former England cricketer Freddie Flintoff's recent BBC documentary 'Living with Bulimia' sparked conversations regarding eating disorders, particularly amongst elite level athletes. But how commonplace are such health challenges?
The issue of eating disorders is often difficult to discuss and even more so to spot. In this week's 'Experts in Sport' podcast, host Martin Foster (Applied Sport Management Lead) is joined by Dr Carolyn Plateau, Senior Lecturer in Psychology, and George Mycock, CEO and founder of mental health organisation, MyoMinds.
During the podcast, Dr Plateau explains that eating disorders may well be more common in athletes than initially thought and touches on the role that coaches and parents can play in spotting the early signs of negative eating issues.
Dr Plateau also distinguishes disordered eating habits and identifies the behaviours associated, and how these can be spotted in athletes:
"Most people will probably have heard of eating disorders - things like anorexia nervosa, bulimia nervosa, and binge eating disorder. These are clinical eating disorders and they're characterised by severe disturbances to attitudes towards food and eating behaviour.
"Disordered eating is a category of subclinical eating problems that fall just below those clinical eating disorders. And again, it is characterised by a disturbed relationship with food, but it's not quite at the same significant severe level as clinical eating disorders."
Dr Plateau added:
"We normally classify symptoms into three categories - behavioural, physical and psychological. Coaches and sports professionals might notice changes in athlete's eating practices or changes in eating behaviour, so if you notice someone suddenly adopting a very strict diet or they have cut out major food groups, that can be perhaps indicative of a possible disordered eating."
During the episode, George – who is also a current masters student at the University – explains in depth his own past struggles as a young athlete and how those difficult times inspired him to start his own charity to help others in need:
"My whole eating disorder story started when I was very young. I used to play rugby and when I was 13 years old, I broke my spine. For a year I was waiting for an operation and it meant that I gained a lot of weight.
"This was obvious to people around me and led to me getting teased. I started trying to lose the weight, exercising more, and dieting…I started losing weight quite rapidly and I would get encouraged. If you're overweight and you start losing it people seem to see that as a positive, so I started losing more and more.
"Eventually I fell into the description of anorexia nervosa and that escalated. It changed into bulimia, where I started purging, and some way or another it has moved into binge eating disorder, which is the category I fall into now… it's something I'm trying to work on with my mind and raise the awareness that it is okay to have an eating disorder and be male."
The full episode of this podcast can be found above and listeners can subscribe to the series by visiting Buzzsprout.
The 'Experts in Sport' podcast is a regular series that brings together experts from across Loughborough University with external thought leaders to discuss the latest research and hot topics in sport and academia.
For more information on MyoMinds and its own podcast, click HERE.
Notes for editors
Press release reference number: 20/170
Loughborough is one of the country's leading universities, with an international reputation for research that matters, excellence in teaching, strong links with industry, and unrivalled achievement in sport and its underpinning academic disciplines.
It has been awarded five stars in the independent QS Stars university rating scheme, named the best university in the world for sports-related subjects in the 2020 QS World University Rankings and University of the Year by The Times and Sunday Times University Guide 2019.
Loughborough is in the top 10 of every national league table, being ranked 7th in the Guardian University League Table 2021, 5th in the Times and Sunday Times Good University Guide 2020 and 6th in The UK Complete University Guide 2021.
Loughborough is consistently ranked in the top twenty of UK universities in the Times Higher Education's 'table of tables' and is in the top 10 in England for research intensity. In recognition of its contribution to the sector, Loughborough has been awarded seven Queen's Anniversary Prizes.
The Loughborough University London campus is based on the Queen Elizabeth Olympic Park and offers postgraduate and executive-level education, as well as research and enterprise opportunities. It is home to influential thought leaders, pioneering researchers and creative innovators who provide students with the highest quality of teaching and the very latest in modern thinking.