The charity drive, titled 'Giving for Gold', will also cut the number of useable items going to landfill and encourage staff, students and members of the wider community to do their bit to reduce household waste.
From 2-17 March, donations stations will be installed at locations across the Loughborough campus for people to drop off their contributions.
Giving for Gold is looking for four types of donations: non-perishable food, clothing and bedding, books, plus cosmetics, toiletries and sanitary products.
The initiative will conclude with a mass sorting and packing event in the Students' Union on 18 March and the number of items donated will be counted.
With the upcoming 2020 Olympics in Tokyo and Loughborough's love for sport, what better way to measure the success of the campaign than to set ambitious Gold, Silver and Bronze medal targets for the number of donations received.
It is hoped the campus and wider Loughborough community can donate a total of 26,500 items.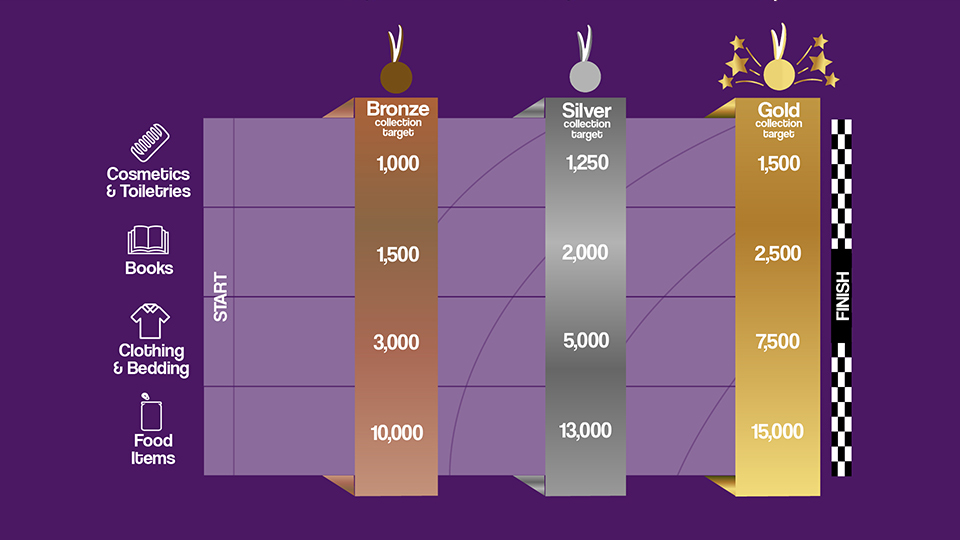 Targets set for the event. It is hoped 26,500 items can be donated in total.
Specialist housing support charity The Bridge (East Midlands), which supports homeless and vulnerably housed people, will receive food donations from Giving for Gold.
It will distribute items across the Charnwood Food Poverty Group – a group of 32 community organisations, including the Shepshed Food Bank, which aims to tackle food poverty.
The Bridge's Food Poverty Development Officer, Sweta Gill, said: "It is a sad reality that the number of people accessing food parcels is at an all-time high. For many individuals and families, our food provision is a real lifeline, whether it be parcels or hot food.
"The donations from Giving for Gold will be an incredible help, which we will appreciate massively, as we continually struggle to meet the demand for food provision locally."
Rainbows Hospice for Children and Young People will also receive donations of food, toiletries, clothing and bedding.
Community Fundraiser Gary Farnfield commented: "We would like to thank everyone at the University for their support.
"At Rainbows, only 15 per cent of our funding comes from the Government and other statutory sources, so we rely on all kinds of donations to be able to support our children, young people and their families."
Another good cause Giving for Gold is supporting is Better World Books – a for-profit socially conscious business and a global online bookseller that collects and sells new and used books online matching each purchase with a book donation. Each sale generates funds for literacy and education initiatives in the UK, US, and around the world.
Matt Bourne, Strategic Sales Executive at Better World Books, said: "Since its launch in 2003, Better World Books has raised close to $29 million for libraries and literacy, donated almost 27 million books and reused or recycled more than 326 million books.
"We are delighted to be a partner on the Giving for Gold project."
The charity drive will also donate items to the following:
As well as helping people in need, Giving for Gold will also share some love with our four-legged friends as items will also be donated to College Garth Kennels – a rescue in Hathern that works with local councils to reunite and rehome stray dogs.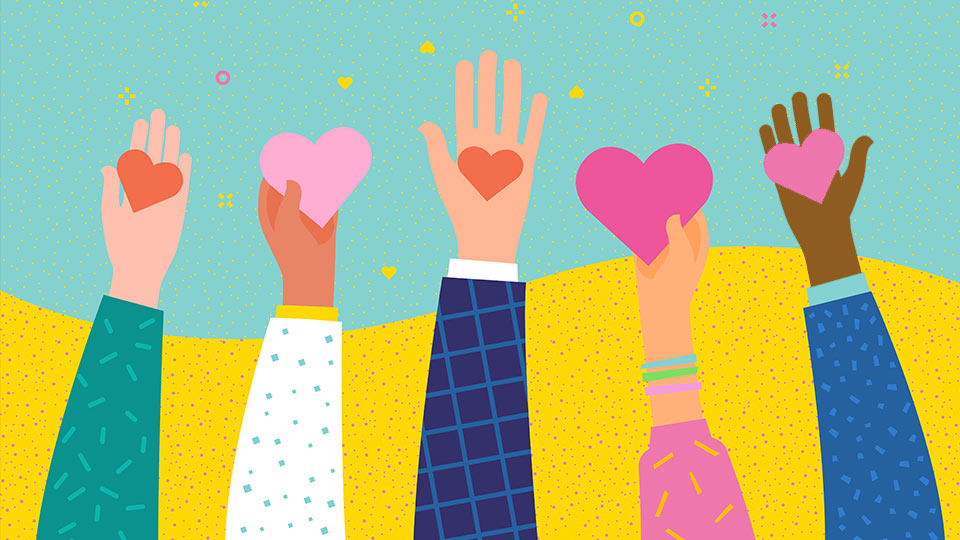 Staff, students and members of the community are invited to get involved.
The University's Director of Finance, Andy Stephens, is supporting the event; he volunteers as a Community First Responder and, in this role, has witnessed first-hand the social and economic hardships faced by many.
He said: "On some shifts, I am as likely to make a safeguarding referral for somebody struggling to cope at home as I am to open a kit bag to make a medical intervention.
"Many of us are in a position to make a difference to lives in ways we often underestimate – small acts of kindness or generosity that mean exponentially more to the recipient.
"I look forward to seeing the #LboroFamily come together for Giving for Gold and do their bit to support those in need."
For more information, including a full list of what can and cannot be donated, visit the Giving for Gold website.
Members of the community wanting to donate items can do so at the Students' Union.
Businesses wanting to make a large donation should contact Events Officer Claire Fletcher at C.E.Fletcher@lboro.ac.uk as the team can travel to collect items from surrounding areas.