Press releases
Grammar schools create a sense of hierarchy and power among girls, suggests study
A study has revealed that grammar schools may create a sense of hierarchy and elitism among teenage girls.
Researchers at Loughborough University found that some girls in an elite non fee-paying grammar school, viewed poverty as a moral failing and associated it with belonging to other groups and pupils at other schools.
As part of the study, students aged 13-14 were interviewed at a UK grammar school to examine how they understand and perceive class, gender, ethnicity, race and religion.
Researchers argue that girls in these schools are likely to transition to top Universities and go on to hold powerful positions in the future – but there has been little research into these elite spaces.
The study found that while the school was ethnically and religiously diverse, it had little diversity from students with different income levels and social backgrounds.
A number of girls viewed areas with high levels of poverty as 'dodgy and dangerous' and associated social class differences with people who were at other schools.
Pupils created a successful girl image, where they considered themselves to be hardworking and kind to their peers. Girls were aware of this persona and said their teachers reinforced this by frequently telling them they were intelligent and 'top'.
Some girls thought that other state high schools had an easier time, with a less academic curriculum and more creative subjects, compared to the girls in their school who were 'all nerds'.
Pupils said they worked hard to get into their school and some of them had been preparing for the 11+ exam since Year 3.
Researchers argue that this is an example of how grammar schools can be elite spaces because middle class parents often have the ability to pay for private primary education or tuition, to make sure their child can pass the entry exams to get into grammar school.
Some families even move home to be within the grammar school catchment areas to strategically gain access to the education.
The research, which has been published in scientific journal Geoforum, discovered that girls classed diversity as ethnic, religious or racial and they welcomed the differences between them, with some saying it made them more open and at ease with each other.
Pupils said their school was an opportunity for them to interact with other girls who were from different ethnic backgrounds and it enabled them to broaden their minds.
One of the paper's authors, Louise Holt, head of Geography and Environment at Loughborough University, said: "Given the powerful positions these girls are likely to occupy in top professions, how they understand and perform class, gender, ethnicity/ race and religion is crucial.
"Little attention has been paid to investments of middle class parents in equipping and sending their children, often over relatively large geographical distances to selective state schools.
"Grammar schools are intriguing elite spaces that are positioned between the state comprehensives and elite fee-paying schools, that have been the subject of recent scholarship.

"It is evident that these engaging, hard-working and kind girls were, for the most part, unaware of both the scaffolding which had supported their entry into grammar school and the inequalities that this perpetuates."
Notes for editors
Press release reference number: 19/155
Loughborough University is equipped with a live in-house broadcast unit via the Globelynx network. To arrange an interview with one of our experts please contact the press office on 01509 223491. Bookings can be made online via www.globelynx.com
Loughborough is one of the country's leading universities, with an international reputation for research that matters, excellence in teaching, strong links with industry, and unrivalled achievement in sport and its underpinning academic disciplines.
It has been awarded five stars in the independent QS Stars university rating scheme, named the best university in the world for sports-related subjects in the 2019 QS World University Rankings, University of the Year by The Times and Sunday Times University Guide 2019 and top in the country for its student experience in the 2018 THE Student Experience Survey.
Loughborough is in the top 10 of every national league table, being ranked 4th in the Guardian University League Table 2019, 5th in the Times and Sunday Times Good University Guide 2019 and 8th in The UK Complete University Guide 2020.
Loughborough is consistently ranked in the top twenty of UK universities in the Times Higher Education's 'table of tables' and is in the top 10 in England for research intensity. In recognition of its contribution to the sector, Loughborough has been awarded seven Queen's Anniversary Prizes.
The Loughborough University London campus is based on the Queen Elizabeth Olympic Park and offers postgraduate and executive-level education, as well as research and enterprise opportunities. It is home to influential thought leaders, pioneering researchers and creative innovators who provide students with the highest quality of teaching and the very latest in modern thinking.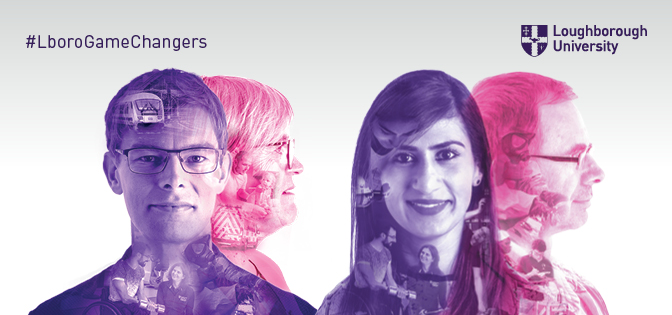 Loughborough staff, students and alumni make a real difference. They challenge convention, think creatively and find solutions to some of the biggest challenges facing society today and in the future.
Meet the #LboroGameChangers at lboro.ac.uk/lborogamechangers