Press releases
Women have been a lot less visible in this UK general election campaign – why?
Every general election is haunted by the ghosts of campaigns past.
The most significant spectre in 2019 has to be Nancy Astor, who on December 1 1919 was the first woman to take her seat in the House of Commons as an elected member of the UK parliament – and to whom a statue was unveiled in Plymouth on November 28, the anniversary of her election.
One wonders what she would make of the gender politics of this campaign.
The omens were not good from the outset. The prime minister was criticised for his sexist phraseology, separately describing Jeremy Corbyn as "a big girl's blouse" and David Cameron as "a girly swot".
Meanwhile, Alun Cairns resigned as Welsh secretary after allegations emerged that he knew of an aide's role in sabotaging a rape trial.
He has vowed to "clear his name". Alarm has also grown about the horrific abuse women MPs, particularly those of colour, suffer online and in the streets.
In a speech this week at the unveiling of Astor's statue, Theresa May, the former prime minister, voiced concern that the decisions by several influential female parliamentarians not to seek re-election were linked to the growing toxicity of public life.
The media play a vital role in promoting gender equality in politics and challenging discriminatory practices and discourses.
This was a cornerstone of Liberal Democrat leader Jo Swinson's failed legal challenge against ITV for excluding her from the televised Leaders' Debate on 19 November.
Party considerations aside, she argued the broadcaster's decision reduced significantly the visibility of a female political leader as a role model for young girls and women.
As Marian Wright Edelman once said about the need for positive and diverse female representation: 'You can't be what you can't see'.
Invisible women
Loughborough University has been monitoring the gendered aspects of the reporting of the 2019 campaign as part of its wider "real time" audit of mainstream news coverage. The most basic but significant aspect of this has been to quantify how often women are reported and quoted in election reporting.
As we show in our latest report, in the 2015 general election, women political candidates and campaigners accounted for only 15% of all appearances in the media. This rose to 39% in 2017. In the 2019 campaign so far, and with a record number of women standing for parliament, female appearances have nearly halved to 20%.
Visiting Fellow in Qualitative Research Jackie Goode and Professor David Deacon discuss the findings featured in the third of four reports by Loughborough University's Centre for Research in Communication and Culture (CRCC) analysing media coverage of the General Election in the Conversation. Read the full article here.

Notes for editors
Press release reference number: 19/210
Loughborough University is equipped with a live in-house broadcast unit via the Globelynx network. To arrange an interview with one of our experts please contact the press office on 01509 223491. Bookings can be made online via www.globelynx.com
Loughborough is one of the country's leading universities, with an international reputation for research that matters, excellence in teaching, strong links with industry, and unrivalled achievement in sport and its underpinning academic disciplines.
It has been awarded five stars in the independent QS Stars university rating scheme, named the best university in the world for sports-related subjects in the 2019 QS World University Rankings, University of the Year by The Times and Sunday Times University Guide 2019 and top in the country for its student experience in the 2018 THE Student Experience Survey.
Loughborough is in the top 10 of every national league table, being ranked 4th in the Guardian University League Table 2020, 5th in the Times and Sunday Times Good University Guide 2019 and 8th in The UK Complete University Guide 2020.
Loughborough is consistently ranked in the top twenty of UK universities in the Times Higher Education's 'table of tables' and is in the top 10 in England for research intensity. In recognition of its contribution to the sector, Loughborough has been awarded seven Queen's Anniversary Prizes.
The Loughborough University London campus is based on the Queen Elizabeth Olympic Park and offers postgraduate and executive-level education, as well as research and enterprise opportunities. It is home to influential thought leaders, pioneering researchers and creative innovators who provide students with the highest quality of teaching and the very latest in modern thinking.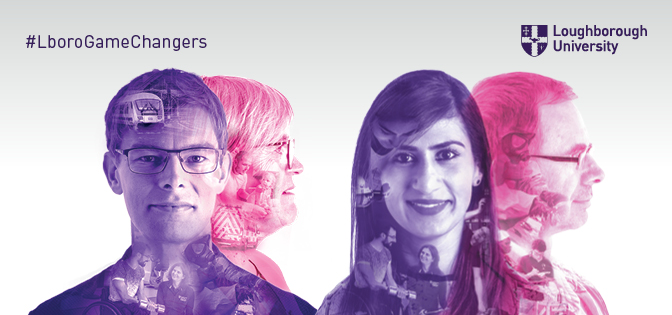 Loughborough staff, students and alumni make a real difference. They challenge convention, think creatively and find solutions to some of the biggest challenges facing society today and in the future.
Meet the #LboroGameChangers at lboro.ac.uk/lborogamechangers