Press releases
SUSTAINABLE HOME: Easy solutions to help reduce plastic and packaging pollution
Unless you've been living under a rock, you will have seen headlines here, there and everywhere warning of the dangers of plastic pollution.
Plastic is very useful, and we use it every day – but disposing of it can cause a big issue for our planet.
Most plastics – such as single-use carrier bags, drinks bottles and straws – are not biodegradable and not all of types of plastic can be recycled.
According to Plastic Oceans UK, 350 million tonnes of plastic is produced each year and half of all plastics are single-use applications – they're used just once and then disposed of.
Sustainable Design expert Dr Rhoda Trimingham has shared her top tips for reducing avoidable plastic and other damaging packaging waste in the home and has suggested some planet-friendly alternatives to popular single-use plastics.
She said: "These are incredibly simple tips for reducing unnecessary single-use plastic but they're also important to do in order to reduce the impact plastics are having on our planet."
Many plastics are used just once and then disposed of. Dr Trimingham's tips aim to reduce single-plastic use.
Dr Trimingham suggests:
Drinks: Opt for reusable water bottles, coffee cups and metal straws
Personal hygiene: Swap bottles of hair products for solid shampoo/soap, keep an eye out for refillable make-up, and choose to use reusable bamboo wipes and cloths
Food: Take a lunchbox of food rather than buy products that come in packaging and opt for reusable cutlery. If you like a microwave meal, then prep food at home and store it in a mason jar. These make for good and quick meals for one and cut out the plastic and other materials that microwave meals come in
Reusable bags: Use bags you have in the home rather than opting for plastic or paper shopping bags
Cleaning products: Making products at home cuts out unnecessary packaging and plastic. One idea is to make a multi-purpose cleaner using water, white vinegar and essential oils in a reusable spray bottle. An abundance of recipes for cleaning products can be found online.
This is the fourth video released as part of the Sustainable Home video series. Previous videos have been on food waste, recycling and fashion waste.
To keep up-to-date with the Sustainable Home series, visit the Media Centre video and audio subsection.
Notes for editors
Press release reference number: 19/221
Loughborough University is equipped with a live in-house broadcast unit via the Globelynx network. To arrange an interview with one of our experts please contact the press office on 01509 223491. Bookings can be made online via www.globelynx.com
Loughborough is one of the country's leading universities, with an international reputation for research that matters, excellence in teaching, strong links with industry, and unrivalled achievement in sport and its underpinning academic disciplines.
It has been awarded five stars in the independent QS Stars university rating scheme, named the best university in the world for sports-related subjects in the 2019 QS World University Rankings, University of the Year by The Times and Sunday Times University Guide 2019 and top in the country for its student experience in the 2018 THE Student Experience Survey.
Loughborough is in the top 10 of every national league table, being ranked 4th in the Guardian University League Table 2020, 5th in the Times and Sunday Times Good University Guide 2019 and 8th in The UK Complete University Guide 2020.
Loughborough is consistently ranked in the top twenty of UK universities in the Times Higher Education's 'table of tables' and is in the top 10 in England for research intensity. In recognition of its contribution to the sector, Loughborough has been awarded seven Queen's Anniversary Prizes.
The Loughborough University London campus is based on the Queen Elizabeth Olympic Park and offers postgraduate and executive-level education, as well as research and enterprise opportunities. It is home to influential thought leaders, pioneering researchers and creative innovators who provide students with the highest quality of teaching and the very latest in modern thinking.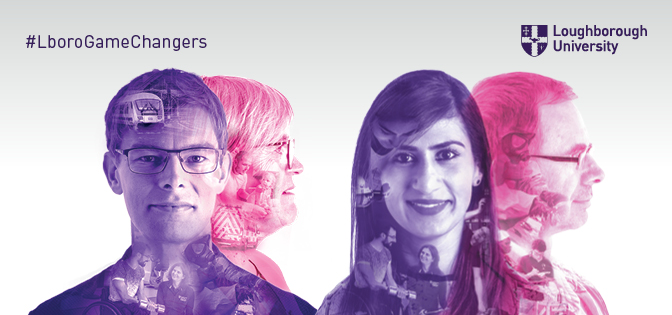 Loughborough staff, students and alumni make a real difference. They challenge convention, think creatively and find solutions to some of the biggest challenges facing society today and in the future.
Meet the #LboroGameChangers at lboro.ac.uk/lborogamechangers