Inaugural Race Equity Town Hall
On 25 October, members of the University community gathered to hear about the outcomes and action plan of the Race Equality Charter (REC) Bronze application at the inaugural Race Equity Town Hall.
Colleagues, students and external guests attended from both of the campuses as well as online to listen to the key issues at Loughborough, and what actions will take place over the coming years to make Loughborough an anti-racist institution.
Dr Angela Martinez Dy, Senior Lecturer in Entrepreneurship and Strategic Architect of the LU Race Equity Strategy co-hosted the event with Loughborough London Doctoral Researcher Iman Khan. Throughout the afternoon, they were joined by various colleagues and students who have played a pivotal part in driving forward the extensive work undertaken to prepare for the REC.
In addition, the Vice-Chancellor Nick Jennings shared an important message with attendees: "We are no longer in a place where it's just about a small group of people being instrumental in changing Loughborough; it is now our collective responsibility to make sure this change happens. 
"For too many years, white people have benefitted from our privilege, so it's not only the job of our Black and Minority Ethnic colleagues to make the change, we as white colleagues need to accept our part in this and work hard to make the change happen. Loughborough University has a problem with racism, and however well-intentioned and enacted, our processes have produced racist outcomes. The Race Equality Charter is part of our journey to address this, but our endpoint is to become an anti-racist Loughborough.
"It's a long journey. It involves open, honest conversations. It involves dismantling unfair and racist structures and processes wherever we find them. It involves challenging racist behaviour. I'm committed to leading this work as Vice-Chancellor, and I will work alongside you all. This is a genuine opportunity for us to change the University for the better and to make a national statement on what a truly inclusive, anti-racist organisation can achieve."
‌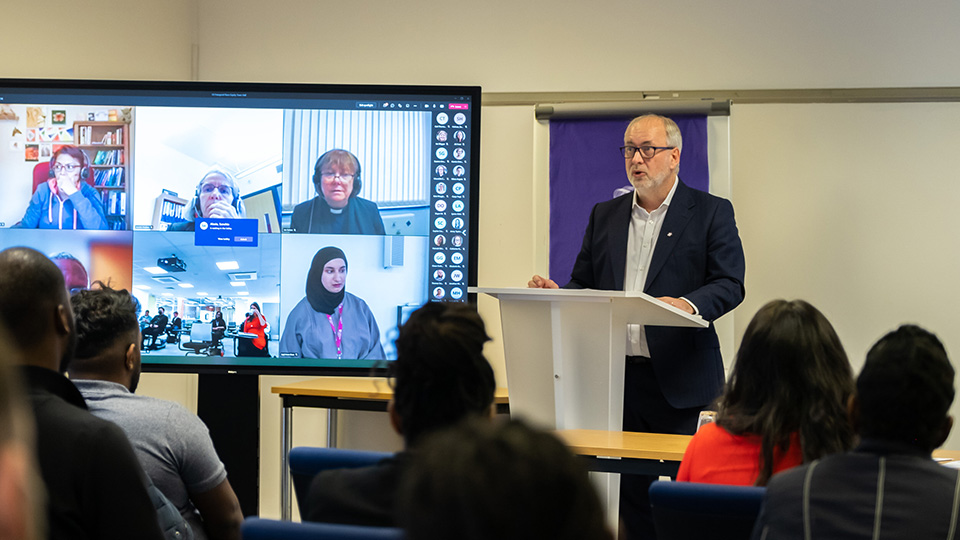 As part of the event, guests were shown a timeline of pivotal moments linked to race equity at Loughborough since 2010, as well as a breakdown of the key imperatives identified from the REC:
Improving diversity in leadership positions
A cultural shift
Attracting and maintaining Black staff
Tackling defensiveness in response to data
Increasing confidence in raising and responding to incidents
Transforming the student experience for BAME students, including Doctoral Researchers.
The LU Race Equity Strategy and its strategic focuses were explained to the audience by Dr Martinez Dy, as well as the 10 Race Equity Guiding Principles that were developed by the BAME Staff Network, with attendees receiving a digital or printed copy of them at the event.
Furthermore, the BAME Student Council (made up of undergraduate and postgraduate taught students) and the PGR Consortium were launched by representatives of the Students' Union and the Doctoral College.
Both of these groups will contribute to the strategic development of the emerging race equity agenda at the University. Black, Asian and Minority Ethnic students who are interested in being part of one of these leadership opportunities can fill out an online form.
In addition, the CARE (Collective Anti-Racist Efforts) initiative in collaboration with Citizens UK is a listening campaign recruiting leaders across Loughborough's Schools and Departments – made up of both BAME staff, students and white allies – to listen to staff and student feedback to not only eradicate systemic inequities and make positive change, but also to shape and influence the progression and planning of ongoing race equity work. Those interested in volunteering to be part of the campaign can express their interest.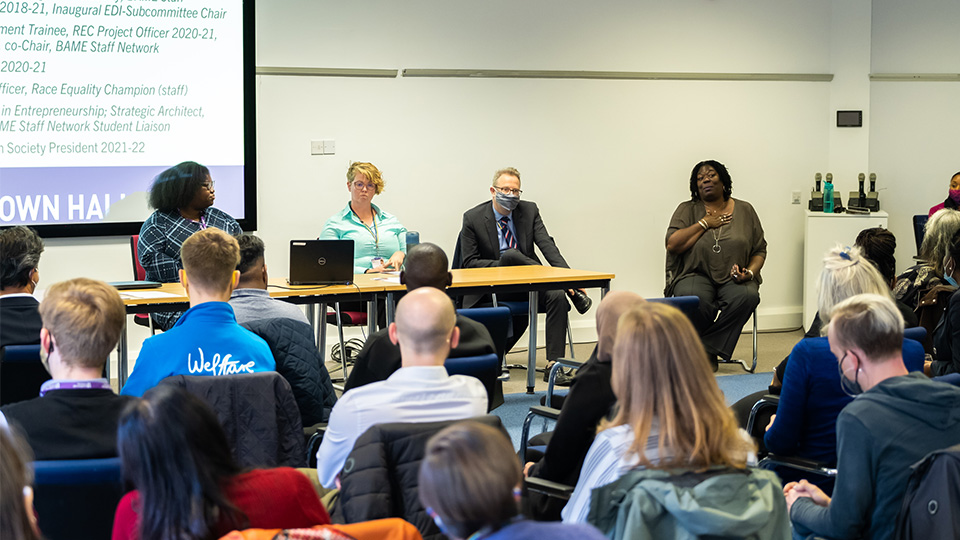 To conclude the Town Hall, Tara Nadi, Emma Dresser, Veronica Moore, Angela Martinez Dy and Richard Taylor participated in a panel discussion facilitated by Samuel Ola, the President of the African Caribbean Society. The panel answered questions from the audience about how the University would respond to any backlash on the initiatives and action plan discussed, how they will work with groups from the local community, and whether they believe our anti-racist work might risk Loughborough's position in external academic processes such as the National Student Survey.