Disability Confident Employer
Loughborough University is a Disability Confident Employer and has agreed to meet five commitments regarding the recruitment, employment, retention and career development of disabled people.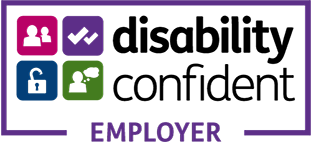 Loughborough University is committed to achieving an educational and working environment which provides equality of opportunity and freedom from unlawful discrimination on the grounds of race, colour, nationality, ethnic origin, gender, gender reassignment, marital status, disability, pregnancy and maternity, religious or political beliefs, age, sexual orientation or offending background.
The University is proud to receive the Disability Confident Employer symbol as we have adopted a proactive approach to employing disabled people and are or trying to create a more diverse workforce.
The symbol helps to make it clear to disabled people that we welcome applications from them and are positive about their abilities. It also shows existing employees that we value their contribution and will treat them fairly should they become disabled.
Definition of disability
The Equality Act 2010 sets out the circumstances in which a person is disabled. The Act says a person is disabled if they have:
A mental or physical impairment
That has an adverse effect on their ability to carry out normal day-to-day activities
The adverse effect is substantial
The adverse effect is long term, meaning it has lasted for 12 months or is likely to last for more than 12 months or for the rest of the person's life.
We will interview all applicants with a disability who meet the minimum criteria for a job vacancy and consider them on their abilities.
This is a guarantee of an interview, but not necessarily of a job. It means that candidates who are disabled and meet the essential criteria stated on the person specification must be invited for interview, regardless of the nature of their disability.
It is very important to make sure that the person specification drawn up for the position is fair and does not preclude disabled applicants from applying. For example, if a role involves travel, a driving licence may not be necessary as a disabled candidate may be able to use public transport or make other arrangements.
Applicants are asked to indicate whether they have a disability on the application form. Shortlisting panels must ensure that they do not use this information when shortlisting candidates. If the applicant meets the essential criteria they should be invited to attend for interview and any access or facility requests that the applicant has should be arranged.
The interview panel will be required to consider the candidate on the basis of their skills and experience, as for other non-disabled candidates. The implications of their disability must not be considered at interview stage, although further clarification can be sought about what reasonable adjustments would need to be made.
If the disabled candidate is appointable on the basis of their performance at interview, then the implications of their disability can be considered. Under the Equality Act 2010, and the University's Equality and Diversity Statement, the University is required to make reasonable adjustments to accommodate a candidate's disability. Human Resources must be informed if this situation arises.
The University may be able to apply for funding to help cover the costs of any equipment or additional support that the employee may need through Access to Work.
If unfortunately the adjustments that need to be made are unreasonable, e.g. in terms of cost or disruption, an offer of employment may be withdrawn. This would be a last resort and no action should be taken without consulting the relevant HR representative.
Human Resources will carry out random audits to check that shortlisting is being carried out correctly. For all Ordinance VI positions, the shortlisting records must be sent to Human Resources at the same time as the details of the shortlisted applicants.
We will ensure there is a mechanism in place to discuss at any time, but at least once a year, with disabled employees what you and they can do to make sure they develop and use their abilities.
The University has a personal development review system for all staff which will provide the opportunity for disabled employees to review and develop their skills on an annual basis.
We will make every effort when employees become disabled to ensure that they stay in employment.
The University is fully committed to retaining employees who become disabled. Where appropriate, Occupational Health and People and Organisational Development can be contacted to assist as and when these situations arise.
We will take action to ensure all employees develop an appropriate level of disability awareness to make these commitments work.
Staff are encouraged to consult Organisational Development's website for further details.
HR Partners and the Recruitment Team are also available to provide advice and guidance.
Each year, the University will review the above four commitments and see what has been achieved, plan ways to make improvements and let staff and the Employment Service know about the progress and future plans.
Human Resources Committee reviews the University's annual submission to the Scheme to monitor achievements and identify areas of improvement.
Failure to adhere to these procedures, may also lead to the University and/or the Department losing its Disability Confident Employer status. It may also lead to claims of disability discrimination at an Employment Tribunal.