Our staff
Dr Martin Sykora PhD., BSc.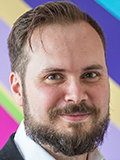 Senior Lecturer in Information Management
Social media analytics; natural language processing and text-mining; advanced sentiment analysis (micro-blogging / Twitter); applied machine learning and data-mining; Big Data handling techniques; Web 2.0 and digital citizenship; information retrieval; information management
+44 (0)1509 228830
BE.1.32 (Sir Richard Morris Building)
Dr Martin Sykora is a Senior Lecturer in Information Management, at the Centre for Information Management (CIM). He is a
multi-disciplinary scholar at the frontier of computational social media research and sentiment analysis, investigating the role of social media in public health as well as how it shapes our behaviours in relation to communication of emotion and affect, political discourse and civic culture. Martin's established international body of research bridges the social media, information management, information retrieval, communication and health sciences fields to transform established approaches by leveraging social media user generated content and big data analytics including machine learning, natural language processing and semantic modelling in novel ways.

Martin has published research articles in the Journal of Social Science & Medicine, PLOS One, the Lancet, Journal of Systems and Information Technology, among many others and regularly contributes to prestigious international conferences such as Hawaii International Conference on Computer Systems (HICCS), European Conference on Social Media (ECSM), International Conference on Knowledge Engineering and Ontology Development (KEOD), or International Conference on Machine Learning (ICML). He serves on the peer review college for UK Research and Innovation Future Leaders Fellowships (UKRI FLF) scheme, regularly reviews grants for UKRI, and acts as a reviewer for several leading academic journals such as the International Journal of Human Computer Studies, Social Science and Medicine, Information Technology and People, Semantic Web Journal, Social Media and Society, PLOS One among others.

Martin successful secured over £340,000 (£640,000 with his O3C mini-CDT award as Co-I) in research funding from various funding bodies, including EU Horizon 2020, SSHRC (Social Sciences and Humanities Research Council, Canada), Metropolitan Police (Mayor's Office, London), EPSRC (Engineering and Physical Sciences Research Council), and DSTL (Defence Science and Technology Lab; the executive agency of Ministry of Defence for the UK).

Martin's teaching interests are in big data analytics, social media research, machine learning and computational linguistics, and more generally across various information science topics. He has taught across undergraduate (i.e., bachelor's) and postgraduate (master's) level, and has been supervising a number of doctoral researchers (i.e., PhD students). He is the director of School of Business and Economics' undergraduate Information Management and Business (BSc. in IMB) programme.
Previously Martin also worked as a Research Associate at Loughborough University's Computer Science and Information Science departments, as well as the University of Leicester, and he has some commercial experience in Data Science and Analytics. Martin obtained his PhD in Computer Science at Loughborough University.
Social-Media Analytics
Natural Language Processing and Text-Mining
Practical Machine Learning Applications and Data-Mining
Advanced Sentiment Analysis (Micro-blogging / Twitter)
Big data handling techniques
Multimedia and Text Mining
Web 2.0 and digital citizenship
Information Retrieval and Information Management