Our staff
Dr Luke Garrod PhD, Masters, BA (all University of East Anglia)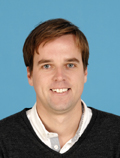 Lecturer in Economics
Industrial organisation; competition policy; consumer policy; behavioural economics
+44 (0)1509 222736
BE.2.01 (Sir Richard Morris Building)
Teaching:
ECA002: Principles of Microeconomics
ECC005: The Economics of Industry and the Firm
Luke is interested in how firms compete with one another to sell their products to consumers. In particular, he is interested in the implications of such competition for market outcomes and whether policymakers can improve the competitive processes.
Luke's research relates to both competition and consumer policy, and it covers the areas of collusion (where firms recognise that fierce competition is not in their mutual long-term interest), mergers (that can enhance or undermine competition by changing the structure of markets), and consumer behaviour (which affects the incentives of competing firms to sell products of high quality at low prices).
He also has an interest in behavioural economics and, to a lesser extent, experimental economics.
Research interests:
Industrial Organisation; Competition Policy; Consumer Policy; Behavioural Economics
Refereed Journal articles
"Explicit vs Tacit Collusion: The Effects of Firm Numbers and Asymmetries," (2018), International Journal of Industrial Organization, 56(1), 1-25 (with Olczak, M.)
"Collusion under Imperfect Monitoring with Asymmetric Firms," (2017), Journal of Industrial Economics, 65(3), 654-682 (with Olczak, M.)
"Early Settlement in European Merger Control," (2016), Journal of Industrial Economics, 64(1), 27-63 (with Lyons, B.)
"Default Effects, Transaction Costs and Imperfect Information," (2013), Economics Letters, 119(2), 213-215 (with Munro, A. and Wilson, C. M.)
Policy reports
"Assessing the Effectiveness of Potential Remedies in Consumer Markets," (2008), A report prepared for the Office of Fair Trading (with Hviid, M., Loomes, G. and Waddams Price, C.)