Our staff
Professor Ian R. Hodgkinson BSc, MSc, PhD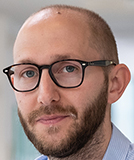 Professor of Strategy
Deputy Director, Centre for Service Management
Head of International Business, Strategy and Innovation
Strategy development and strategic decision-making
Professor Ian R. Hodgkinson is a multi-disciplinary scholar at the frontier of strategy research, investigating strategic decision-making in complex environments from individual to macro levels of analyses. Ian's established international body of research bridges the public administration, service marketing, and management fields to transform established strategic thinking for more effective individual and organisational strategizing. His current research projects examine (i) the interrelationships between decision-making modes and cognition; (ii) strategic resource orchestration in austere times; (iii) planning and improvisation in strategy development; (iv) customer experience driven service models; and, (v) international entrepreneurship dynamics.
Currently Head of the International Business, Strategy and Innovation Group (since 2018) and Deputy Director of the Centre for Service Management (since 2015), he was previously Director of the BSc International Business programme (2011-2018), acting Research Centre Director of CSM (2017), and PhD Programme Lead (2017-2018). He has been a key contributor to programme development, curriculum design, student recruitment, and student experience, and has led on research initiatives around mentoring and developing early career researchers, building inclusive research communities, and delivering internationally competitive research outputs.
Ian has published research articles in world-leading academic outlets such as Journal of World Business, Public Administration, International Journal of Operations & Production Management, Public Management Review and Research Policy, among many others. His work on organisational and individual strategizing has received support from external funding councils and industry partners. Ian also serves as Associate Editor of Journal of Service Management (since 2015) and Associate Editor of European Journal of Marketing (since 2019).
He is active on the international conference scene, regularly contributing competitive papers to Academy of Management (AoM), International Research Society for Public Management (IRSPM) and Strategic Management Society (SMS). Ian is the Vice-Chair and Track Co-Chair of the British Academy of Management Public Management and Governance SIG (since 2018). He has convened international research symposia, served on the advisory committees of international conferences and given international keynotes over the years.
With extensive teaching experience of strategic management at undergraduate and postgraduate levels, Ian stimulates critical application of theory to practice across public services, multinational enterprises, exporters and SMEs. He also delivers 'how-to' workshops to doctoral students and early career researchers on finishing a thesis, publishing in top journals, and how to survive (and thrive) in academia. His interest in pedagogy has driven several research projects into the relationships between student learning styles and teaching methods, and the application of work-based learning to the classroom, with this work published in Studies in Higher Education and Teaching Public Administration, respectively.