Research News
Latest news from
Articles by Loughborough academics featured on The Conversation
Why labour movements in the UK and US need to build their own 'special relationship'
Most people see the so-called special relationship between Britain and the United States as a compact of states and armies, of presidents and prime ministers. They leave out another "special" relationship between the two countries – between their workers, and their unions.
That relationship has a long history. British emigrants in the 19th century formed many early American unions. For 200 years, British and American workers have collaborated in the creation of labour parties, in the struggles of the low paid, of women, of people of all races and of trade unionists persecuted for heeding the call to organise and strike. They have exchanged fraternal delegates to their conventions. They have swapped warm words about solidarity and justice. They have also failed to live up to those words – more than once.
The history of labour's special relationship has never been more relevant. British and American workers need allies to reverse the long decline of their unions and living standards. They need help to take advantage of new opportunities in logistics and other industries. They both face populist, anti-union governments – and, to resist them, the new forces associated with Jeremy Corbyn and Bernie Sanders need to work closely together.
Three individuals and campaigns, from the 19th century to the present, could help British and American trade unionists to think about solving those problems today.
The Morgan plan
Admirers of Jeremy Corbyn and Bernie Sanders might not know of the Morgan Plan, a document drawn up in 1893 by a British-born machinist, Thomas Morgan. That plan was an 11-point programme directly inspired by the recent moves in Britain towards the Independent Labour Party, a forerunner of today's Labour Party. It called for the American Federation of Labor (AFL) to demand the nationalisation of key industries, much like British Labour's old Clause IV. It also demanded that the AFL set up an American Labor Party.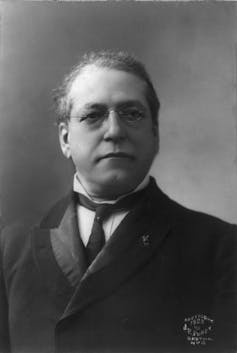 If we haven't heard of the Morgan plan, we probably recognise the means used to defeat it. Before the AFL's 1893 convention, most affiliated unions endorsed it. Yet the federation's president, Samuel Gompers, and his allies managed to defeat the plan and the socialists who advocated it. They did so through shrewd handling – a cosy word for manipulation – of the convention.
Gompers tried to dilute Morgan's 11 planks by having the convention vote on them one by one. He then convinced enough delegates that Morgan's programme would make enemies of the Democratic and Republican parties and mean ruin for American labour. The delegates who came pledged to support Morgan voted him down.
Corbynistas and Sanders supporters should not dwell on the fact that the process was rigged. They should emphasise the fact that British-American cooperation (nearly) led to an American Labor Party – in 1893! Americans who want to try that route again should learn from the Morgan plan – and its failure. Like their predecessors, they can learn from and work with their British friends.
Emma Paterson
Few people better sum up the potential of labour's special relationship than Emma Paterson. Born in 1848, she became an active trade unionist before the age of 20 and served from 1872 and 1873 as secretary of the National Society for Women's Suffrage. A trip to the United States in 1873 changed her life. While there, she saw women organising their own unions, especially in female-dominated industries.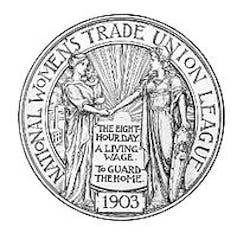 Paterson's feminism and trade unionism came together on her return to Britain. She called for special efforts to organise women in largely female trades, and to promote that cause, helped to set up what became the Women's Protective and Provident League, later renamed the Women's Trade Union League. Paterson edited the Women's Union Journal, spoke at countless meetings and picket lines, and was a tireless advocate of women as voters and as trade unionists until she died in 1886.
Transatlantic cooperation did not stop with her death. Activists in the British and American Women's Trade Union Leagues maintained close ties well into the 20th century. Thanks to them, and to pioneers such as Emma Paterson, British women in the workforce are now more likely to be unionised than men, and American women nearly as likely. They show us what can be done when feminism combines with trade unionism -– and when British and American trade unionists learn from each other.
Fight for $15
They still do. In the past decade, in the same kinds of industries that Paterson singled out for special attention – low-paid, usually (but not only) made up mainly of women and people of colour – organising has begun in places where unions seldom existed before.
The most conspicuous example has been the American Fight for $15, a campaign that grew out of strikes by fast food workers in 2012. It now encompasses a range of service workers, from home carers to hotel cleaners and even casual university teachers. It has won political victories around its central claim: a US$15 minimum wage that workers could live on. New York, Seattle and Los Angeles, among other cities, have agreed to raise their minimum wage to $15 by the end of the decade.
Their example has spread elsewhere in the world. In the UK, the Bakers, Food, and Allied Workers' Union has taken up the cause of fast food workers – and in September 2017, McDonald's workers went on strike for the first time since the company opened its first British store in 1974. Their action and their demands – union recognition, an end to zero hours contracts, and a £10 hourly wage – drew on earlier American struggles.
This is a perfect moment to revive labour's special relationship. Against Donald Trump and Theresa May, we have the legacy of Thomas Morgan and Emma Paterson. I know which alternative I would rather choose.

The author is opening a public exhibition about the shared history of the British and American labour movements with the Trades Union Congress Library. It will tour the US and UK in 2018, beginning with Manchester's Working-Class Movement Library in February.
Is the EU subsidising autocracies? Hungary and the rise of the 'illiberal' model
The rise of self-proclaimed illiberal democracies in East Central Europe arguably constitutes one of the most formidable – albeit perhaps still underestimated – challenges the EU is currently facing.
Whether and how the EU should react has been debated. All sides portray the EU's role in these illiberal regimes as that of an outsider. But a closer look at the political-economic functioning of these nations suggests that the EU – through its structural development funds – is actually part of their illiberal model. That, in turn, suggests that cutting funding from Brussels could be a potentially powerful incentive to bring them back into line.
After years of relative inaction, the EU has started to take measures against some of these states. In June 2017, it launched infringement proceedings against Poland, Hungary and the Czech Republic for refusing to comply with agreed quotas by taking in refugees.
In December 2017, the European Commission took actions against Poland based on the view that a recent reform undermined the political independence of Polish judges. The Commission took the unprecedented step of proposing action under Article 7 of the EU treaty. That could potentially lead to Poland losing its voting rights in EU decision-making.
There is some debate about how efficient and legitimate such measures are. French ex-MEP Daniel Cohn-Bendit wants to go further. He says illiberal democracies should be encouraged to exit the EU altogether. Meanwhile, Polish MEP Danuta Huebner warned that the EU would only hurt the citizens of these countries, not their elites, if it were to cut off funding. In her view, that could serve to further reinforce anti-liberal sentiments.
Funding from Brussels
To decide these moral and practical questions about intervention, it may be necessary to look more closely at the political-economic functioning of the illiberal model and the role the EU has played in its emergence. One of the key features of the Visegrad countries (Poland, Hungary, Slovakia, Czech Republic) during the 1990s was their heavy reliance on foreign direct investment. The process of post-socialist industrial restructuring and modernisation depended on support from outside their own borders.
Social scientists Andreas Nölke and Arjen Vliegenthart dubbed this emerging model of capitalism "dependent market economy". The FDI-led industrial modernisation meant that these countries lived by decisions made outside their national borders in the headquarters of multinational companies.
Part of this model was what social scientists Dorothee Bohle and Bela Greskovits called an "embedded neoliberal arrangement". This consisted of providing multinationals with very favourable conditions, both in terms of taxes and relatively low wage levels, in exchange for relatively highly-skilled workers. To compensate for low wages and other negative consequences of industrial restructuring, the state offered its citizens generous welfare payments.
For some time, this model enabled these countries to grow economically. It provided citizens with decent jobs in fairly high-value-added industries, such as car manufacturing. Further to the east, countries such as Russia and various central Asian republics were struggling with resources-export-based models.
Hungary spurns international investors
Events in Hungary illustrate how the rise of illiberal governments has all but put an end to this model. After years of wooing multinationals, the government of prime minister Viktor Orbán has started to take increasingly aggressive steps against them.
Our research shows that many companies are increasingly experiencing pressure from a regime that doesn't shy away from using what one of the CEOs we interviewed called "mafia tools" to increase its control over the economy. These methods include essentially blackmailing companies to partially or completely give up control of the firm to members of the Orbán clan. The threat of arbitrary tax audits, prohibitive special taxes or special legislation directly geared towards undermining specific companies' business models are also concerns.
There is nothing fundamentally wrong with a state deciding to assume a more prominent role in the economy, including (re)nationalising private companies. Yet in Hungary these measures seem to be mainly aimed at enriching members of the clan around Orbán.
Such an aggressive stance – both in rhetoric and action –- against foreign capital seems surprising given the country's dependence on foreign direct investment. It can partly be explained by Hungary's membership of the EU. Joining the union in 2004 meant Eastern and Central European countries could access structural funds – an alternative source for much-needed finance for industrial restructuring and modernisation.
Recent research by Dénes Bank found that these EU funds are now more important to these nations than FDI inflows. Between 2007 and 2013, EU funds for Hungary alone amounted to €35 billion whereas total FDI inflow was €28 billion.
These structural funds may largely explain why Orbán and his clan can afford the luxury of boldly expanding their grip on the economy without fearing the consequences of an increasingly hostile investment climate. As such, EU structural funds may be much more central to the emerging illiberal model in Central and Eastern European countries than is commonly acknowledged. Indeed, it doesn't seem too far-fetched to draw the troubling conclusion that they may be the very fuel that makes the illiberal motor turn.
From this perspective, the idea, which is part of discussions about the next EU budget, of making some EU funding conditional on criteria such as respecting the rule of law should be very seriously considered. Removing the fuel may well be a necessary measure to make sure the illiberal fire does not spread any further.

The authors do not work for, consult, own shares in or receive funding from any company or organisation that would benefit from this article, and have disclosed no relevant affiliations beyond their academic appointment.
The festive season seriously messes with your sleep – here's how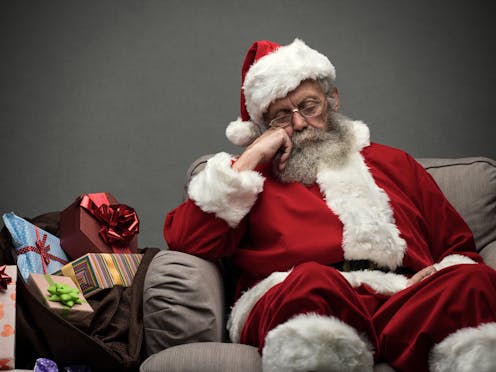 If I were to design a laboratory experiment that reliably disturbed sleep and increased fatigue for eight to ten days, it would look a lot like the festive period. To understand why, you need to consider how normal sleep works.
Sleep is controlled by three things: the supply-and-demand relationship between sleep and wakefulness or "homeostasis" – in a nutshell, the longer we stay awake, the greater the pressure to sleep; the body clock (or circadian rhythm) which syncs our sleep-wake cycles with the 24-hour day so that we feel sleepier during darkness than during light; and psychological factors that calm us down in readiness for sleep.
Normally, these processes work in harmony. So we are most likely to fall asleep when sleep pressure is high, our circadian rhythm tells us it's bedtime and our minds are calm.
Among otherwise good sleepers, events that disrupt sleep tend to affect just one of these factors at a time, and then only briefly, allowing us to take the effects in our stride. For example, the inconvenient daytime sleepiness resulting from an all-nighter can be reversed with one or two nights of good sleep. The twice-yearly disruption of our body clock by daylight saving adjustments soon passes. And difficulty getting to sleep when we're concerned about events the following day is usually manageable.
But the festive season delivers a perfect storm that challenges all of these processes at once and then makes it difficult to catch up on lost sleep. The result is lingering fatigue.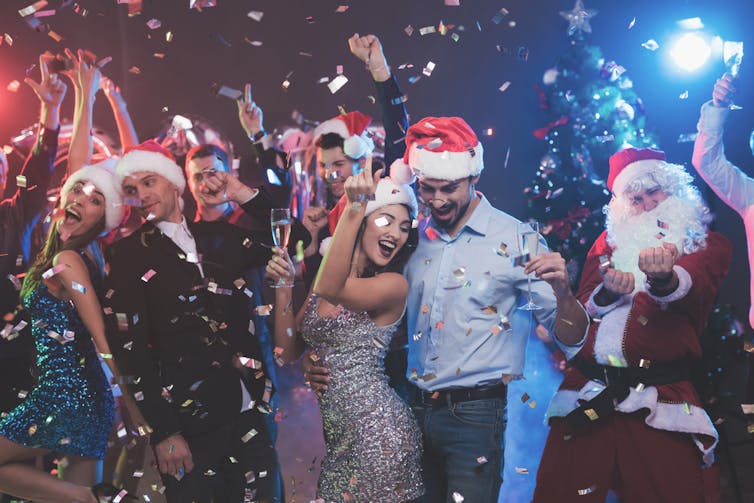 How the festive period gets to our sleep
First, there's a supply and demand imbalance. Participating in festivities means longer days and later bedtimes; fun needs time. But opportunities for compensatory lie-ins may be curtailed by, for example, family visits, high street sales or the demands of parenting. Paradoxically, the whole period is typically rounded-off by the international sleep deprivation fest of New Year.
On top of this, the festive period also interferes with the timing of those habits and routines that help to keep our circadian rhythm in sync (like getting-up times, mealtimes and exercise times). When routine dissolves, sync fluctuates, and sleep suffers.
Christmas also demands planning, which in turn generates anticipation and anxiety (things can go wrong). This can add to our pre-sleep stream of consciousness as "cognitive arousal" – alertness that delays sleep onset. Some of the earliest experiments in the psychology of insomnia found that we don't have to be anxious to keep ourselves awake – we just have to think.
With homeostatic, circadian and psychological regulators under pressure, some people will struggle to sleep. But there are two further disruptive elements in this seasonal storm: food and alcohol.
Overeating, not uncommon at this time of year, is a risk factor for indigestion, which, in turn, is associated with insomnia. Alcohol, even in moderate amounts, can initially promote sleep. But ethanol (the active ingredient) is rapidly broken down in the body, so alcohol-induced sleep shows "withdrawal" disturbances later in the night. With higher levels of alcohol, these effects are amplified, with withdrawal leading to early awakening and, of course, a hangover. In short, the quality of alcohol-induced sleep is poor.
How to be festive and rested
Chronic insomnia begins with sleep disturbances triggered by events, so managing sleep through these challenging periods is important. Avoid entering the festive period with a sleep debt. Don't set yourself over-exacting standards of performance – you'll fail. Compensate for lost sleep with an earlier night, a negotiated lie-in, or a 30 minute nap between midday and 4pm. And if your sleep needs help, download the free Sleepful app – it's a present from Loughborough University.
Kevin Morgan receives funding from the Economic and Social Research Council; the Engineering and Physical Sciences Research Council; the National Health Service; Sealy (UK) PLC; Age UK; Loughborough University Enterprise Projects Group
An introduction to the Centre for Research in Communication and Culture
Hear from Director, John Downey about the broad spectrum of communication and culture research expertise at the CRCC.
SBE Impact Innovators: Professor Tom Jackson & Dr Martin Sykora
In this video, Tom and Martin discuss the way in which emotions are expressed via social media and how with super-fast processers, they can analyse these emotions to assess the mood of a nation.
Research Rising Star – Dr Marco Bohr
His work primarily explores the histories, theories and practices of photography, but his interests extend to cinema and its relationship with photography, and the globalisation of photography via the Internet.
Latest news from
The latest posts from Loughborough University's Research Blog