Research News
Latest news from
Articles by Loughborough academics featured on The Conversation
Huge rise in number of middle-aged cannabis smokers seeking treatment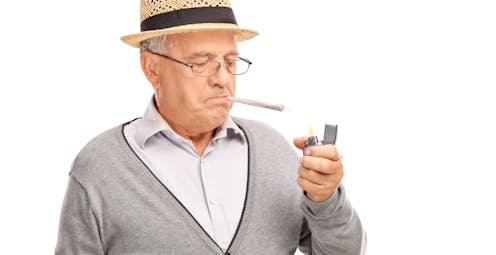 Fewer people are using cannabis, but record numbers are seeking help as a result of using the drug. In the last decade the number of people using cannabis in the UK fell from 3m to 2m. Over the same period, there has been a 60% rise in demand for specialist drug addiction treatment for problems with cannabis.
Drugs like cannabis are often viewed as a young person's problem, but our latest research shows that people over the age of 40 are the fastest growing group seeking treatment for problems related to cannabis (where cannabis is the only or main drug used). In 2005-06, 471 people sought help, but by 2015-16 this figure had risen to 1,008 – a 114% increase. This is just the tip of the iceberg, however, as only one in ten cannabis smokers who need treatment seek help.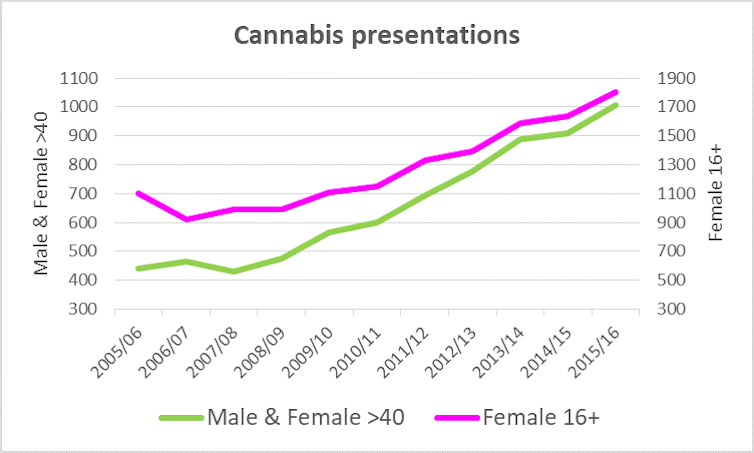 We also found that women, of any age, who said cannabis was their primary drug problem, are accessing treatment for cannabis at a faster rate than men. So while the increase in men of any age seeking treatment has risen by 72%, the rise for women has been 95%.
We don't know why older users and females are increasingly seeking treatment for cannabis use, but we do know that so-called "baby boomers" (people born between 1946 and 1964) will have been exposed to lower potency varieties of cannabis earlier in their lives. As the market has become dominated by higher potency strains, they might be encountering problems that they didn't have with the lower potency strains.
Women and older users are more likely to have additional responsibilities, such as dependent children, and this might prompt them to seek support so that they can maintain these relationships with their children. But having children can act as barrier as well as a prompt to seeking treatment. So while some women and older people are accessing treatment, there are likely to be many more who are reluctant to seek support.
Services will need to consider how they can engage these two groups more effectively, given the concerns they may have about losing their children to social services.
Poor outcomes
Treatment staff tend to view cannabis as relatively benign, compared with drugs like heroin, which may account for the poorer recovery rates among cannabis smokers. One study found that 9% of those who use cannabis consumed 73% of the cannabis available. This small group of users are at greatest risk, as using cannabis more often and in greater quantities increases the risk of dependency. These factors could account for the poor outcomes for people when they are in treatment for cannabis problems. For example, after six months in treatment 26% of opiate users had improved compared to only 8% of cannabis users.
Services can't rely on extra resources to meet the increasing demand for specialists cannabis services, as there is no prospect of the government reversing the cuts made in recent years to drug treatment. These cuts have resulted in services competing with each other to secure their survival as treatment providers. Consequently, they don't share information and so may not realise that nationally there is growing demand from women and older people for help with cannabis. This analysis should help provide that national view so that local services can target care more effectively.

Ian Hamilton is affiliated with Alcohol Research UK and is an editorial board member of Drugs Education, Prevention and Policy.
Mark Monaghan does not work for, consult, own shares in or receive funding from any company or organisation that would benefit from this article, and has disclosed no relevant affiliations beyond their academic appointment.
World Cup: 60 years on Pelé's 1958 debut still the greatest tournament ever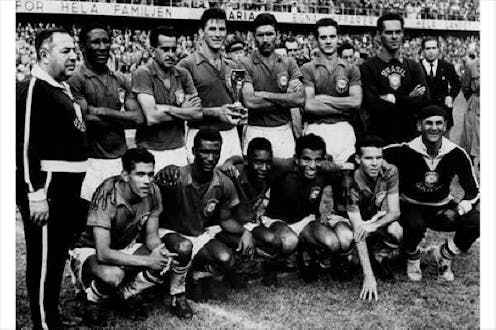 Sixty years ago, before the legendary Pelé became a household name, the teenage Brazilian prodigy was preparing to take part in his first World Cup in Sweden. He was 17. The 1958 World Cup finals were only the sixth time the tournament had been held – and, unbelievable to think now, Brazil yet to lift the Jules Rimet trophy that they were to make their own.
Pelé was about to change all that. The Canarinho wonderkid, – Edson Arantes do Nascimento, to give him his full name – scored six goals during the tournament, including a hat-trick in the semi-final and two goals in the final against host nation Sweden. His storming performance, combined with the skill and flair of his team mates, was to set his country on the path to global footballing dominance.
But the 1958 finals are memorable for much more than their Brazilian milestones.
That year is still the only time England, Northern Ireland, Scotland and Wales have all competed together on the world stage. And the finals were, and still are, a record-breaking tournament for goal scoring. The prolific French forward, Just Fontaine, was unstoppable, setting a tally of 13 goals in six games – a total which has not been broken to this day.
Off the field, in a remarkable contrast to modern football, a huge brawl involving Welsh players at a hotel on the outskirts of Stockholm remained unreported – unthinkable these days. In his 1998 book, When Pelé Broke Our Hearts: Wales and the 1958 World Cup, sports writer Mario Risoli described in graphic detail a fight that took place at the Copacabana Club at the Grand Hotel, in Saltsjöbaden, shortly after Wales' exit from the competition. Nobody was arrested, and Risoli notes that "the selectors did manage to prevent the Copacabana Club fiasco leaking out". What price such a successful cover-up today?
Golden age, for some
For these reasons – and for those of a certain vintage – the 1958 World Cup, held between June 8 and June 29, belongs to a golden age of international football.
In 1958, England's finest hour, a single World Cup title, was still eight years away. In Sweden the side achieved results which will be a little more recognisable to today's fans as they puffed their way through the group stages. The team drew all three group games, against Brazil, Austria and the Soviet Union and were eliminated in a play-off match by the latter. Meanwhile Scotland drew with Yugoslavia but lost to both Paraguay and France and were duly eliminated.
Wales' manager, Jimmy Murphy, was also Matt Busby's assistant at Manchester United – but had escaped the horror of the Munich air crash earlier that year because he had been on international duty at the time. With Busby seriously ill in hospital and many of his leading players dead, it was left to Murphy to try to pick up the pieces at Old Trafford while simultaneously guiding his Welsh team to the World Cup finals.
In a harbinger of Euro 2016, it was left to Wales and Northern Ireland to progress to the next stage. Northern Ireland had beaten Czechoslovakia, drawn with West Germany and lost to Argentina. In the quarter finals, they were beaten 0-4 by France for whom Fontaine scored twice. Northern Ireland's star performers had been Peter McParland, who scored five goals in four games, and Manchester United's goalkeeper Harry Gregg – a survivor of the Munich air crash – who was the only UK player [selected by journalists] in the team of the tournament.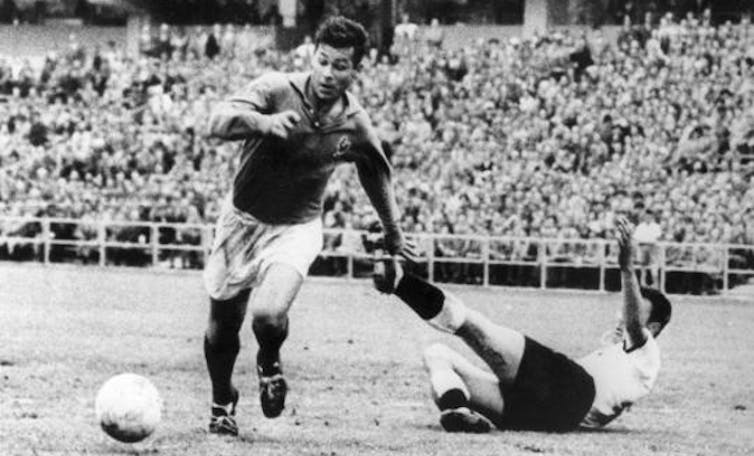 The Welsh team was made up of many of the country's greatest ever players, including Ivor Allchurch, Terry Medwin, Cliff Jones, Jack Kelsey and the Charles brothers, Mel and John. Like England, Wales drew all their group games – against Hungary, Mexico and Sweden – but, unlike England, they won their play-off match with Hungary. In their quarter-final game, they were beaten by a single goal scored in the 73rd minute by Pelé.
One should not forget the contribution made by the hosts Sweden. They came into the competition with a very experienced group of players, several of whom had played for many years in Italy's Serie A in an era when it was much less common for players to move between different countries' football leagues. These included Gunnar Gren, who played in Italy from 1949 to 1956, Nils Liedholm (1949-61), Gunnar Nordahl (1949-58) and Kurt Hamrin (1956-1971).
So the team's progress to the final was not entirely unexpected. Despite drawing with Wales, they advanced to the quarter finals with victories against both Mexico and Hungary. The next opponents were the Soviet Union whom they beat by two goals to one.
In a potentially very difficult semi-final match against World Cup holders West Germany, Sweden won 3-1 and so to June 29 when they met Brazil at Råsunda Stadium in Solna, on the northern outskirts of Stockholm.
Brazil triumphant
On the day, the Swedes were no match for their opponents. Brazil won 5-2 with goals from Vavá (2), Pelé (2) and future Brazilian team manager Mario Zagallo. Pelé was selected by the football writers in their team of the tournament along with team mates Garrincha, Didi and the full backs, Djalma and Nilton Santos (no relation). Orvar Bergmark, who played right back for Sweden in the final, later commented: "At that time, it would have been better to sit in the stand and enjoy all their skills instead of being exposed to them."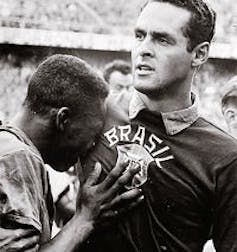 Finally, with relatively well-founded fears that that racism will rear its ugly head during the 2018 World Cup finals in Russia, it is worth remarking on the enthusiastic response given by the Swedish fans to the Brazilian players. Like Bergmark, they clearly appreciated the skills of their team's opponents. Of course, social democracy was in its pomp in Sweden at that time and Swedes were eager to demonstrate their internationalism.
But whatever the explanation, is it just possible that a Russian crowd will behave in the same way as those fans at Råsunda towards a victorious team with a large percentage of black players such as Brazil, once again, France – or even England? One can but hope.
---
More evidence-based articles about football and the World Cup:

Alan Bairner does not work for, consult, own shares in or receive funding from any company or organisation that would benefit from this article, and has disclosed no relevant affiliations beyond their academic appointment.
AI is acquiring a sense of smell that can detect illnesses in human breath
Artificial intelligence (AI) is best known for its ability to see (as in driverless cars) and listen (as in Alexa and other home assistants). From now on, it may also smell. My colleagues and I are developing an AI system that can smell human breath and learn how to identify a range of illness-revealing substances that we might breathe out.
The sense of smell is used by animals and even plants to identify hundreds of different substances that float in the air. But compared to that of other animals, the human sense of smell is far less developed and certainly not used to carry out daily activities. For this reason, humans aren't particularly aware of the richness of information that can be transmitted through the air, and can be perceived by a highly sensitive olfactory system. AI may be about to change that.
For a few decades, laboratories around the world have been able to use machines to detect very small amounts of substances in the air. Those machines, called gas-chromatography mass-spectrometers or GC-MS, can analyse the air to discover thousands of different molecules known as volatile organic compounds.
In the GC-MS machine, each compound in a sample of air is first separated and then smashed up into fragments, creating a distinctive fingerprint from which compounds can be recognised. The image below is a visualisation of a small part of the data from an analysis of a breath sample.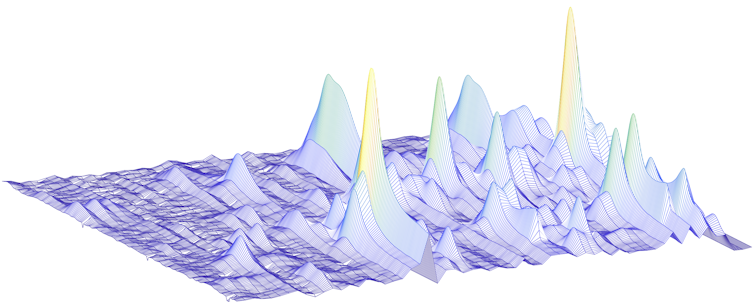 Each peak represents a fragment of a molecule. The particular patterns of such peaks reveal the presence of distinct substances. Often even the smallest peak can be crucial. Among the several hundred compounds present in the human breath, a few of them might reveal the presence of various cancers, even at early stages. Laboratories around the world are therefore experimenting with GC-MS as a non-invasive diagnostic tool to identify many illnesses, painlessly and in a timely manner.
Unfortunately, the process can be very time consuming. Large amounts of data need to be manually inspected and analysed by experts. The sheer amount of compounds and the complexity of the data mean that even experts take a long time to analyse a single sample. Humans are also prone to error, can miss a compound or mistake one compound for another.
How artificial intelligence can help
As part of Loughborough University's data science team, my colleagues and I are adapting the latest artificial intelligence technology to perceive and learn a different type of data: the chemical compounds in breath samples. Mathematical models inspired by the brain, called deep learning networks, were specifically engineered to "read" the traces left by odours.
A team of doctors, nurses, radiographers and medical physicists at the Edinburgh Cancer Centre collected breath samples from participants undergoing cancer treatment. The samples were then analysed by two teams of chemists and computer scientists.
Once a number of compounds were identified manually by the chemists, fast computers were given the data to train deep learning networks. The computation was accelerated by special devices, called GPUs, that can process multiple different pieces of information at the same time. The deep learning networks learned more and more from each breath sample until they could recognise specific patterns that revealed specific compounds in the breath.

In this first study, the focus was on recognising a group of chemicals, called aldehydes, that are often associated with fragrances but also human stress conditions and illnesses.
Computers equipped with this technology only take minutes to autonomously analyse a breath sample that previously took hours by a human expert. Effectively, AI is making the whole process cheaper – but above all it is making it more reliable. Even more interestingly, this intelligent software acquires knowledge and improves over time as it analyses more samples. As a result, the method is not restricted to any particular substance. Using this technique, deep learning systems can be trained to detect small amounts of volatile compounds with potentially wide applications in medicine, forensics, environmental analysis and others.
If an AI system can detect markers of disease, then it becomes possible to also diagnose whether we are ill or not. This has a great potential, but it could also prove controversial. We simply suggest that AI could be used as a tool to detect substances in the air. It doesn't necessarily have to diagnose or make a decision. The final conclusions and decisions are left to us.

The work described in this article was partially funded by the EU H2020 TOXI-Triage Project #653409
An introduction to the Centre for Research in Communication and Culture
Hear from Director, John Downey about the broad spectrum of communication and culture research expertise at the CRCC.
SBE Impact Innovators: Professor Tom Jackson & Dr Martin Sykora
In this video, Tom and Martin discuss the way in which emotions are expressed via social media and how with super-fast processers, they can analyse these emotions to assess the mood of a nation.
Research Rising Star – Dr Marco Bohr
His work primarily explores the histories, theories and practices of photography, but his interests extend to cinema and its relationship with photography, and the globalisation of photography via the Internet.
Latest news from
The latest posts from Loughborough University's Research Blog