Research News
Latest news from
Articles by Loughborough academics featured on The Conversation
Crack is back – so how dangerous is it and why is its use on the up?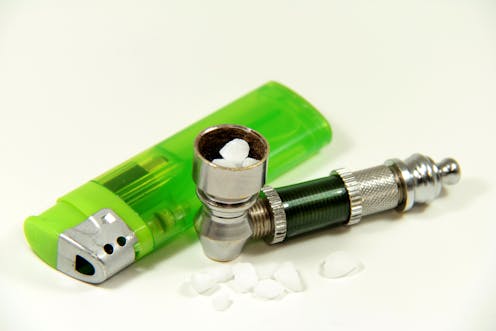 There have long been scare stories about drugs so we need to be careful when interpreting new drug use data. But recent reports suggest that crack cocaine use is on the rise again.
Crack emerged in the Americas in the late 1970s as a relatively cheap and transportable form of cocaine that could be more easily distributed than the powdered variety and soon led to what was widely described as an "epidemic", especially in the US.
Supporters of drug reform in the US have long highlighted the uneven application of the law concerning crack and powder cocaine. Referred to as the "100-1 Rule", until the passing of the 2010 Fair Sentencing Act, possession of one gram of crack in America was treated as the equivalent of 100g of powder cocaine. As crack use was associated with the black, urban poor and powder cocaine with the more affluent white middle classes, this policy became symbolic of the racism of the "war on drugs" and the over-representation of black men in the US prison system .
By the late 1980s, crack was also being used in the UK, and in 2002 the British government was concerned enough to produce a national crack strategy. And now, after a relative reduction in use, the drug is making a worrying comeback.
What is crack?
The physical and psychological effects of crack are similar to powdered cocaine – usually cocaine hydrochloride, which is mainly administered through the nostril as a powder. In chemical terms, crack is the free base (non-salt based) form of cocaine, which makes it volatile enough to be inhaled through smoking, although more people in England and Wales are now injecting it.
Both forms of cocaine act as a stimulant and produce similar "highs". But what makes crack more potent than powder cocaine is the immediacy, duration, and magnitude of its effect, as well as the typical frequency and amount used. There are concerns over the long-term effects of cocaine in all its forms, and it has been associated with neurological and neuropsychiatric changes, as well as damage to the heart and lungs.
The risk of dependence among users of crack cocaine has also been estimated to be two to three times greater than among powder cocaine users.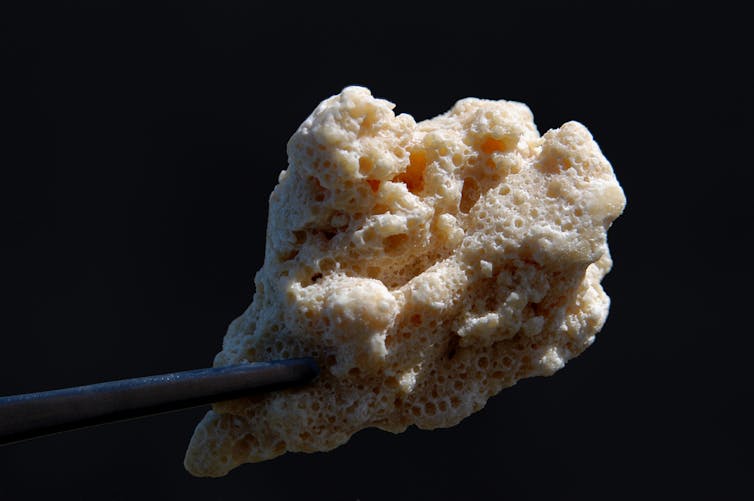 Price and availability
Beyond wider drug trends and fashions, price, purity and availability are considered to be important drivers of drug use over time. Not only has the price of crack fallen by 13% since 2007 but it is now more readily available. Newly established supply routes in the UK have also emerged. Central city gangs distribute crack into coastal and rural areas, along so-called "county lines". The Home Office reports that the number of seizures of crack in Britain are currently at their highest since 2008, although the weight of seizures has fallen since 2015-16.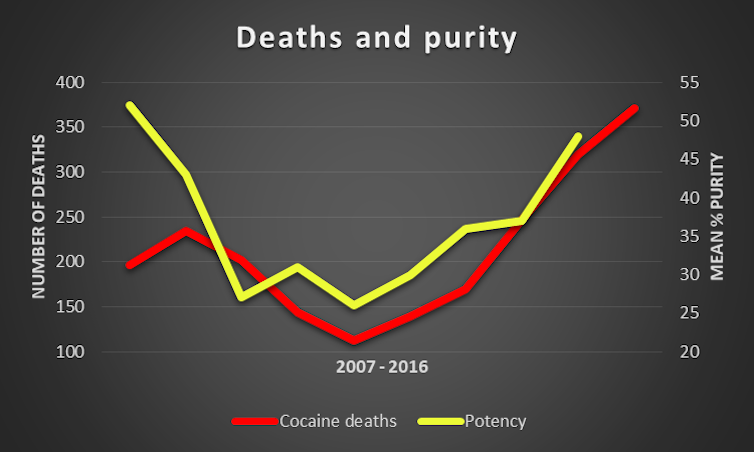 Household surveys typically underestimate the use of drugs such as heroin or crack, but statistical modelling suggests that the number of people using crack in England has increased by 10%, with 166,640 users in 2010-11 rising to 182,828 by 2014-15.
These trends in price, availability and use have also been accompanied by crack becoming increasingly pure. And that could be having an effect on the number of fatalities caused by it.
Crack is rarely recorded as contributing to death by coroners, as toxicological assessments don't distinguish between the different forms of cocaine. But cocaine deaths in England and Wales rose from 320 in 2015 to 371 in 2016. The Office for National Statistics (ONS) commented that there was a significant increase in both crack and powder cocaine purity at all levels in 2016, which may partly explain this increase.
Treatment
Another trend suggesting crack use is on the rise is data on treatment presentations. The average age of a person using crack cocaine presenting to treatment is 35. But this year has seen a 30% rise in young people under the age of 25 accessing treatment for problems with crack. It is a decade since we witnessed a rise in this age group seeking help for crack.
Additionally, unlike effective opioid agonist therapies, such as methadone for heroin use, there is no substitute drug that can be given to those seeking to stabilise and reduce crack use. Around 41% of people presenting to treatment services in England and Wales also report using both opioids and crack, which can present additional challenges.
Overall, reviews of evidence suggest that psychosocial interventions (behavioural and "talking" therapies) for cocaine users can keep people in contact with treatment services, but do not necessarily lead to a reduction in (crack) cocaine use. One approach, called contingency management, which provides a system of incentives (such as vouchers, employment, or loosening clinic attendance requirements) to make abstinence more attractive than continued drug use shows promise, but there are some remaining questions about the longevity of the treatment's effect.
Anecdotally, some people trying to reduce their use of crack have reported that cannabis has helped. However, there is only limited scientific evidence to support this, and so more research is required.
Why is crack back?
As various ethnographic studies have shown, crack has been part of the urban landscape for decades. With high levels of youth unemployment alongside cuts to social and other services under austerity, participation in illicit economies becomes one of the only income generating opportunities available for those who would otherwise have to negotiate life on a low income. After all, inequality between the rich and poor, has been show adversely to impact people who are dependent on drugs.
In a fast moving drugs market, the population is neither served nor protected by the current paralysis in drug policy and treatment services. On both sides of the Atlantic, it's time we recognised that budget cuts have consequences.

Ian Hamilton is affiliated with Alcohol Research UK.
Harry Sumnall receives and has received funding from grant awarding bodies for drug and alcohol research. He is an unpaid member of the Advisory Council on the Misuse of Drugs (ACMD), an unpaid trustee of the drug and alcohol prevention charity Mentor UK, and an unpaid Board Member of the European Society for Prevention Research (EUSPR). This article represents his personal opinions only.
Mark Monaghan does not work for, consult, own shares in or receive funding from any company or organisation that would benefit from this article, and has disclosed no relevant affiliations beyond their academic appointment.
Murder on the Orient Express: why go to see remake when we know how it ends?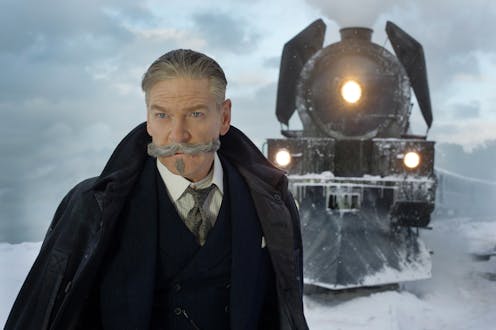 For the distinguished crime novelist PD James, Agatha Christie's distinctive contribution to the genre lies not in thematic complexity nor stylistic prowess, but in the meticulous fashioning of mysteries. In her 2009 book Talking About Detective Fiction, James wrote that Christie:
… is a literary conjuror who places her pasteboard characters face downwards and shuffles them with practised cunning … Game after game we are confident that this time we will turn up the card with the face of the true murderer, and time after time she defeats us.
If James is correct, however, and the satisfaction of a Christie story comes from its surprising plotting, then Kenneth Branagh's new film adaptation of Murder on the Orient Express would appear to be in difficulty.
It might be stretching things to claim that the plot of Murder on the Orient Express, written by Christie in 1934, is as familiar as that of Hamlet. Nevertheless, the identity in this instance of "the true murderer" is part of global cultural knowledge. Branagh's film is after all merely the latest in a series of adaptations that include work for the big screen (Sidney Lumet's Oscar-winning 1974 version) and for TV (in 2001 and 2010), as well as for BBC Radio (1992-93).
The plot's secrets have also been disclosed in other books, films and TV shows with wide popular reach. An episode of Doctor Who in 2008, featuring Agatha Christie as a character, reveals "who did it". Intriguingly, even Christie herself gave the attentive reader clues as to what happened on the Orient Express when she revived the character of Hercule Poirot in Cards on the Table (1936).
So, while some people may still be unfamiliar with the outcome of Murder on the Orient Express, many others will already be knowledgeable. Why, then, choose to watch Branagh's film, with its unfolding of a familiar storyline? Christie's own casual approach to narrative secrets in Cards on the Table is helpful here in freeing us from obsession with plot and prompting us to look instead for other sources of interest, both thematic and stylistic.
Nostalgia film
Recent critical approaches to Christie's fiction have explored its constructions of gender, sexuality, class and nation. Studies such as JC Bernthal's Queering Agatha Christie (2016) have given the work new life, helping to free it from nostalgic trappings of vicarage and country house. Such revisionism, prompted by current social issues, is available not only to scholars but to anyone who adapts Christie.
In Branagh's film, unfortunately, there are few signs the source material from the 1930s has been radically rethought. True, Colonel Arbuthnot is no longer the white British officer of the novel – but instead an African-American doctor. Elsewhere, however, the political and cultural traditions of Christie's own period survive intact. Branagh's Poirot, for example, reasserts a robust masculinity that contrasts with the vulnerability and torment conveyed by David Suchet in the 2010 ITV adaptation.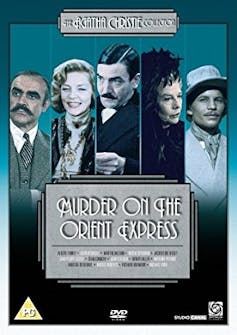 The new adaptation is in other respects, too, less abrasive than its screen predecessors. It opens in bright sunlight, unlike Lumet's big-screen version that begins visually and acoustically like film noir. It also avoids the violence of the ITV adaptation, which starts with a woman's stoning in Istanbul and later shows the villain's murder in all its goriness.
"Let horizons, décors and fashions lull you asleep," as the Orient Express's own website puts it. Branagh's adaptation largely follows the comfortable rhythms of the luxury train from which it takes its title. Nostalgia powers this approach to Christie's material, rather than ruder sources of energy.
Exercising the eye
Box office returns indicate that Murder on the Orient Express is currently the most popular film in the UK. Since it does not rewrite Christie's plot, however, or offer significant thematic innovations, what might be the secret of its success?
Here it may be helpful to turn to very early film history and what has been called the "cinema of attractions". This term refers to a body of films that offered exciting or unusual spectacles, rather than complex stories. The new Murder on the Orient Express should be thought of as a lavishly resourced "attraction" of this kind that is thereby able to enthuse viewers who know in advance whodunnit.
Where the narrative is familiar to them, spectators may instead be diverted by identifying the film's many stars. The camera alights successively on actors who include Judi Dench, Johnny Depp and Michelle Pfeiffer. There is the pleasure, too, of comparing Branagh visually and dramatically with earlier screen versions of Poirot.
"It is an exercise, this, of the brain," says Poirot in Christie's novel as clues accumulate. Audiences already knowing the solution to the puzzle, however, will find the new film chiefly exercising their eyes instead. Where there is mental challenge, it may be to assess the effects of a high-angle interior shot, say, not to work out whose embroidered handkerchief was left in the dead man's compartment.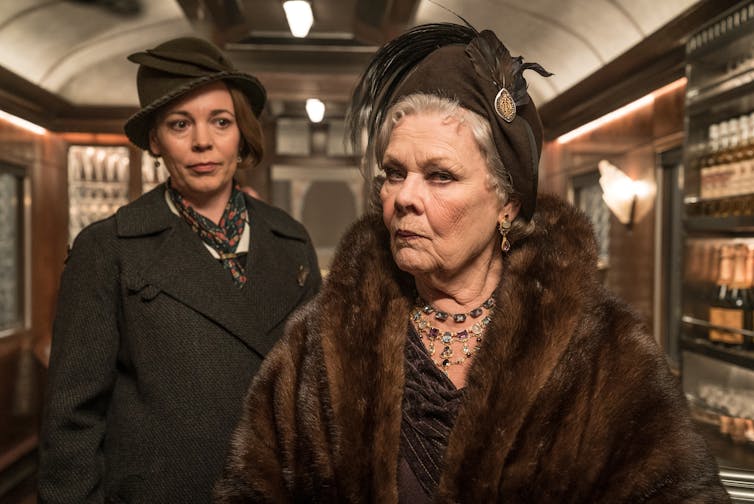 In a short provocation called In Defense of Spoilers, Jonathan Rosenbaum argues that worrying about revealing a film's storyline is not "a fit activity for grown-ups". It exhibits narrow thinking that "privileges plot over style". Why, asks Rosenbaum, is it frowned upon to say Orson Welles' 1958 masterpiece Touch of Evil "begins with a time bomb exploding but [not] to say that the movie begins with a lengthy crane shot?"
It is thus not bad manners to give away the new film's stylistic features. Branagh has chosen, for example, to use large-format, 65mm stock which gives a rich texture. There are swooping panoramas and extended tracking shots that impart movement, even as the train is stuck in snow. Such visual detailing is not secondary or unimportant, however, but actually essential to the pleasure of those watching who already know who wielded the knife.

Andrew Dix does not work for, consult, own shares in or receive funding from any company or organisation that would benefit from this article, and has disclosed no relevant affiliations beyond their academic appointment.
Halloween in Hollywood: five films for All Hallows' Eve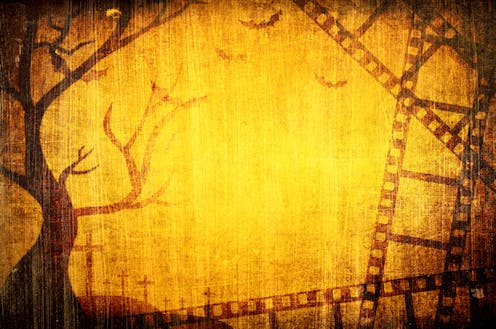 "Few holidays have a cinematic potential that equals Halloween's," wrote the American cultural critic David J. Skal. For over a century now, US film studios have exploited the commercial possibilities of All Hallows' Eve as enthusiastically as any maker of frightening masks or baker of pumpkin pies. IMDB currently lists 200 titles featuring the word "Halloween" alone.
But it can still be hard to define a "Halloween film". Skal takes it to be one in which the holiday is the "central subject", rather than there merely to add atmosphere. But this still leaves open the question of genre. As it turns out, the Halloween movie is a highly elastic category. The five titles I've selected here show it ranges from horror to farce, and from parody to animation.
In the 1930s, the Betty Boop cartoons challenged mainstream America not only with their voluptuous heroine but with what animation scholar Paul Wells calls their "fantastical incongruities". In this Halloween special, which lasts just over six minutes, the animators' customary visual exuberance is given further license by Halloween's permitted mischief. A scarecrow throws paint onto the wall and each time, creates a witch complete with broomstick. Meanwhile, a weird assembly-line in the kitchen sees bull's horns being used to pierce pumpkins. Over it all Betty presides cheerfully, suggesting women could have roles in Halloween films besides that of the victim.
The Middle American town which is so familiar in many Halloween movies is left behind here, in what an opening caption calls a "Hallowe'en tale of Brooklyn, where anything can happen". Ignore the plot that creaks as loudly as any haunted house's staircase, and dwell instead on the film's moments of tonal strangeness and blending of genres.
The main premise of this black comedy is rival serial killers who face body disposal problems at Halloween. In some scenes however, it forgoes good humour altogether and becomes genuinely disturbing. Several sequences are framed and lit as if they have been spliced in from horror cinema. Even the usually poised Cary Grant is seen in sweaty closeup.
Puritanical attitudes stalk this film as persistently as its serial killer antihero. Therapeutic models for treatment of psychopathy have no chance here against what film critic David Thomson describes as:
The certainty that the mentally disturbed are going to be dangerous until the end of time.
The plot sees three high school students brutally punished for having opportunistic sex. Laurie, their bookish and sexually inactive friend on the other hand, exemplifies what film theorist Carol Clover has called the "Final Girl." This is a trope common in slasher films, and refers to the last woman alive to confront the killer. Laurie wards off her attacker with the gendered weaponry of knitting needle and coat hanger. But running against the film's strait-laced politics is a mischievous humour, and a DIY aesthetic – director John Carpenter also scored the keyboard soundtrack as well as co-writing the film.
At the start of this animated musical, derived from a poem written by Tim Burton in his Disney days, Jack Skellington – master of ceremonies in "Halloween Town" – despairs of the familiar Halloween routine. He exclaims:
And I, Jack, the Pumpkin King / Have grown so tired of the same old thing.
Here the Halloween movie confronts its own possible staleness – by 1993, John Carpenter's film alone had generated four sequels. But the danger of "the same old thing" is warded off here by fusing Halloween cinema subversively with its sentimental cousin among the seasonal sub-genres: "the Christmas film". Jack finds a portal to "Christmas Town" and attempts to darken that festival too.
Scholars such as Rick Altman have argued that films tend to show genres colliding with each other, rather than staying separate. And just like the merging of comedy and horror in Arsenic and Old Lace, The Nightmare Before Christmas reveals this genre fusion at work in the Halloween movie itself.
Rob Zombie's exploitation horror film begins in an "off-beat attraction" in rural Texas called Captain Spaulding's Museum of Monsters and Madmen. The Halloween kitsch on display here includes tiny skulls with flashing red eyes, and it all serves to lull not only the quartet of young out-of-town visitors but also the unwary film spectator.
These early scenes present a commodified Halloween, one where terror is manageable, compared with the abiding horror that will soon confront the protagonists – and the viewers. The dead, who were traditionally honoured by both pagans and Christians on All Hallows' Eve, are instead treated roughly in Zombie's film. Bodies are fashioned into phantasmagoric, necrophile tableaus. The effect is highly disturbing: House of 1,000 Corpses ends as a new day breaks, but atmospherically we are still in darkness.

Andrew Dix does not work for, consult, own shares in or receive funding from any company or organisation that would benefit from this article, and has disclosed no relevant affiliations beyond their academic appointment.
An introduction to the Centre for Research in Communication and Culture
Hear from Director, John Downey about the broad spectrum of communication and culture research expertise at the CRCC.
SBE Impact Innovators: Professor Tom Jackson & Dr Martin Sykora
In this video, Tom and Martin discuss the way in which emotions are expressed via social media and how with super-fast processers, they can analyse these emotions to assess the mood of a nation.
Research Rising Star – Dr Marco Bohr
His work primarily explores the histories, theories and practices of photography, but his interests extend to cinema and its relationship with photography, and the globalisation of photography via the Internet.
Latest news from
The latest posts from Loughborough University's Research Blog