Research News
Latest news from
Articles by Loughborough academics featured on The Conversation
England invented football – but Scots made it the success it has become
In his book, How Scots Invented the Modern World, American writer Arthur Herman credited the inventiveness of Sots in numerous fields including science, education, medicine, and philosophy and medicine. In so doing, he argued, the Scots were responsible for modern ideas about democracy, free market capitalism and the importance of developing a literate society.
Another invention he could have added was the Football League – the First Division of which was the forerunner of the English Premier League (EPL), widely regarded as the most successful domestic football competition in the world – which was invented by a Scotsman living in England.
Even though the English first codified the modern game of association football, there is no doubt that – like golf – football gave Scotland what Kevin McCarra, in his 1984 pictorial history of Scottish football, described as "a place in the world".
The league process developed rapidly in England itself with Scottish players arriving in large numbers to play for clubs in the north-east and in Lancashire in the 1880s. Professionalism was still officially illegal in both countries but English clubs were more successful than their Scottish counterparts at circumventing this obstacle, not least by paying "expenses" and offering paid employment in firms owned by club directors.
Most noteworthy of all, however, is the role played by William McGregor. Born in Braco in Perthshire in 1846, McGregor moved to Birmingham where he set up in business as a draper and became a committee member of Aston Villa Football Club in 1877. On March 23 1888, he organised a meeting in London with representatives of ten leading English clubs including West Bromwich Albion and Preston North End. A subsequent meeting in Manchester on 17 April resulted in the formation of the Football League.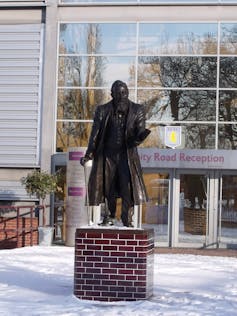 As chairman the Football League from 1888-1891, McGregor presided over the transition of English football from a (mainly) amateur pursuit to a truly professionalised sport. He was also chairman of the Football Association (1888-1894) and was honorary president of the Football League (1891-1894). He was elected the first life member of the league in 1895 and died in 1911. He is remembered today by a statue unveiled in 2009 at the directors' entrance to the Trinity Road Stand at Villa Park in Birmingham.
Thereafter it was the export of players that increased Scottish influence on football in England. The first Liverpool side to play a league game was comprised ten Scots and a Merseyside-born goalkeeper by the name of Billy McOwen. As former Portsmouth captain and players' union activist, Jimmy Guthrie, put it: "After whisky, footballers have been the favourite and most expensive export from Scotland to England."
Kicking goals
James Lang is generally regarded as the first ever professional footballer. Born in 1851 in Clydebank, Lang moved from Scotland to the nominally amateur Sheffield Wednesday and gained employment in a company belonging to one of the club's directors before then moving to the openly professional Burnley Football Club.
Ever since – or at least until relatively recently – Scottish players have continued to make their mark on English domestic football. Alex James of Arsenal won four league titles and three FA Cup winners medals as well as runners-up medals in each competition between 1931 and 1936. Dave Mackay, John White and Bill Brown were regular members of the Tottenham Hotspur team that won the first league and cup double in the modern era in 1960-1.
Alan Hansen won eight league titles and three European Cup winners medals with Liverpool with whom his compatriot, Kenny Dalglish won six league titles and three European Cup medals as a player. As manager between 1985 and 1990, he then led the club to its first double in 1985-6 and to two other league titles in 1987-8 and 1989-90. Under his stewardship, Liverpool also won the FA Cup in 1989.
Managers: from Shankly to Ferguson
As with Dalglish's example, it is the legacy of Scottish managers that is most apparent in the relatively short history of the EPL. For example, as manager of Liverpool, Dalglish was building on a legacy inherited from Bill Shankly. Overall in the 20 years preceding the formation of the EPL, Liverpool won the old League Division One title on nine occasions. Meanwhile, another Scot – Matt Busby – led Manchester United to the first ever European Cup success for an English team.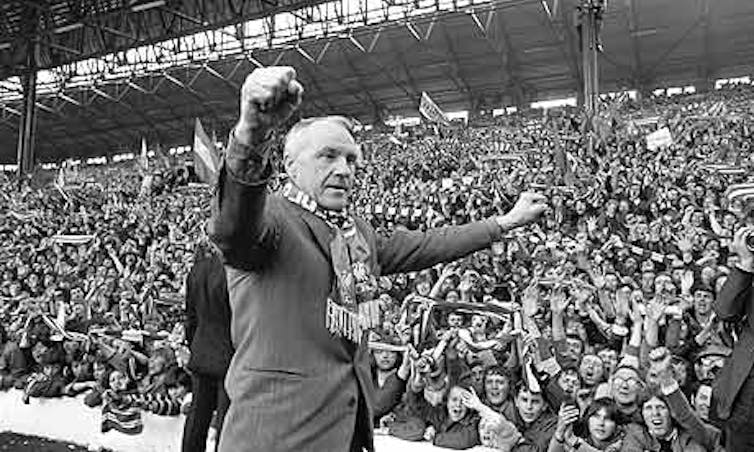 Undoubtedly the successes of these two clubs were influential in helping to precipitate the formation of the Premier League which would allow already successful clubs such as Liverpool and Manchester United to become more successful and even richer. So it was ironic that, in the EPL's third season, the title went to Blackburn Rovers – managed by none other than Dalglish.
But it is another Scot who made a bigger mark on the league to date than any owner, manager or player. Having previously managed in his native country, Alex Ferguson was appointed manager of Manchester United in November 1986. During 27 years at the helm (1986-2013), the club won 38 trophies, including 13 EPL titles and the European Champions' League in 1998-9 and 2007-8.
So you can mount a pretty good argument that the history of football in England would have been very different without the contribution made by Scots – and the EPL is but the latest stage in that history.
Without going as far as sportswriter Patrick Barclay who claimed in The Independent that Scots invented the game itself – "the football that was to charm every continent" – it is surely the case that, given the history of the Football League and beyond, if football ever does "come home", it will be to Great Britain as a whole and not to England alone.

Alan Bairner does not work for, consult, own shares in or receive funding from any company or organisation that would benefit from this article, and has disclosed no relevant affiliations beyond their academic appointment.
How repressive states and governments use 'sportswashing' to remove stains on their reputation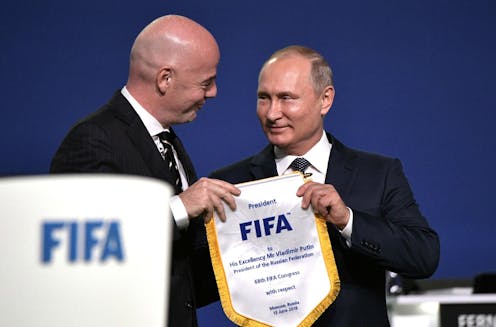 Following the conclusion of the 2018 World Cup with France crowned champions, the tournament as a topic and Russia as the host nation are fading from view. Given the widespread misgivings prior to the tournament about the threat of orchestrated hooligan violence, ongoing conflicts in Ukraine and Syria, an appalling domestic rights record borne out by attacks against both political and LGBT activists, and accusations of conducting targeted murders in other countries, this might seem surprising.
The fact that these fairly major issues disappeared from the majority of news outlets during the four weeks of the World Cup demonstrates the power of such events to reset the news agenda. A telling example comes from Britain, where the government admitted that had England reached the finals it would have considered sending a delegation – despite tensions with the Russian government over the Skripal poisonings, among other things.
The coverage of Russia 2018 confirmed a pattern already observed in previous sports events: stories of controversy or lack of preparation fill time and space in the media before the event, but as soon as the competition begins, a "sphere of consensus" prevails.
The rise of 'sportswashing'
This has happened before. In the run up to the 1978 World Cup in Argentina, the media reported that some national teams considered withdrawing from the tournament to protest the military dictatorship governing the host country. However, after the first match, the coverage focused mostly on what happened on the pitch. In other words, concerns, controversies and accusations are left aside and sports takes centre stage. With very few exceptions, nobody wants to be the party pooper.
Many have argued that major sporting events operate as a form of soft power, allowing host nations to promote themselves on a global stage. "Soft power" was a term coined by the US political scientist Joseph Nye, broadly defined as a way of reaching objectives through the power of attraction rather than military and economic force. Sources of soft power can be movies, music, world-renowned universities and, of course, sports.
Indeed, this concept has been applied to major sporting events, arguing that the Olympic Games or football World Cup represent ideal opportunities for countries to try and attract inward investment and promote their tourist industries. We'd argue for an alternative effect, that such events can actually close down, temporarily, critical views of a government. Such sporting mega-events operate as a means to launder a national government's global image and reputation – even to the extent that adversarial countries will be prepared to engage with them. The effect is similar to greenwashing, whereby organisations use PR and marketing to claim their environmentally-friendly credentials in order to boost their reputations.
Politically avoiding the political
The supposedly apolitical character of sports events, as promoted by both FIFA and the International Olympic Committee, makes them particularly attractive for states in which there is little or no free political debate. The opportunity to harness these events is improved by the fact that, at least in more democratic societies, protests surrounding sporting mega events have grown over time, and cities and countries are increasingly reluctant to take part in the bidding processes for these competitions.
Soon enough, the eyes of the world will turn to Qatar and the 2022 World Cup. The host country has already promised to surpass the event in Russia and, in order to boost global prestige, it will attempt to use the World Cup to bring attention to its political stability, military collaboration with the US, redistribution and aid policies, and the prestige of its Al Jazeera news channel, among other aims. But there are growing concerns about the first World Cup to be played in the Middle East, including the deaths of construction workers building new stadiums, human rights records, high temperatures, and a lack of existing football culture in the host country. And yet these issues will very likely be out of the spotlight just as soon as the first match kicks off.
Should we be concerned about the ability of some pretty odious regimes to rinse their reputations through their involvement in sporting events that generate pleasure for so many worldwide?
The prevailing – and somewhat naïve - attitude of most participants and fans is that sports are politically neutral. Once they start, so the view goes, global competitions like the Olympic Games or the World Cup should not be tarnished by these sorts of political considerations. By taking this line are we as sports fans not also complicit in this sportswashing? And if so, what can players, observers and the media do to ensure that sporting tournaments aren't used to absolve states of their responsibilities to their own people and to the wider international order?
Let's hope that in the four years before the beginning of the Qatar 2022 World Cup and the four weeks of the competition's duration, these questions are in the forefront of our minds, so that future sporting mega events will be not only enjoyable, but more ethically, morally and politically responsible.

César Jiménez-Martínez has received funding from Conicyt (Chile) and the London School of Economics.
Michael Skey received funding from Arts & Humanities Research Council. He is a lecturer in Communication & Media at Loughborough University.
Trump baby balloon: why humour is such a powerful form of protest
An inflatable "baby" Donald Trump was the star attraction in London as protestors take to the streets to register their dissatisfaction with the visit of the US president on July 13. Protestors have much to motivate their mobilisation against Trump: from the controversial separation of families at the US-Mexican border, to his misogyny, nepotism, and travel ban. Tens of thousands are expected to attend a "Stop Trump" rally in what organisers have described as a "carnival of resistance".
Humour, in the forms of chants, performances, satire, cartoons, theatre, jokes, memes and puns has a long tradition in protest movements. It acts as a vehicle to communicate ideas as well as to foster a sense of community – it can cut across linguistic barriers, and increase the resonance of the message.
All protests have a target, something or someone to galvanise others to action. The goal of the crowdfunded inflatable is to annoy the famously thin-skinned president. The six-metre tall balloon depicts Trump as a snarling baby in a nappy with tiny hands and moobs. Its purpose is not to change laws or policies, nor to influence his decisions. It is meant to mock and to undermine, suggesting the president is infantile, full of hot air, cartoonish and ridiculous.
Humour is empowering because it establishes those who are in on the joke and those who are the object of it. The balloon signifies an attempt to take back control and to undermine Trump. Whether he is aware of the balloon – and surely this media-obsessed president will be – is neither here nor there because mocking Trump is not just about annoying him. It fosters a sense of belonging between protestors and invites others to join.
Catharsis
The use of ridicule in this way confirms the public's relative weakness vis-à-vis governments, multinational corporations and world leaders. But satire and humour foster a sense of solidarity in the face of adversity. For those of us exasperated by the actions of the Trump administration appearing in our daily news feed, mocking Trump is not just a sneer – it gives us a sense of power, at least for a moment.
Mocking strongman leaders is a cathartic exercise and one favoured by protestors around the world, particularly in authoritarian regimes. In response to Vladimir Putin's repressive treatment of LGBTIQ people in Russia, including the notorious anti-gay propaganda law of 2013, a neon Warholesque image of Putin in full make-up replete with lipstick was widely shared across social media.
The image became so ubiquitous that Kremlin officials worried that the Russian president's sexual orientation would be called into question and in 2017, the Russian justice ministry banned the image. However, Kremlin-approved images of the masculine Russian leader shirtless on horseback remain in circulation.
The aesthetics of protest
As I have argued in my work on the aesthetics of protest, protestors make aesthetic choices when communicating their ideas and this is bound up with the visual framing or staging of protests. Protest aesthetics are the visual and performative elements of protest, such as images, symbols, graffiti, art, humour, as well as the choreography of actions in public spaces. Protestors employ artistic forms which often retain a creative and handmade quality, frequently enlisting popular culture tropes such as the V for Vendetta mask of Guy Fawkes which has become emblematic of the Occupy and Anonymous protests.
---
Read more: From billboards to Twitter, why the aesthetics of protest matters more today
---
While conventional forms of democracy, such as political party membership or voting, have declined around the world, political voices are now increasingly being expressed and performed through a variety of textual, visual and graphic forms. We're witnessing an opening up of a public space for dissent, facilitated by protest movements and social media, which expands the range of voices which can be heard by those in positions of power. So humour, democratically conceived and expressed in ways such as a giant Trump balloon, allows our voice to be heard.

Aidan McGarry receives funding from the Arts and Humanities Research Council.
An introduction to the Centre for Research in Communication and Culture
Hear from Director, John Downey about the broad spectrum of communication and culture research expertise at the CRCC.
SBE Impact Innovators: Professor Tom Jackson & Dr Martin Sykora
In this video, Tom and Martin discuss the way in which emotions are expressed via social media and how with super-fast processers, they can analyse these emotions to assess the mood of a nation.
Research Rising Star – Dr Marco Bohr
His work primarily explores the histories, theories and practices of photography, but his interests extend to cinema and its relationship with photography, and the globalisation of photography via the Internet.
Latest news from
The latest posts from Loughborough University's Research Blog