I wanted to study something that combined my interest in maths, physics and design. My physics teacher introduced me to engineering and recommended that I take part in the Engineering Education Scheme. I really enjoyed the scheme but when it came to looking at degree courses there were so many, I had no idea where to start!
I sat in a careers lesson and realised that my dream job was to design rollercoasters, so I searched UCAS for design engineering degrees. Loughborough's Product Design Engineering degree was the first course that came up and it was exactly what I was looking for. I carried on looking for similar courses, but nothing quite compared, especially once I started looking at the universities themselves.
I really liked that Loughborough was a campus university and when I came for an open day I instantly felt at home. The teaching and facilities at Loughborough were great; it was useful to have a mix of teaching styles and resources tailored to the modules. The lectures were also recorded which I really appreciated as it meant I could rewatch bits I hadn't understood the first time around and to go over topics during revision.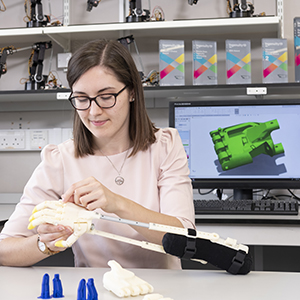 Having access to machine workshops and 3D printing facilities, as well as computers with the software needed for various projects gave me a chance to develop my skills. We learnt how to use CAD software to an industrial standard, and when I was on placement, I was able to put these skills to use and design products for paying clients.
I also developed lots of other skills such as welding, 3D printing and technical drawing, along with effective group work, leadership and enterprise, as well as greatly improving my presentation skills, both in terms of creating engaging presentations and also delivering these confidently to an audience, which I now use regularly in my job.
During my time at university, I set up a company called ExpHand Prosthetics where I now work full time as CEO. My business stemmed from my third-year individual project; I now design and manufacture 3D printed prosthetics for children that can grow with them, so a lot of the company's work is focused around product design and 3D printing.
My company is based in Loughborough, and I am part of the University's Graduate Enterprise Hub, The Studio. It was only through the encouragement and support of Loughborough staff that I made the decision to start my own company. I was connected with mentors and joined the enterprise cohort. I was given the opportunity to enter various business competitions which led to me receiving my first funding for the company.
My role is quite varied as I cover both product and business development, so my days are a mix of product design, 3D printing, financial and business forecasting, managing staff and networking. My course was helpful for this as I was able to choose some modules during my third and fourth years and tailor what I was studying to allow me to further develop my understanding and pick up new skills. These modules covered entrepreneurship, finance, management, design for assembly and additive manufacturing, all of which have been relevant to the day-to-day work I do as part of ExpHand Prosthetics.
Kate graduated from Loughborough University in 2019.