It was the first course I found that I thought looked really interesting, I liked the idea of engineering but none of the common specialisms seemed creative enough for me. I ended up searching for design engineering courses and Loughborough's was the first one that came up – it was exactly what I was looking for!
After that, Loughborough was my benchmark for all other universities and nothing quite compared, especially after I'd come to visit on an Open Day. I really liked the fact that everything was on one campus and my Department had lots of interesting laboratories and facilities too.
During my degree I was able to take modules on subjects that I found really interesting such as Additive Manufacturing and Product Design, and during these modules I learnt a mix of practical skills as well as technical knowledge. There are multiple laboratories and computer suites across campus that I was able to work in. The variety of facilities in my Department and across campus as a whole allowed me to really make the most of my time at university and has enabled me to have the confidence to purchase my own 3D printers for my company and to have the confidence in my ability to operate them.
I entered the Ingenuity19 competition with my business ExpHand Prosthetics and was able to progress through the written application and both pitching rounds to the final. At the awards ceremony I was presented with five different awards totalling £18,500!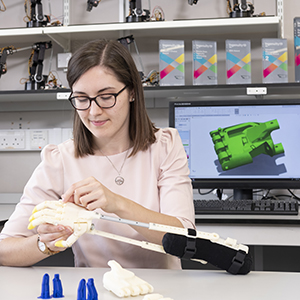 One of the awards I was presented with was the People's Choice award, meaning I'd received more votes from the public than any other business in the competition. The most prestigious award I was presented with was the Experian Entrepreneur of the Year Award for £8000, which was the highlight of my evening.
My current career ambitions are to grow my business to a point whereby I am selling prosthetic hands to people across the world. Having an engineering degree has prepared me in many ways for this, covering management modules, enterprise and the more technical engineering aspects that allow others to have confidence in my ability to run a business and to create a high-quality product.
As my dissertation project I was able to design and create an adjustable 3D printed prosthetic arm for children. After showcasing this at my end of year design exhibition I was encouraged to take it forward as a standalone business and over the course of the next year I was able to do just that, registering my company in the summer of 2018. After my final university exams and before I'd even graduated, I was working full time for my own company thanks to the funding I'd received from the Ingenuity19 competition. This was facilitated by the university who provided me with office space, and this allowed me to take on an intern to help with design development.
Without the encouragement from a variety of staff members at Loughborough I may have never taken the leap and started my own company. Even though I've only been working formally on my business for a few months I can't imagine doing anything else now.
Kate graduated from Loughborough University in 2019.