Alexander D'alessandro
Course

Subject area
I chose to study at Loughborough because of the Department of Politics, History and International Relations' research within the European Union, which very much appealed to me. I also wanted to combine my studies with sport and use my experiences at Loughborough as a platform for future ventures in my personal and professional life.
My simple bit of advice would be to pursue and study what really interests you, no matter how abstract it may seem. Whilst this may sound overly rudimentary, so many prospective students choose a course because it sounds useful or seems like a safe bet. As a result, they never really get passionate enough about their course. You are making a huge financial and personal investment, so if you choose a subject that really appeals to your core interests, you will be more motivated to learn the intricate aspects of it and consequently be more willing to push yourself harder to achieve better.
I am Swedish and was Sports Secretary for the Loughborough Scandinavian Society. It was a great way to take a break from studying and interact with fellow Scandinavians. I have very fond memories of all of our activities, including being the 2014 Loughborough Dodgeball Champions! Loughborough's core values of responsibility, inspiration and innovation were constantly reflected in the teaching, student engagement and the university's overall determination to be the best. My time at Loughborough University has enabled me to absorb these values into my professional life and ensured that I always deliver to the best of my ability.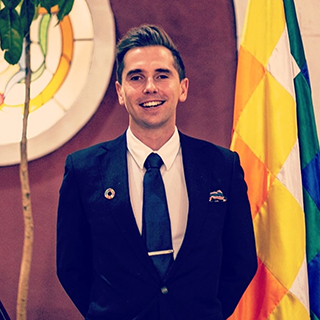 After graduating from Loughborough University in 2015, I undertook a Master's at Lund University School of Economics and Management in Sweden. I then went on to work for six months at the European Committee of the Regions in Brussels, before being assigned by the Swedish government to work at United Nations Development Programme (UNDP) in Bolivia, where I served for two years. I am currently serving as a Programme Analyst at the United Nations Population Fund (UNFPA) in Nicaragua.
My area of work focuses on gender-based violence, including sexual violence. My department is therefore responsible for ensuring that there is greater multisectoral capacity to address and prevent violence towards women, girls and boys and the LGBTQ population in Nicaragua. We make sure that the rights-holders are able to participate in all stages of projects, including design, planning, implementation, monitoring and evaluation. We also make sure to work with men and boys to change their understanding of ingrained and regressive gender roles that affect and inhibit women and girls from exercising their human rights.
What I love most about my job is the mandate that we have to make the world a better place for women and adolescent girls and empowering them to realise their human rights and that they can live a life free from violence. It also makes me proud to work for the United Nations and its goal in achieving international co-operation in solving international problems of an economic, social, cultural, or humanitarian character. I look forward to working in many different developments and HQ contexts in the future.