Understanding UCAS
Clearing and adjustment
Once exam results are published, universities will check to establish if the conditions of the offer to study on the particular course have been met.
If your have narrowly missed the conditions of your offer there is still a chance that you will be considered either for the course you applied for or an alternative related programme. If the university is unable to accept you, you will be released to take up your insurance place or enter Clearing.
It is important for you to be available on results day to make calls and research courses if necessary, so it is helpful to avoid holidays or other activities for the day results are released.
Clearing is the process through which students without a confirmed place are matched at universities who have places available on their courses. It is important not to panic, if you act promptly, you have every chance of still being able to secure a place. Universities will have a dedicated Clearing 'hotline' and will be sharing the latest advice with you as well as what courses are still available. You should consider carefully what is offered and think back to the original criteria you applied when making your original choices.
If you find yourself going through Clearing you should remember that although it might be a different university and/or course to where you applied, you are still going to have lots of opportunities to meet new friends, get involved in student life and prepare yourself for career success.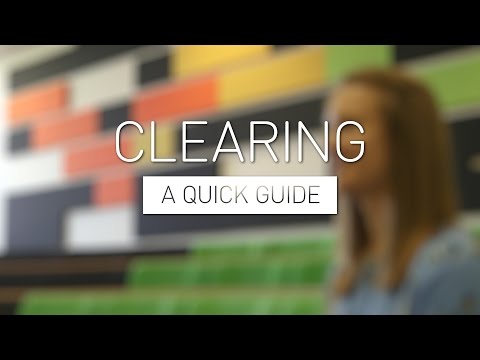 No need to panic - watch our handy guide to clearing which answers common questions and offers useful advice
Next steps