Dineticq – co-founded by the University's Professor Mark King, from the School of Sport, Exercise and Health Sciences – draws on two decades of research data to provide advanced motion analysis to cricket players and coaches worldwide.
The spinout was launched from LUinc., the University's incubator on LUSEP, its Science and Enterprise Park, having been fast-tracked through Innovate UK's Innovation to Commercialisation of University Research (ICURe) programme in 2021.
During the visit he was received by Prof Chris Linton, Provost and Deputy Vice-Chancellor, Prof Mark King, Professor of Biomechanics, Dr Guy Jackson, Manager ECB Academy, Alexis Toft, Chairman of Dineticq and Head of Minerva Fund, Prof Chris Cushion, Professor of Coaching, Dr Katherine Brooke-Wavell, expert on bone research, Ali Ehsan, Director for Strategy, Dineticq and Founder, BoomBoom Cricket.
It was a return visit by the PCB Chairman following recent meetings held at the Pakistan Cricket Board Headquarters in Lahore with the Dineticq co-founder Prof Mark King and the CEO Mickey Clarke, to discuss the pilot projects to support the new strategy.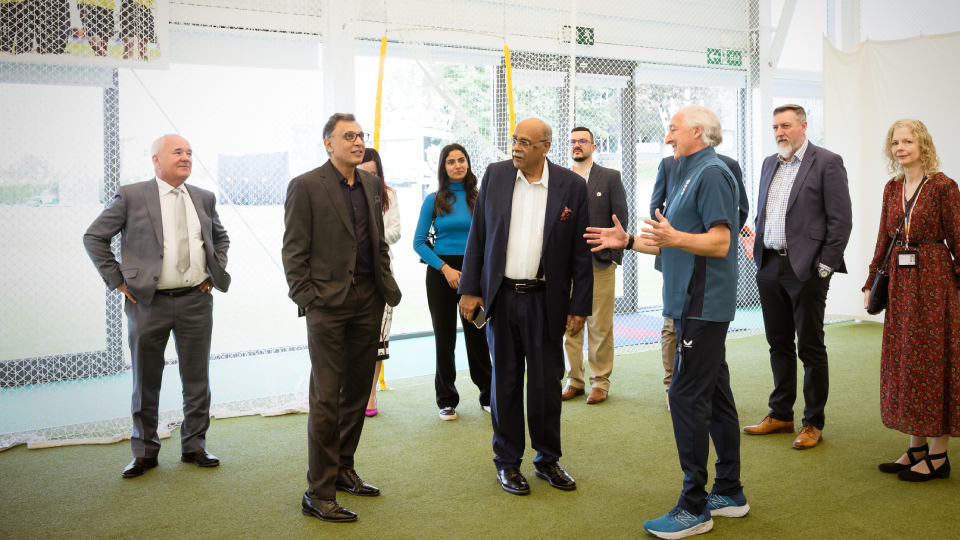 The meeting at Loughborough intends to further develop this long-term working relationship based on science. Pakistan would be the first Asian country to enter into collaboration with Dineticq who are already partnered with the England and Wales Cricket Board and Cricket West Indies.
During the visit, the Chairman met with cricket research students, observed a full demonstration of the Loughborough University biomechanics lab assessments of fast bowling and toured the sports facilities of the ECB Academy.
Najam Sethi, the Chairman of the Pakistan Cricket Board (PCB), said: "We are looking forward to exploring a partnership with Dineticq as application of modern technologies and research will play a big role in the future of cricket.
"I am impressed with the biomechanics facilities and capabilities of Loughborough University and look forward to further discussions on capability development, technical development, education, and research."
Dineticq CEO Mickey Clarke said: "We are delighted to welcome the Chairman of the Pakistan Cricket Board to Dineticq, and we are looking forward to building a strong relationship with the PCB on injury prevention and performance enhancement of fast bowlers through the application of science."
For more information on Dineticq visit its website here: www.dineticq.com. For more information on LUinc., visit its website here: www.lusep.co.uk/lu-inc.