The 30-year-old, a gold medal winner at last summer's Commonwealth Games in Birmingham, wowed the crowd early, winning the Guest 100m Hurdles final in 13.74 seconds.
It was a fitting start to proceedings as teams from Loughborough, England, Scotland, Wales, GB&NI U20s, and the National Athletics League all went head-to-head in the curtain raiser to the outdoor season.
Johnson-Thompson also featured in the Women's 4x400m final as England dominated the field to take a comfortable team win in 3:37.03.
On a day of high sporting drama, two-time Paralympic Games gold medallist Sophie Hahn stormed to victory in the Women's Para 100m final, crossing the line in 13.11 seconds. In the Men's event, England's Kevin Santos (11.35) pipped Loughborough's Thomas Young (11.38) in a truly absorbing race.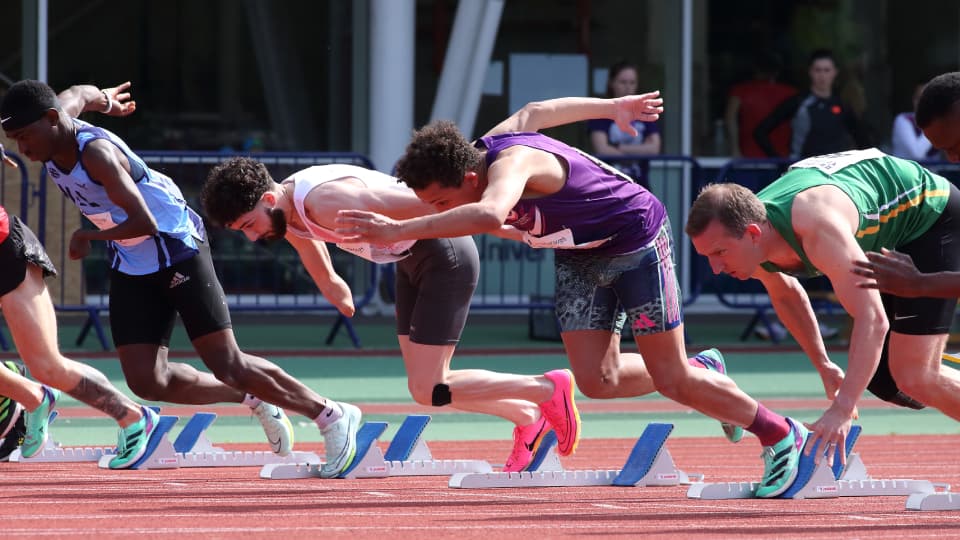 Thomas Young (purple vest) just missed out to Kevin Santos (white vest). Image provided by Still Sport Photography.
The Women's 100m final proved to be an explosive race as England's Imani Lansiquot crossed the line in 11.32 seconds, ahead of Scotland's Alyson Bell (11.55), and Charnwood's Amy Hunt (11.61).
England also took the spoils in the Men's 100m as Oliver Bromby claimed first place in 10.56. Loughborough's Elliot Jones secured second (10.61), with Andrew Robertson in third (10.71).
Alex Haydock-Wilson showed his credentials by claiming maximum points for Loughborough in the Men's 200m, sailing over the line in a rapid 21.35 seconds.
Elsewhere, Columba Blango (England) powered through in the Men's Para 400m final to notch an impressive season's best in 49.61.
In the Men's Hammer, England athlete Jake Norris recorded a fine 70.40m to break his five-year personal best, taking victory ahead of Loughborough's Craig Much (71.89) and GB's Owen Merritt (69.11).
With temperatures rising on campus, GB & NI U23s managed to keep their cool to record double success in the 4x100m relay events.
The Women's team showed perfect teamwork and power to win in 43.91 seconds, with the Men's side looking equally impressive in 39.83 seconds.
In the Men's 400m final, Loughborough's Rio Mitcham produced a calm and collected performance to record a personal best of 46.13 seconds.
Back in the field, Loughborough's Benjamin East landed a personal best of 70.08 to win the Men's Javelin event, and the Women's Shot Put saw two-time British champion Amelia Strickler continued her fine form to take full points for England with a throw of 17.25m.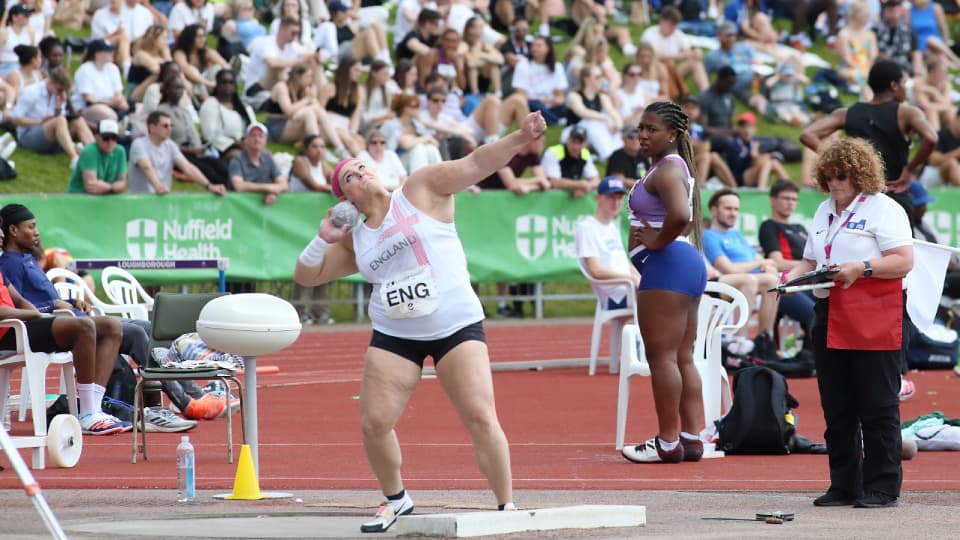 Amelia Strickler throws 17.25m. Image provided by Still Sport Photography. ‌
There was also an impressive personal best for Rebekah Walton (Loughborough) in the Women's Javelin. The 23-year-old recorded a sizeable 56.66m to take second place.
On the track, The George Gandy Mile – held in tribute to the late Loughborough endurance coach – was won by Wales' James Heneghan in 4:05.46.
Loughborough's Cameron Fillery clocked 14.07 to edge out close competitor Edson Gomes (14.19 - National Athletics League) in a thrilling Men's 110m hurdles final.
Elsewhere, in the Women's Triple Jump, Loughborough's Lily Hulland claimed first with an outstanding jump of 12.81.
To conclude a fine day of athletics, England's Laura Zialor added yet more points for her nation in the Women's High Jump to take the win with a best jump of 1.84m.
Final overall team scores:
England: 202
Loughborough: 154
National Athletics League: 153
GB: 136
Scotland: 123.5
Wales: 79.5