On February 2, 2022, people will celebrate one of the most significant works of modernist literature which continues to inspire, entertain and charm readers the world over.
Ulysses – which took eight years to write – parallels Homer's Odyssey. It tells the story of Leopold Bloom and his encounters in Dublin over the course of a single day (June 16, 1904).
Now, a new exhibition at the University of Texas will tell the story of four women (Margaret Anderson, Jane Heap, Harriet Shaw Weaver, and Sylvia Beach), who helped Joyce's novel gain widespread notoriety and success.
Curated by Loughborough's Dr Clare Hutton, Women and the Making of Joyce's Ulysses opens on March 3 2022, at the Harry Ransom Center, at the University of Austin in Texas.
The exhibition features a collection of 200 objects including a first edition of Ulysses, page proofs for its first printing, original copies of The Little Review – where the work was first published – manuscripts in Joyce's hand, correspondence from women in Joyce's circle, rare books, and photographs.
It will run until July 17, 2022.
RELATED LINKS:
Dr Hutton said: "Ulysses is celebrated by lovers of literature all over the world and continues to appeal for many different reasons.
"This exhibition goes behind the scenes in order to explore the story of how this extraordinary novel came into being.
"Women played a crucial role in enabling Joyce to write the book by giving him emotional, financial and psychological support.
"The exhibition reveals a more social story of how Ulysses came into being, and unpacks an image and myth that Joyce cultivated quite strongly – that of lone genius struggling with a public and publishers who failed to recognize his genius and wished to thwart and silence his literary efforts.
"The first publishers of Ulysses were all women, and they worked tirelessly to support Joyce. This exhibition tells a story of loyalty, patronage and selfless advocacy."
Widely considered to be the most important book of the 20th century, Ulysses was published by Sylvia Beach, owner of Shakespeare and Company bookstore, in Paris on Feb. 2, 1922.
The novel chronicles an ordinary day-in-the-life of the character Leopold Bloom in Dublin on June 16, 1904. Popularizing stream-of-consciousness in modern fiction, the book was a major influence on later 20th-century writing.
While Joyce is known primarily for this pioneering modernist novel, other notable works were published, including A Portrait of the Artist as a Young Man, Finnegan's Wake, and the collection of short stories, Dubliners.
*Please contact Elizabeth Page (epage@utexas.edu), Head of Communication and Marketing, for some cleared digital assets to accompany this release.
Video (downloads and embed codes): Ulysses - 100 years on from James Joyce's ground-breaking novel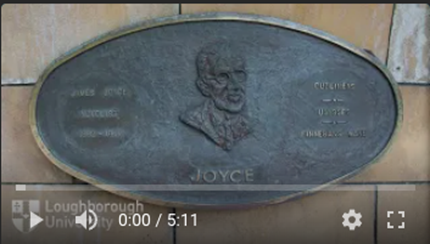 Download video/audio (inc. raw files): https://www.lboro.ac.uk/media-centre/video-audio/2022/ulysses/
YouTube video link: https://youtu.be/HGu5Yy9S1iE
YouTube embed link: <iframe width="560" height="315" src="https://www.youtube.com/embed/HGu5Yy9S1iE" title="YouTube video player" frameborder="0" allow="accelerometer; autoplay; clipboard-write; encrypted-media; gyroscope; picture-in-picture" allowfullscreen></iframe>
Please credit 'Loughborough University', where possible.
For further video/audio support, please contact d.t.vincent@lboro.ac.uk
ENDS