Hunter, 37, became the most-capped England international in history during the Rugby World Cup 2022, winning her 140th cap as the Red Roses were edged out in the final by New Zealand in Auckland.
The award – in recognition of outstanding contribution to rugby and achievements at the very highest level of international competition – was presented at one of the University's winter degree ceremonies on Friday 16 December.
Born in 1985 in North Shields, Tyne & Wear, Hunter started playing rugby league as a nine-year-old before switching codes to rugby union in 2015.
She soon became a pioneer of the sport and after representing England in various age groups, made her full international debut in 2007. A glittering career followed that saw Sarah represent her country at four World Cups – winning the title in 2014.
Showing natural leadership skills, she has led England from the front as Red Roses captain, winning the Grand Slam in the 2017 Six Nations and reaching both the 2017 and 2022 World Cup finals.
The Number 8 was named World Rugby Women's Player of the Year in 2016 and honoured with a Member of the Order of the British Empire (MBE) in the 2015 Queen's New Year's Honours list, recognising her skill, dedication, and determination for the game.
Sarah is recognised as one of Loughborough's most successful sporting alumni, having graduated in 2007 with a degree in Sports Science and Mathematics. She is currently player/coach for the Loughborough Lightning women's rugby side and is a driving force for women's sport on campus.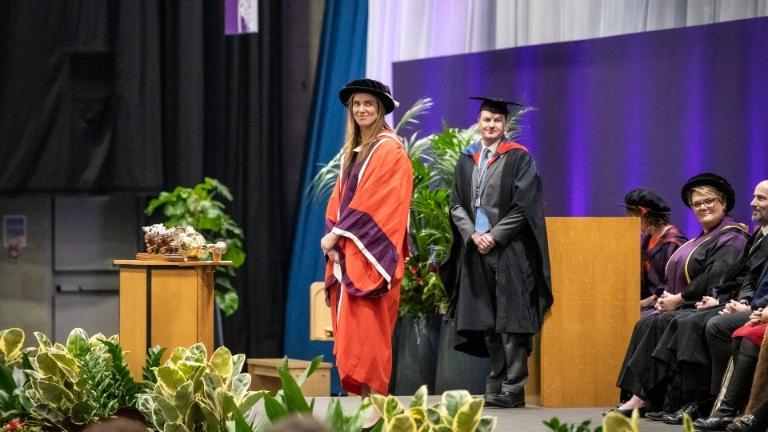 "I'm unbelievably proud and honoured. Never did I imagine I'd ever be given an honorary degree, let alone from Loughborough where sporting excellence is synonymous with the University," Sarah said.
"It's an incredible feeling and I'm very lucky to be able to share it with my family who have come to support me today.
"My mum, dad, brother, sister-in-law, and niece – who is only nine – are here and hopefully she might be inspired to come to Loughborough and follow in her auntie's footsteps!"
Professor Nick Jennings, Vice-Chancellor and President of Loughborough University said: "Sporting success is in the DNA of Loughborough and Sarah's achievements on the global stage have been simply incredible. She is a true pioneer of women's rugby and continues to inspire and influence those around her.
"Throughout her illustrious career she has shown strong leadership skills both on and off the field of play. Her ability to overcome adversity – through true grit and determination – makes for a wonderful athlete and leader.
"2022 has been a spectacular year of sport for those linked to the University, including great success at the Commonwealth Games and the Women's Rugby World Cup in New Zealand. We're tremendously proud to award Sarah with an honorary degree for her services to rugby union."