Alumnus Daryl Selby and partner Adrian Waller lost out to world champions James Willstrop and Declan James in a thrilling Men's Squash Doubles final.
Selby and Waller fought back hard to take the second game but sadly missed out on gold as the match went to the wire – 11-3, 7-11, 11-9.
The pair have now equalled the silver medal they won in the same event at Gold Coast 2018.
Selby, who is now set to retire from the sport, said: "It's a sad moment for me, losing my last match as a professional is tough to take, but we gave everything. I'm proud of the way we played and handled ourselves.
"It's a huge moment for English squash, no-one has ever had two Commonwealth finalists in the doubles before. It's a huge journey for us to get here, years of preparation, and someone had to lose."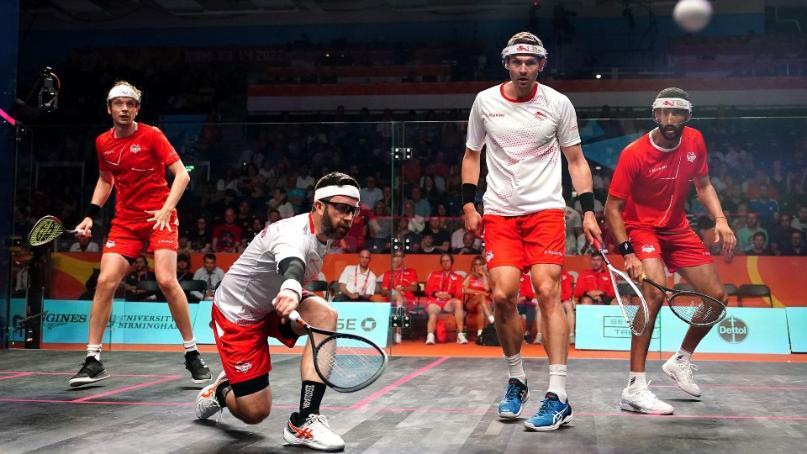 Alumnus Daryl Selby (centre, crouched) in action in the Men's Doubles squash final. Image provided by PA/Alamy.
In badminton, Loughborough College learner Chloe Birch and partner Lauren Smith also had to settle for silver in the Women's Doubles final.
A dominant performance from Malaysia pair Pearly Tan and Thinaah Muralitharan gave England little chance in a one-sided match as they were defeated 21-5, 21-8, in just 33 minutes.
Elsewhere, there was another medal to add to Loughborough's tally as current scholar Ben Pattinson stormed to 800m bronze last night.
Pattinson recorded 1:48.25 to finish just ahead of current PhD student Jamie Webb in fourth (1:48.60).
As the 2022 Commonwealth Games comes to a close in Birmingham, Loughborough's final medal count stands at an unbelievable 47 – 14 gold, 17 silver, and 15 bronze.